About the Enterprise Engagement Alliance
In the last year, over 240,000 business professionals have accessed the web sites, e-newsletters, YouTube videos, and social media of the Enterprise Engagement Alliance. While the names of people who read our e-newsletters is confidential, they include management in all areas of sales, marketing, and human resources, from the nation's largest companies and best-known engagement solution providers to a wide range of small-to-medium-size businesses.

The Enterprise Engagement Alliance (EEA) is a coalition of companies and associations dedicated to the concept that engagement is an enterprise-wide endeavor that "begins with people and ends with profitability." The EEA's primary mission is to support education and outreach that creates a better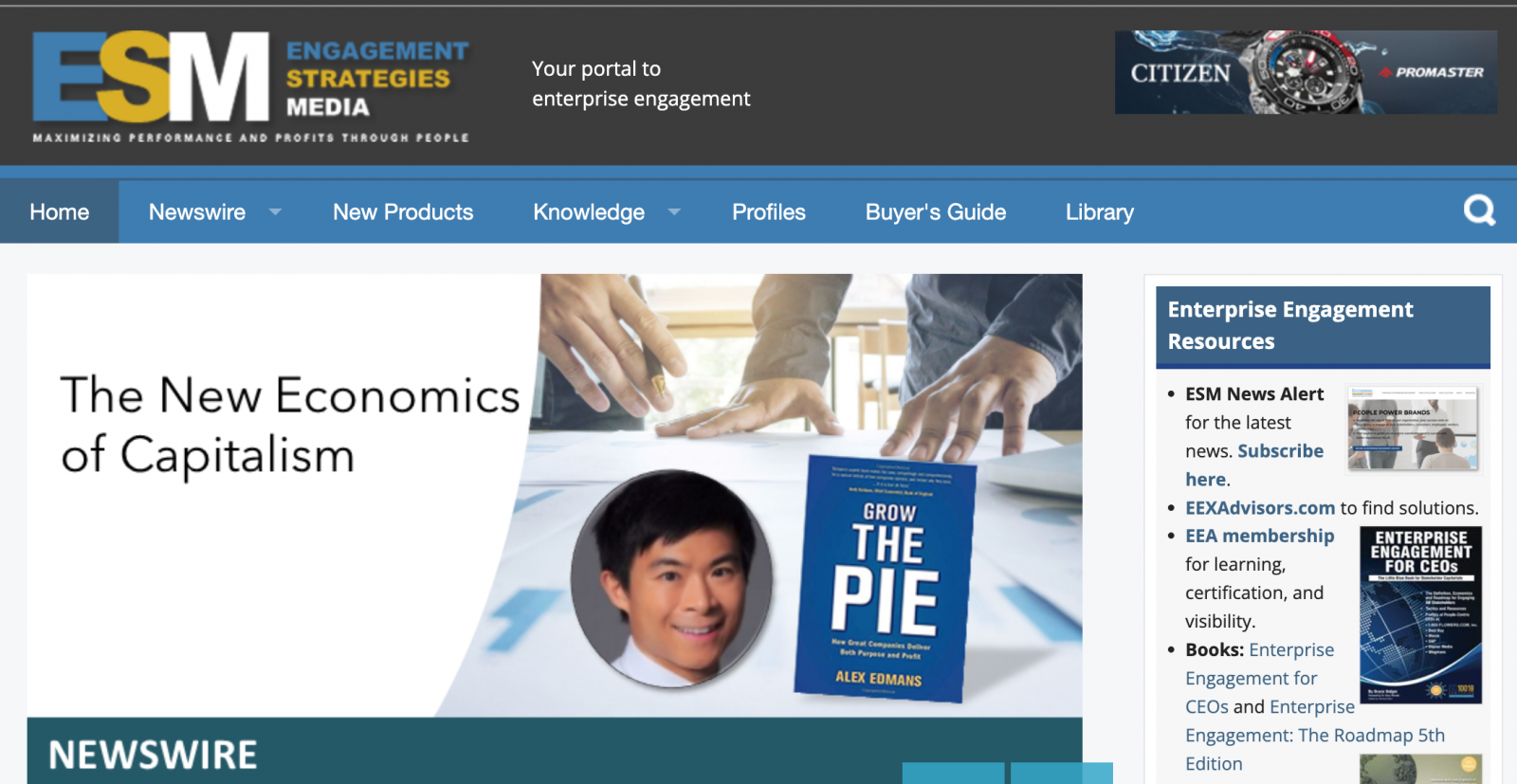 understanding of how organizations can make the connection between engaging people in business and long-term financial performance. The EEA is founded on the premise that the engagement of all of an organization's key audiences – customers, distribution partners and employees – is a critical but often overlooked success factor for businesses.

The Enterprise Engagement Alliance was founded in 2008. The EEA's first research project, "The Economics of Engagement," was released in June 2009 and is available here.
Training and Consulting
The EEA has developed a formal curriculum on Enterprise Engagement designed to give people the understanding and tools they need to implement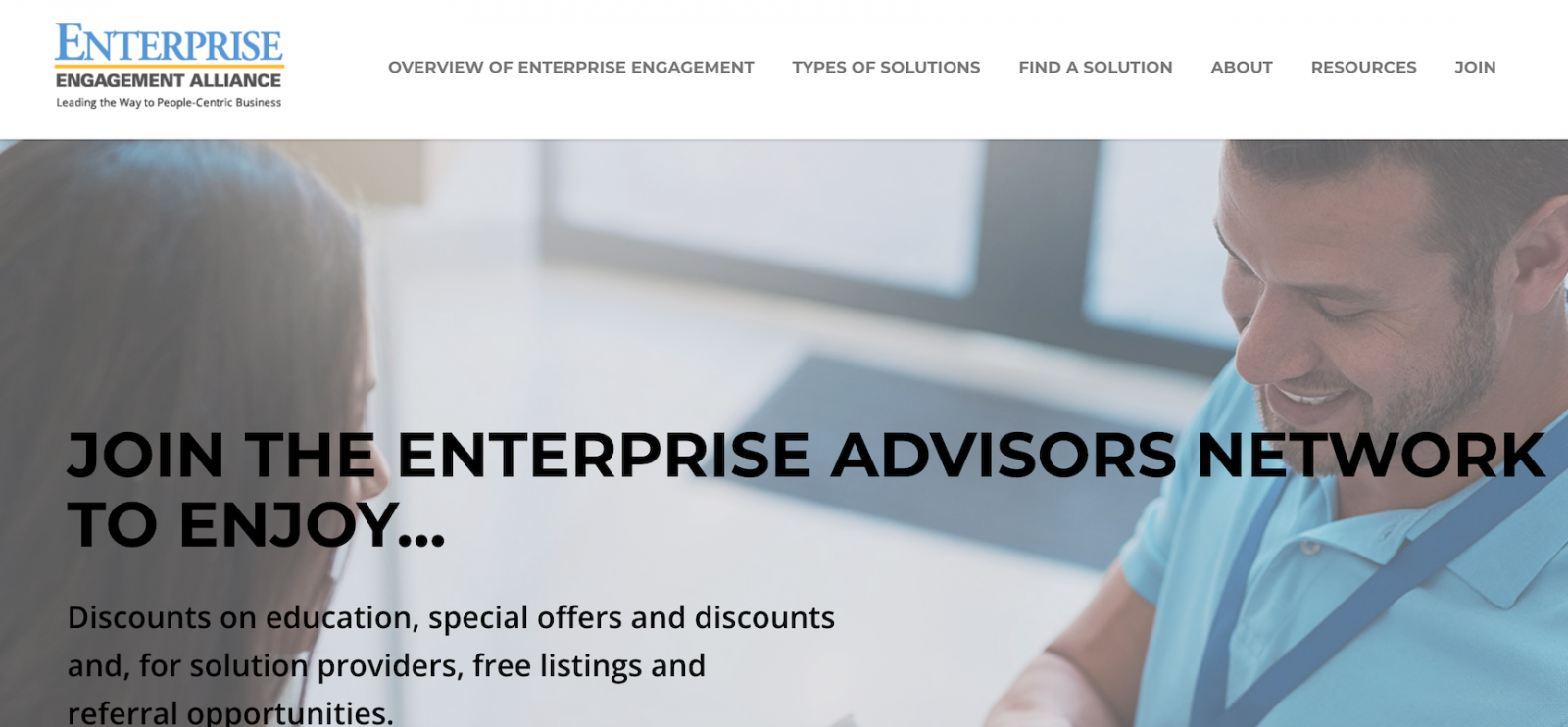 Enterprise Engagement within their organizations that is presented throughout the U.S. in conjunction with Marcus Evans and via a free monthly webinar series. In addition, the EEA offers customized training for companies, as well as a consulting service to help organizations develop formal strategic plans. Click here for more information on the education program.
Topics Covered
Enterprise Engagement comprises a variety of inter-related disciplines that foster alignment with people across the organization – from customers and channel partners to salespeople and all other employees. Enterprise Engagement includes such topics as: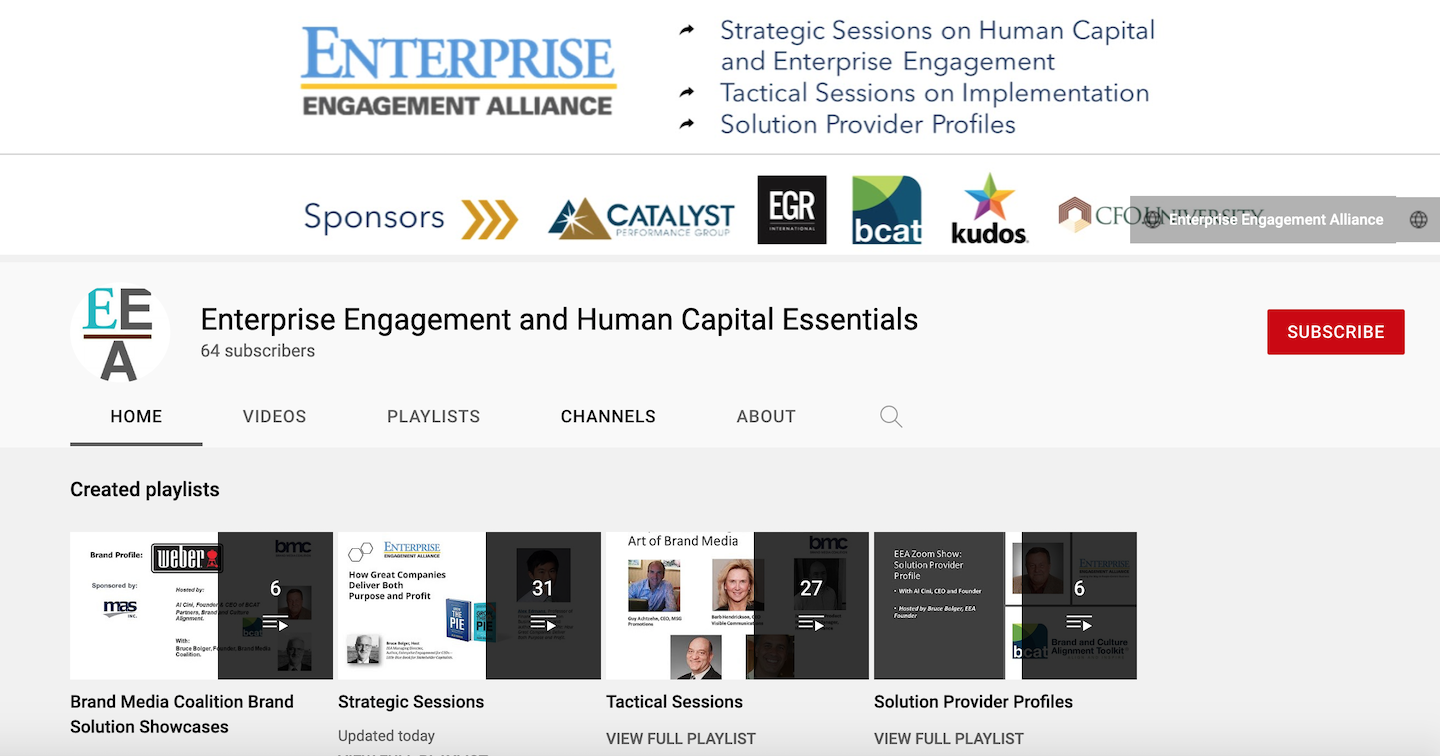 Audiences
Channel partners
Customers/consumers
Employees (non-sales)
Employees (sales)
Vendors
Tactics
Branding
Collaboration & Innovation
Incentive Programs
Communications

Promotional Products
Meetings
Print
Social Networking
Web

Leadership
Loyalty Programs
Measurement
Recruitment
Rewards & Recognition
Communities
Surveys, Polls, Assessments
Corporate Culture
Technology
Training
Resources and Activities
In addition to its training and consulting services, the Enterprise Engagement Alliance provides the following resources and tools, most of which can be sponsored by organizations that supply information, products and services on all areas of Engagement:
The EnterpriseEngagement.org portal, providing all available information on Enterprise Engagement from all credible sources.
The Enterprise Engagement Benchmark Indicator™ that organizations can use to take a snapshot of the level of engagement of specific audiences.
An expert Help Desk for people seeking information, research, or resources related to any area of Enterprise Engagement.
The ability for businesspeople and academics to post white papers, research and other content on the portal or to be published, subject to approval by the editorial board.
A quarterly print publication, Engagement Strategies Magazine; an online magazine at EngagementStrategiesOnline.com featuring latest news, research, articles and resources on Enterprise Engagement; an e-mail newsletter; and a blog. Click here to subscribe to any of these media.
A directory of suppliers dedicated to providing Engagement services.
Funding
The Enterprise Engagement Alliance is funded through sponsorships from suppliers of engagement products and services who can benefit by increasing their visibility with potential customers and generating measurable business opportunities by sharing thought leadership with targeted audiences. Click here for more information.
About Enterprise Engagement
Learn more about various aspects of Enterprise Engagement on:
Wikipedia
– You will will find a complete overview and history of the field.
Twitter
– Get immediate updates on interesting and valuable news and research by following us on Twitter at @EEA_Org.