Training/Certification
Test Your 21st Century Leadership Knowledge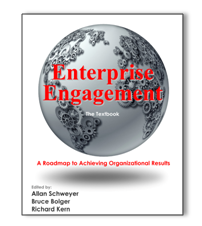 Onsale now at Enterpriseengagementbook.com
and Amazon.com.








The Marcus Evans Enterprise Engagement Alliance Curriculum and Certification is designed for general management and executives and managers in sales, marketing, human resources, operations and administration who are seeking to maximize the performance of their organizations through the effective engagement of customers, distribution partners, employees, vendors and communities.
The Enterprise Engagement Curriculum and Certification program has the following objectives:

1) Make it easier for organizations to more rapidly launch effective Engagement programs and select vendors qualified to address their needs.

2) Provide practitioners and solution providers with a formal research-based framework for the design and implementation of Engagement programs, much as is available in other marketing fields, such as Advertising and Customer Relationship Management.

3) Underline the inter-relationships between external and internal marketing and the various Engagement tactics, i.e., communications, training, collaboration, rewards, etc., that frequently are separated by silos in many organizations.

4) Establish a consensus around Engagement nomenclature, implementation processes, and tactics based on the latest research and best practices to facilitate development of more effective Engagement campaigns within mid-size to large organizations with multiple departments and solution providers.

5) Provide solution providers with a cost-effective way to make sure that all relevant people in their organization have an understanding of how their particular products and services fit into the emerging world of Enterprise Engagement.
Faculty
The EEA faculty consists of leading corporate practitioners, academics, and engagement solution providers. Please click here for complete list.
About the Test
The online test is designed to assess your understanding of the definition, economics, audiences, tactics, and measurement elements of an enterprise approach to Engagement. It is not intended to replace other certifications in recognition, human resources, loyalty, training, etc., but rather supplement them by putting each engagement tactic into the context of the overall objective.

There is no cost to take the Enterprise Engagement Certification Online test required to achieve the Certified Engagement Practitioner designation, but you must register to take the test.

The test is divided into four modules, each of which you can take as many times as you wish until you pass. Note that the test questions and their order will change each time you take the test. You will see that you have achieved a passing score to the right of the test: You must achieve an 85% to pass. You will also be able to compare your performance to an aggregate of others taking the test.

Once you have passed all four modules with passing grades, you can apply for the Certified Engagement Practitioner designation by e-mailing info@theeea.org.

Click here if you are ready to take the test.
About the Certification
The certifications are designed to help organizations find Engagement practitioners and solution providers who have a demonstrated various levels of understanding of the Engagement framework, economics, implementation process, and tactics, and who have actual experience with design and implementation.

Individual Certifications



Certified Engagement Practitioner (CEP)
Demonstrates comprehensive knowledge by passing an online exam.

Advanced Engagement Practitioner (AEP)
In addition to passing the online exam:
Demonstrates the ability to create a formal Engagement business plan with return-on-investment measurements for an Engagement campaign.
Master Engagement Practitioner (MEP)
In addition to achieving the Advanced level:
Has achieved qualified certifications in at least two other areas of engagement, i.e. recognition, training, communications, or
Has had at least five years of demonstrated experience creating Engagement campaigns for organizations.
Solution Provider Certifications



Certified Engagement Solutions Provider (CESP)
Two or more team-members have achieved CEP-level certification by passing the online exam.

Advanced Engagement Solutions Provider (AESP)
The organization has submitted a formal case study of at least one Engagement program it has undertaken for a client that addresses the principals and framework of the Enterprise Engagement curriculum program.

Master Engagement Solutions Provider (MESP)
At least one team-member has achieved MEP-level certification.
Note: The online exam will be available in February 2013. Subscribe to the EEA newsletter or follow us on Twitter

Certification Recognition
Certified individual recipients receive:
A logo to place on their business cards and web sites
A listing on the Certified Practitioner page at the Enterpriseengagement.org portal with bio, photo, and a link to their company web site and/or Linked in profiles.
Certified businesses receive:
A logo to place on business cards and web sites
A listing on the Certified Practitioner page at the Enterpriseengagement.org portal with company info and a link to the web site.
A logo on their directory listing on the Enterpriseengagement.org portal.
Certification Fees
There is no cost to take the online test. People may take it until they pass. For those who wish to display their certification on their business cards and web sites, there are the following charges.

Individual Certifications
Certified Engagement Practitioner: $500 (good for five years)
Advantaged Engagement Practitioner: $500 (good for five years)
Master Engagement Practitioner: $100 one time cost—good for as long as other certifications are in effect.

Corporate Certifications
No charge, except for the cost of covering the above certification fees for employees.
About the Curriculum
The Enterprise Engagement Alliance Curriculum and Certification program provides the opportunity for anyone in businesses or not-for-profit organizations to master the emerging field of Enterprise Engagement and how to put its principles and framework into practice within their organizations or for their clients. Based on a formal process under development for three years, with input from experts in all areas of engagement and after multiple test presentations at business education events organized by leading training firm Marcus Evans, the Enterprise Engagement Alliance provides organizations with a formal framework for implementation within their specific business units or throughout an entire organization.
Enterprise Engagement principles and tactics can be used to engage people across an organization or to focus on specific audiences to increase sales, loyalty, wellness, productivity, quality and more. Enterprise Engagement is based on the premise that organizations with proactively involved customers, distribution partners, employees, vendors and communities will outperform competitors with less-engaged constituencies. This premise has been substantiated through extensive research (See the EEA's "The Economics of Engagement"). What has remained elusive is a formal process for implementation – until now.
The lack of a uniform process for implementing Enterprise Engagement has caused companies whose leadership embraces engagement to develop their own methodologies "on the fly." Based on extensive research and presentations by numerous companies at multiple events, it is clear that Enterprise Engagement involves a formal framework encompassing leadership, assessment, communication, learning, rewards & recognition, collaboration and measurement, and that engagement efforts cannot be faked or offered as just another "program du jour."
The Enterprise Engagement Alliance Curriculum and Certification program equips management at all levels with the knowledge they need to effectively engage their audiences to achieve specific organizational goals both in the short term and over time, within units of an organization or the entire organization. It includes a formal process for developing, implementing and measuring an engagement campaign.
The Enterprise Engagement Alliance Curriculum and Certification program comprises the following areas, based on extensive research on what factors link motivation with results. These include:

The Economics of Engagement
How is it measured?

The Audiences
What are the different constituencies of an organization and their inter-relationships?

The Tactics
Leadership – a meaningful mission and attainable goals and objectives.
Alignment – embracing the necessity of aligning the mission and objectives across the entire organization, breaking down silos between sales, marketing, human resources, operations, etc.
Assessment – a continual means of monitoring engagement opportunities, challenges and performance.
Communication – the appropriate means of sharing critical information with key audiences, which can include every form of print, web, social networking, meeting, event, video, or medium imaginable.
Learning and gamification – the appropriate way to make sure the audience, no matter whether it is external or internal, has the capability to do what is being asked and is actively involved in the process.
Collaboration and innovation – a strategy to continually encourage information-sharing and suggestions.
Rewards & Recognition – the creation of an environment in which people feel supported and appreciated for their efforts.
Measurement – a means to measure the economic benefits of performance to the organization.
Recruitment and Talent Management – effective selection and nurturing of talent at all levels.
In addition to understanding all of the issues and tactics involved with engagement, the practitioner has to understand how to effectively integrate them to achieve specific goals with a favorable return on investment (ROI). This includes mastering such tools as the Nominal Group Technique to help develop program strategy.

Depending on the mission, goals and objectives (and the audiences involved), organizations combine an understanding of these issues to develop effective engagement strategies, just as they use a formal framework for advertising, manufacturing, accounting and other fields.
Training Options
Those seeking certification and/or advanced training on engagement have four options:
Free Online Webinars.
Four-Hour Regional Seminars.
Custom Training Options
1. Free Online Webinars
The Enterprise Engagement Alliance features both live and recorded webinars at no cost on all aspects of engagement to help people learn more about the subject or prepare for certification.
Cost: Free

2. Half-Day Regional Seminars
This four-hour seminar provides an overview of the economics of engagement, the inter-relationships of the key organizational audiences and the critical elements involved with key engagement tactics. This session introduces people to the Nominal Group Technique practice used to develop a formal engagement strategy. The seminar is helpful in preparing for the Proficiency Certification and is a useful pre-requisite for preparing for Advanced Certification.
Cost: $225. Dates and locations to be announced.
3. Custom Training Options
Customized programs are also available for corporations and solution providers seeking onsite education of multiple employees or clients. Programs can be specifically designed for your organization's needs.
Cost: $2,500 for one day; $3,500 for two days (up to 12 participants)
Schedule and location: At your organization's convenience