Now Available: The Essential Guide to Implementation of Stakeholder Capitalism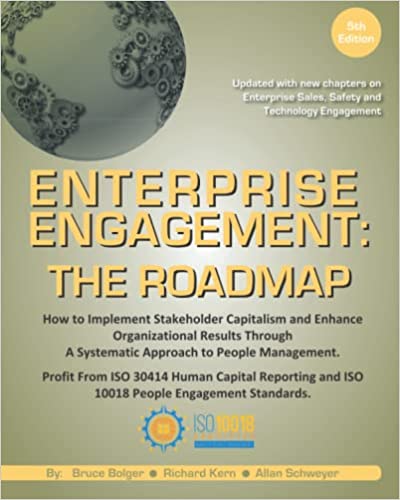 While Enterprise Engagement for CEOs provides an abbreviated overview of the principles of Stakeholder Capitalism and profiles of some of the CEOs who have practiced it at their organizations, Enterprise Engagement: The Roadmap offers a practical detailed implementation guide that includes information on the principles and economics, as well as on almost all of the tactics involved.
The challenge facing the Stakeholder Capitalism movement is that it is not taught in any schools nor even in executive education program and that it requires organizations to break down the siloes between finance, marketing, human resources, operations, and other business units that hamper efficiency and create poor experiences for customers and employees alike.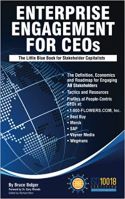 Stakeholder Capitalism enhances returns for investors by creating value for customers, employees, supply chain and distribution partners, communities, and the environment and should not be confused with "woke" capitalism or Corporate Social Responsibility. See
ESM: Stakeholder Capitalism—A Primer
.
Enterprise Engagement: The Roadmap
aims to address the knowledge gap with a desk reference covering almost all the key areas of the field. Writes Grace Swanson, Vice President, Human Capital at Accumold, a leading precision manufacturer, "By the time I finished reading
Enterprise Engagement: The Roadmap
my copy was filled with Post-it notes highlighting information I knew I would need to reference later. This book provides a complete guide to almost everything an organization needs to implement a strategic approach to engaging everyone in organizational goals in a systematic way."
Gary Rhoads, retired Stephen Mack Covey Professor of Marketing Emeritus at the Marriot School of Business at Brigham Young University and Chairman of Xvoyant, a sales engagement technology firm, "As a professor of marketing and entrepreneurship for most of my career, and founder of two leading companies in sales and marketing management, I know that delivering promises is one of the most critical strategies for success. Yet too many organizations fail to address the importance of engaging all stakeholders in organizational goals.
Enterprise Engagement: The Roadmap
is the only book I know that focuses on how to apply a strategic and tactical approach to engagement across the enterprise in a systematic way."
Adds Barbara Porter, Managing Director, Ernst & Young, "I have spent much of my career helping organizations develop great cultures, and in the end a successful strategy requires a CEO-led approach to connecting employees, managers, customers, vendors, suppliers, the community—everyone inside and outside the organization who has a stake in its success. I have repeatedly referenced almost every chapter in
Enterprise Engagement: The Roadmap
since the first edition came out, as it's the only book I know of that puts together in one place all the tactics needed to address engagement to achieve organizational results."
As shown in the table of contents below, the book covers almost every topic involved with the implementation of Stakeholder Capitalism, including career opportunities and the potential impact on government. The edition now includes appendices on human capital management, reporting, and analysis.
Here is the table of contents:
Part I: Introduction to Stakeholder Capitalism, Enterprise Engagement, ISO
Intro: Enterprise Engagement and ISO Annex SL and ISO 10018 and ISO 30414
Standards – A Practical Framework for Implementation and Measurement
Chapter 1 ISO 10018: People Engagement
Chapter 2 The Role of ISO Standards in Business and People Management
Chapter 3 Economics of Enterprise Engagement
Chapter 4 Culture and the Enterprise Brand
Chapter 5 Breaking Down Organizational Silos
Part II: Audiences of Engagement
Intro: The Audience Challenge
Chapter 6 Customer Engagement
Chapter 7 Channel Partner Engagement
Chapter 8 Employee Engagement
Chapter 9 Sales Engagement
Chapter 10 Volunteer & Community Engagement
Chapter 11 Supply Chain Engagement
Chapter 12 The Employee / Customer Link
Chapter 13 Case Study: Northwell Health
Part III: Tools of Engagement
Intro: Tools and Tactics
Chapter 14 Employee Assessment
Chapter 15 Communication
Chapter 16 Permission Management
Chapter 17 Content Marketing
Chapter 18 Learning and Training
Chapter 20 Collaboration and Innovation
Chapter 21 Rewards & Recognition
Chapter 23 Recognition in the Era of Employee Engagement
Chapter 24 Diversity and Community
Chapter 26 Enterprise Safety Engagement
Chapter 27 Enterprise Technology Engagement
Chapter 28 Meetings and Motivational Events
Chapter 29 Travel Rewards and Engagement
Chapter 30 The Importance of an Engaging Environment
Chapter 31 Trade Shows & Conferences: Engaging the Stakeholders
Chapter 32 Technology: The Heart of the Problem, The Core of the Solution
Chapter 33 Measuring Enterprise Engagement and Performance
Chapter 34 Big Data and Analytics
Chapter 35 Case Study: UnitedHealth Group
Part IV: Applications of Engagement
Intro: The Enterprise Engagement Framework
Chapter 36 Keys to Implementation
Chapter 37 Budgeting and ROI
Chapter 38 Engagement Careers
Chapter 39 Engagement and Nonprofits
Chapter 40 Implications for Government
Chapter 41 Engagement, Human Capital and the Accounting Profession
Chapter 42 Enterprise Engagement and ISO 30414 Human Capital Reporting Standards
Appendix 1 Sample Engagement Business Plan
Appendix 2 An Explanation of Tracer Audit Methodology
Appendix 3 ISO 10018 Audit
Appendix 4 Human Capital Evaluation Checklist
Appendix 5 Example of a "Model" Company
For More Information
Bruce Bolger
Founder, Enterprise Engagement Alliance
914-591-7600, ext. 230
---
Master the "S" of Environmental, Social, Governance (ESG), A.k.a. Stakeholder Capitalism
The Enterprise Engagement Alliance at
TheEEA.org
is the world's first and only organization that focuses on outreach, certification and training, and advisory services to help organizations achieve their goals by fostering the proactive involvement of all stakeholders. This includes customers, employees, distribution and supply chain partners, and communities, or anyone connected to an organization's success.
Training and Thought Leadership
Engagement Digital Media and Marketplaces
Enterprise Engagement Advisory Services
For more information:
Contact Bruce Bolger at
Bolger@TheICEE.org
or call 914-591-7600, ext. 230.