Take This Quick Survey for a Snapshot of DEI in the Workplace
A new stakeholder survey created by the Center for Human Capital Innovation known as DEI360 is built to help organizations establish a baseline for the effectiveness of Diversity, Equity, and Inclusion processes. The Enterprise Engagement Alliance is using it as part of an anonymous three-week survey to measure the perceived level of DEI in business, ending Feb. 28, 2022.
This brief anonymous organizational Diversity, Equity, and Inclusion survey collects responses from ESM readers' perspectives to obtain anonymous, quantitative insights into the way survey respondents feel and experience Diversity, Equity, and Inclusion (DEI) in their organizations. The results of this survey will aggregate the results of individuals from multiple companies collected over a three-week period to provide an informal survey of how people feel about DEI within their own organizations.

Click here
to take the anonymous survey by Feb. 28, 2022. The results will be shared with ESM readers shortly thereafter. This assessment is confidential and should take less than 15 minutes to complete. Answers will not be linked to respondents in any way.
The DEI360 survey is designed to help organizations effectively map their Diversity, Equity, and Inclusion strategies by establishing a clear baseline using feedback from employees, teams, boards and all the different stakeholders compared with factual data. It is available for use by any organization seeking to benchmark and track perceptions about DEI within its own culture.

According to Anne Loehr, Executive Vice President of the Center for Human Capital Innovation, the DEI assessment was developed with input from commercial and nonprofit experts and practitioners, literature on best practices, and the collective experience of CHCI's leadership. The DEI360 assessment captures both qualitative and quantitative data, starting with the perceptions of all stakeholders, she explains. The quantitative data uses the Likert scale and qualitative data that captures the perspectives of the respondents. This information can then be compared with the company's analysis of human resources and other existing data, including workforce demographics, hiring, compensation, and turnover data, succession planning and learning data, and employee complaints, etc. to reveal gaps between perceptions and reality. For example, a workforce may be diverse and equitable statistically, but perceived to be otherwise, Loehr points out.
The assessment was developed in 2020 and tested for seven months internally and with external partners, she says, to effectively measure stakeholder perceptions versus the facts and to identify gaps and potential solutions.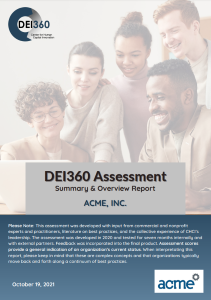 An organization's DEI360 results can be analyzed against past audits and with other data such as employee engagement surveys and performance data, Loehr says. While CHCI emphasizes anonymity in the DEI360 survey, correlations between results and trends in employee engagement, learning, performance, and retention are expected to be closely correlated, she points out. Trend analysis of the DEI360 over time, including against other survey and HR data, for example, can demonstrate the survey's convergent and predictive validity.
"By working with our clients to capture sufficiently large and representative samples of the organization in DEI360 assessments, and in combining existing workforce data with DEI360 data and qualitative interviews, our clients enjoy high confidence in the accuracy of our insights and are confident that the steps taken to improve DEI are the right ones," Loehr says. The program, led by experts in DEI, takes about four weeks to complete, and includes a professional analysis, a report, and actionable recommendations.


For More Information
Bruce Bolger
Founder, The Engagement Agency
914-591-7600
---
Master the "S" of Environmental, Social, Governance (ESG), A.k.a. Stakeholder Capitalism
The Enterprise Engagement Alliance at
TheEEA.org
is the world's first and only organization that focuses on outreach, certification and training, and advisory services to help organizations achieve their goals by fostering the proactive involvement of all stakeholders. This includes customers, employees, distribution and supply chain partners, and communities, or anyone connected to an organization's success.
Training and Thought Leadership
Enterprise Engagement Advisory Services
For more information:
Contact Bruce Bolger at
Bolger@TheICEE.org
or call 914-591-7600, ext. 230.