Firm Matches Neurodivergent Talent with Employers
The CBS news show "60 Minutes" last year featured a story on employers hiring neurodivergent employees to help tackle specialized tasks. The firm Specialisterne specializes in helping match companies with talented employees on the spectrum, whose talents are often overlooked because of unexpected social behaviors. Finding a way to create wealth by solving social problems is a hallmark of Stakeholder Capitalism principles.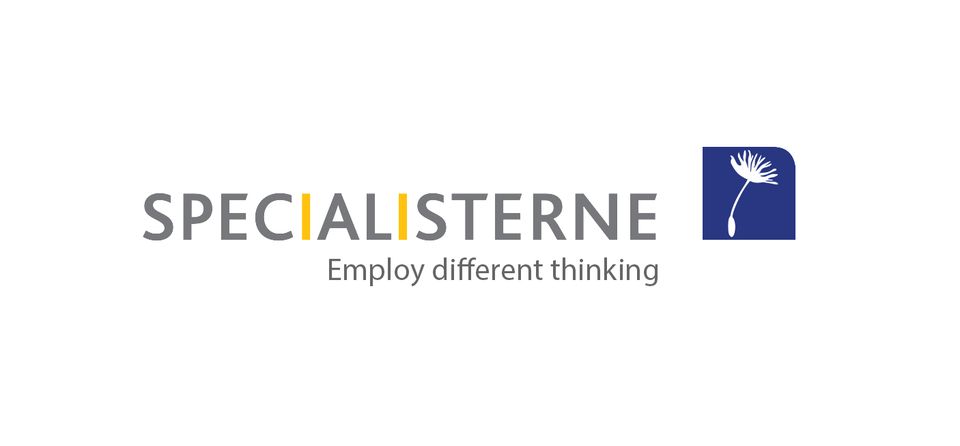 For Corey Hollemeyer, Talent Acquisition Manager, at Specialisterne, her work is a passion. "There is so much talent just wasting away. There are so many people capable of work who can't make it through an interview of the mainstream hiring process to find a rewarding career."
Specialisterne is a US not-for-profit, originating in Denmark, dedicated to helping match the needs of companies committed to hiring autistic or related talent eager to work. "There are so many people who can't get through an interview process who end up on government support because even if they work a limited time, they lose vital benefits. All our employers pay good wages and provide key benefits so that autistic and people with related conditions can make a contribution to society as well."
While many of the roles usually involve Information Technology (IT), data analytics, and cyber security, involving leading consulting, financial, and engineering firms, "Not every autistic person wants to work in tech or data analytics or has those capabilities." While it's generally known that autistic people and those with related conditions can have exceptional abilities related to processing data and information, making comparisons, or memorizing information, others have unique skills that can help with solving customer problems such as creativity, Hollemeyer points out.

Specialisterne starts by learning the types of skills an organization needs. "Then we go out to find the people with those skills. The typical job description often contains paragraphs of information that can be unclear to neurodivergent people. We help employers whittle down the job description to focus on the skills that are truly required."
There is no interview process, she reports. "Our method is competency based. Candidates go to our web site and fill out a form with their interests. If it's for a specific role, there are questions related to that role. We don't believe that the interview process is an effective way of hiring with these types of candidates. If we get 200 applications for three positions, we whittle down the list to match the skill requirements."
The first step for selected applicants is a virtual workshop that includes three half-days for group interaction and problem solving and to help assess the ability to work with other people and to think critically. "We watch how people approach a problem. At the end of that process, facilitators create profiles for candidates that are shared with hiring managers who never meet the candidates before they start."
Sometimes, qualified people are selected for a four-week trial period, overseen by Specialisterne staff, who provide support to the managers, especially during the onboarding process. Other times, organizations make blind hiring decisions based on the candidate profiles that are created during the workshop. "Our coaches have said they often have to spend more time with hiring managers than with the hirees, and most hiring managers have said that going through the process has made them a better manager. They become better communicators, because it's important to be clear and specific with neurodivergent people."
Many neurodivergent people are highly qualified to do the work required and "they often bring a very fresh view to a situation. They come up with ideas that others wouldn't see. If you want someone who thinks differently, you might find that they are different." The process of identifying and matching candidates with companies is laborious, but pays off, Hollemeyer says. As the table below indicates, both companies and the employees express a high level of satisfaction with the program.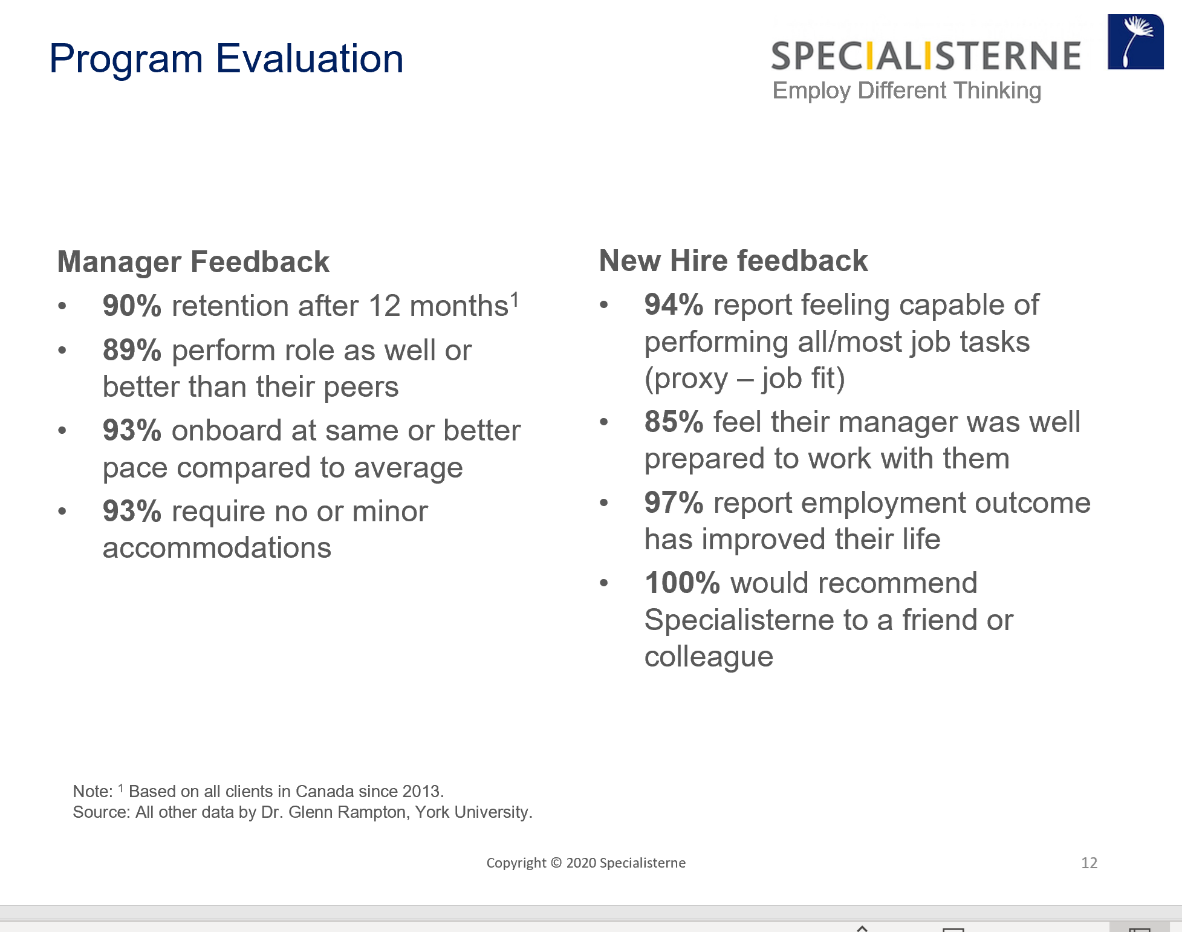 For More Information
Corey Hollemeyer
Talent Acquisition Manager
Specialisterne
---
Master the Principles of Stakeholder Capitalism And Implementation Through Enterprise Engagement
Education, Certifications, and Information to Activate
Stakeholder Capitalism Available Nowhere Else
A complete learning, certification, and information program and a course syllabus for educators.
Training and Certification
Enterprise Engagement Alliance Education: Certified Engagement Practitioner; Advanced Engaged Practitioner, and Certified Engagement Solution Provider learning and certification programs on how to implement Stakeholder Capitalism principles at the tactical level.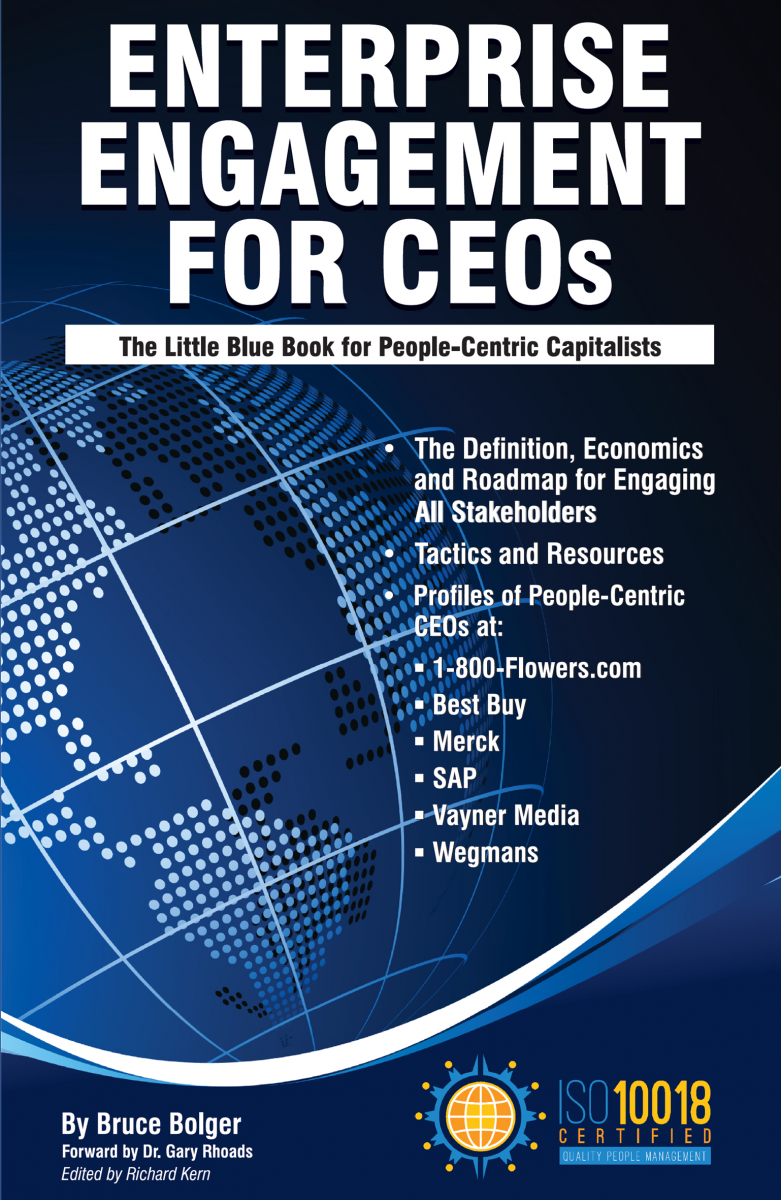 Join the EEA to begin your certification process or see our other resources below.
THE ONLY BOOKS ON STAKEHOLDER CAPITALISM IMPLEMENTATION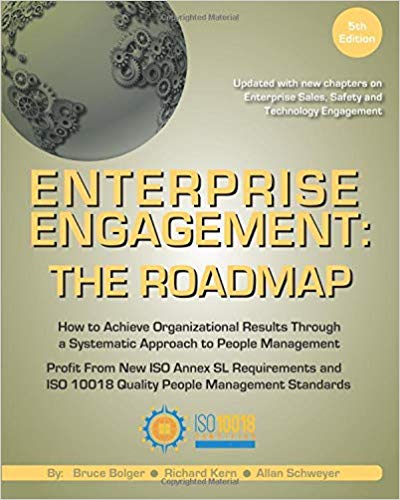 Enterprise Engagement: The Roadmap 5th Edition
The first and most comprehensive book on Enterprise Engagement and the new ISO 9001 and ISO 10018 quality people management standards. Includes 36 chapters detailing how to better integrate and align engagement efforts across the enterprise. (312 pages, $36.)
OTHER RESOURCES TO ACTUALIZE STAKEHOLDER CAPITALISM
Communities:
The
Enterprise Engagement Alliance and Advocate
and the
Brand Media Coalition
free resource centers offering access to the latest research, news, and case studies; discounts, promotions, referrals, and commissions, when appropriate to third-party solution providers from participating coalition solution provider members.
Enterprise Engagement
Resources:
EEXAdvisors.com provides the only curated online marketplace to access hundreds of solution providers in all areas of human capital management and enterprise engagement throughout the world.
Online Overview:
10-minute short course: click here for a 10-minute introduction to Enterprise Engagement and ISO standards from the Coggno.com learning platform.
Services:
• The Engagement Agency at EngagementAgency.net, offering: complete support services for employers, solution providers, and technology firms seeking to profit from formal engagement practices for themselves or their clients, including Brand and Capability audits for solution providers to make sure their products and services are up to date.
• C-Suite Advisory Service—Education of boards, investors, and C-suite executives on the economics, framework, and implementation processes of Enterprise Engagement.
• Speakers Bureau—Select the right speaker on any aspect of engagement for your next event.
• Mergers and Acquisitions. The Engagement Agency's Mergers and Acquisition group is aware of multiple companies seeking to purchase firms in the engagement field. Contact Michael Mazer in confidence if your company is potentially for sale at 303-320-3777.
Enterprise Engagement Benchmark Tools: The Enterprise Engagement Alliance offers three tools to help organizations profit from Engagement. Click here to access the tools.
• ROI of Engagement Calculator. Use this tool to determine the potential return-on-investment of an engagement strategy.
• EE Benchmark Indicator. Confidentially benchmark your organization's Enterprise Engagement practices against organizations and best practices.
• Compare Your Company's Level of Engagement. Quickly compare your organization's level of engagement to those of others based on the same criteria as the EEA's Engaged Company Stock Index.
• Gauge Your Personal Level of Engagement. This survey, donated by Horsepower, enables individuals to gauge their own personal levels of engagement.
For more information, contact Bruce Bolger at Bolger@TheEEA.org, 914-591-7600, ext. 230.