World Economic Forum Announces Metrics for Stakeholder Capitalism
Business and media skeptics have challenged the business community to demonstrate they are serious about Stakeholder Capitalism principles. In a web program publicizing the new Stakeholder Capitalism Metrics companies can use to standardize ESG (Environmental, Social, and Governance) disclosures, business leaders assert that Stakeholder Capitalism has arrived and that it's time to focus on implementation.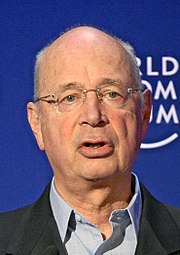 In a
live web show
hosted by Diligent Corp. featuring Brian Moynihan, CEO of Bank of American; Klaus Schwab, Founder of the World Economic Forum; Carmine Di Sibio, EY Chairman; Betsy Atkins, Board Member of Wynn Resorts, Volvo Cars and SL Green Realty, and Brian Stafford, President and CEO of Diligent Corp., BOA's Moynihan says there are a lot of companies that think that ESG, including human capital disclosures, don't apply to them. "Even smaller companies will be affected. Everything that happens at large companies makes it through to all companies, as that's how the natural world works."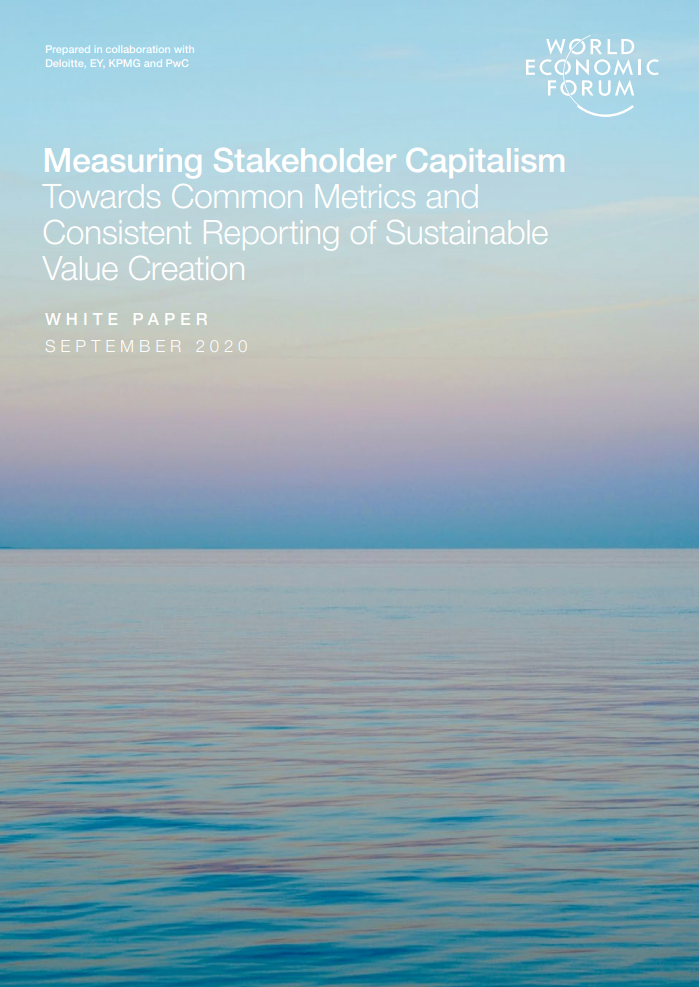 The web show was aired to publicize the new WEF report:
Measuring Stakeholder Capitalism: Towards Common Metrics and Consistent Reporting of Sustainable Value Creation
. The standards were developed by the WEF's International Business Council, comprised of over 120 global CEOs seeking "to improve the ways that companies measure and demonstrate their contributions towards creating more prosperous, fulfilled societies and a more sustainable relationship with our planet." Moynihan helped oversee the project.
What does the arrival of Stakeholder Capitalism mean to businesses? According to the web show:
•
Every company will need to have a clearly articulated purpose and disclose comparable information on diversity, pay equity, health and safety, training, employee turnover, and oversight of supply chain people practices.
•
Stakeholder Capitalism is being driven by investors, customers, employees, and other stakeholders, but proposed WEF standards can also provide guidance for governments around the world embracing ESG disclosure requirements.
Why Stakeholder Capitalism Will Prevail
Stakeholder Capitalism, the panelists contend, is not about pitting shareholders against stakeholders, but about aligning their interests toward a common purpose. "If you do not have a purpose, you won't be able to hire the best talent," says Schwab, nor attract the best investors, customers, supply chain partners or be welcomed by communities.
BOA's Moynihan agrees. He suggests that human capital management practices could even one day affect the amount companies pay for business loans. "There is no doubt that there is a material risk to poor human capital management practices," even suggesting that poor people management practices are a major contributor to business failures.
Says WEF's Schwab: "We are living in the age of Stakeholder Capitalism. It will require new measures. The pressure is coming from investors, employees, customers, no one will escape. The question is not whether to do it. It is will we be too late and lose a competitive advantage?"

According to the speakers, the WEF Stakeholder Capitalism metrics were created not only for businesses but for government policy makers seeking to promote ESG disclosures. "In certain countries," says Schwab, "these disclosures and practices could become law." However, he notes: Stakeholder Capitalism "is not top down, it's coming from business itself…Here we have a case in which business has taken the initiative. This is much more self-regulatory."
Stakeholder Capitalism is a board and CEO-level process, says Di Sibio, EY Chairman, "The board has top accountability for ESG adherence but I think it's the responsibility of the board to work jointly with management so that ESG responsibility is integrated deeply into the culture of the company. I don't see a differentiation from the board and the rest of the company. ESG should be at the core of any decision as a twin to the economic considerations—economics, strategy, and ESG are deeply intertwined."
A Lack of Understanding and Legal Questions
The challenge, panelists admit, is that board level people have little understanding of Stakeholder Capitalism. "This is something that is evolving as we speak. Many board members come from another era. We need to educate boards and directors but I think it's important that boards talk with CEOs about what they are going to do around different areas of Stakeholder Capitalism and how they are going to get to the metrics. They should be asking a lot of questions."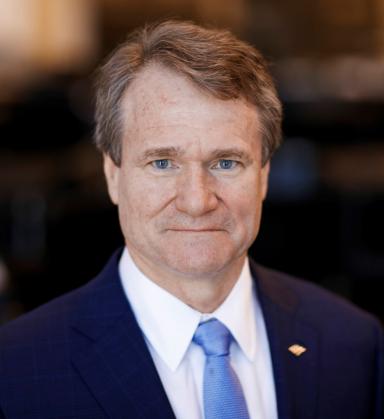 Ironically, Moynihan says, the main internal opposition from Stakeholder Capitalism comes from the corporate lawyers, who view it as a potential risk for litigation from shareholders. (For example, pension funds with a fiduciary responsibility to participants might claim that profits are being diverted to pet causes to their detriment or that CEOs would be stymied by having to balance the needs of conflicting stakeholder interests. See Harvard law professor
Lucien Bebchuk's point of view
on the "Illusory Promise of Stakeholder Capitalism.")
Moynihan believes the tide is turning. "If you get into a lawsuit, you have to put facts on the table. If we get sued about hiring, discrimination, wouldn't we have to have disclosures? And, if we don't have them, doesn't it look like we're trying to hide something? Again, people can take a different point a view, but that's a short-term point of view. Talk about brand disruption. If you don't care about what society cares about and you're trying to hide it, I think you have big risk for brand, employee and investor disruption."
The speakers generally agree that about 30% to 40% of companies have begun the journey toward a formal human capital management disclosure plan and that the pace will quicken as proxy season arrives early this coming year. Companies are already on the path because shareholders, customers, and employees are pushing, they agree.
The energy now should not be on just setting up disclosure metrics, but on taking the steps to improve those metrics, Moynihan insists.
---
Master the Principles of Stakeholder Capitalism And Implementation Through Enterprise Engagement
Education, Certifications, and Information to Activate
Stakeholder Capitalism Available Nowhere Else
A complete learning, certification, and information program and a course syllabus for educators.
Training and Certification
Enterprise Engagement Alliance Education: Certified Engagement Practitioner; Advanced Engaged Practitioner, and Certified Engagement Solution Provider learning and certification programs on how to implement Stakeholder Capitalism principles at the tactical level.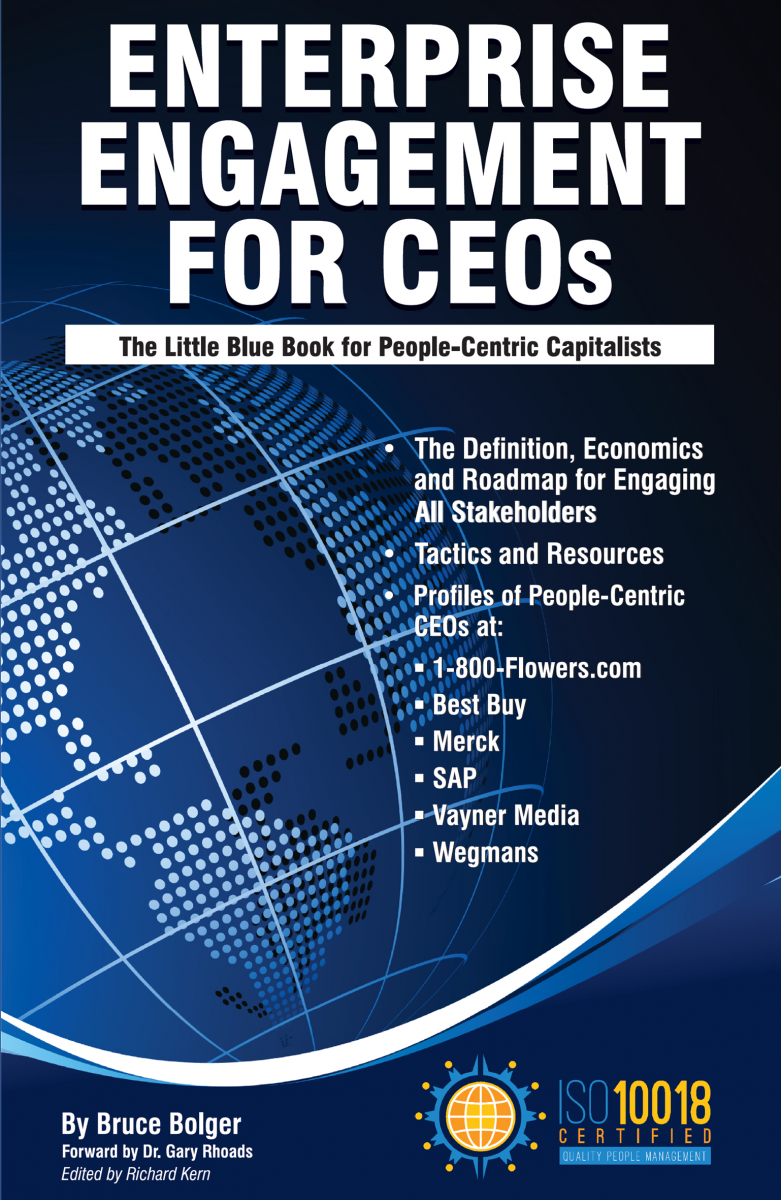 Join the EEA to begin your certification process or see our other resources below.
THE ONLY BOOKS ON STAKEHOLDER CAPITALISM IMPLEMENTATION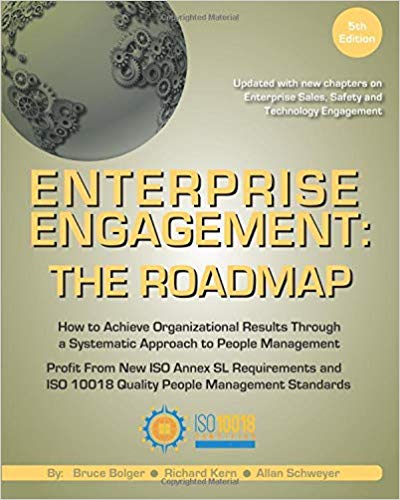 Enterprise Engagement: The Roadmap 5th Edition
The first and most comprehensive book on Enterprise Engagement and the new ISO 9001 and ISO 10018 quality people management standards. Includes 36 chapters detailing how to better integrate and align engagement efforts across the enterprise. (312 pages, $36.)
OTHER RESOURCES TO ACTUALIZE STAKEHOLDER CAPITALISM
Communities:
The
Enterprise Engagement Alliance and Advocate
and the
Brand Media Coalition
free resource centers offering access to the latest research, news, and case studies; discounts, promotions, referrals, and commissions, when appropriate to third-party solution providers from participating coalition solution provider members.
Enterprise Engagement
Resources:
EEXAdvisors.com provides the only curated online marketplace to access hundreds of solution providers in all areas of human capital management and enterprise engagement throughout the world.
Online Overview:
10-minute short course: click here for a 10-minute introduction to Enterprise Engagement and ISO standards from the Coggno.com learning platform.
Services:
• The Engagement Agency at EngagementAgency.net, offering: complete support services for employers, solution providers, and technology firms seeking to profit from formal engagement practices for themselves or their clients, including Brand and Capability audits for solution providers to make sure their products and services are up to date.
• C-Suite Advisory Service—Education of boards, investors, and C-suite executives on the economics, framework, and implementation processes of Enterprise Engagement.
• Speakers Bureau—Select the right speaker on any aspect of engagement for your next event.
• Mergers and Acquisitions. The Engagement Agency's Mergers and Acquisition group is aware of multiple companies seeking to purchase firms in the engagement field. Contact Michael Mazer in confidence if your company is potentially for sale at 303-320-3777.
Enterprise Engagement Benchmark Tools: The Enterprise Engagement Alliance offers three tools to help organizations profit from Engagement. Click here to access the tools.
• ROI of Engagement Calculator. Use this tool to determine the potential return-on-investment of an engagement strategy.
• EE Benchmark Indicator. Confidentially benchmark your organization's Enterprise Engagement practices against organizations and best practices.
• Compare Your Company's Level of Engagement. Quickly compare your organization's level of engagement to those of others based on the same criteria as the EEA's Engaged Company Stock Index.
• Gauge Your Personal Level of Engagement. This survey, donated by Horsepower, enables individuals to gauge their own personal levels of engagement.
For more information, contact Bruce Bolger at Bolger@TheEEA.org, 914-591-7600, ext. 230.