Stanford Report: HR Has Made Progress in Influence, but How Much?
A recent report by Courtney Hamilton, David F. Larcker, Stephen A. Miles and Brian Tayan published in the Stanford Business School's "Closer Look" series attempts to answer the question:
Featured EEA Supporter: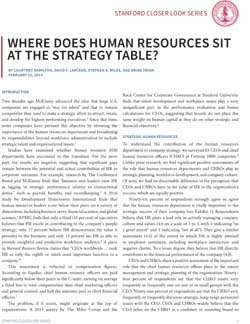 A recent study of CEOs and Chief Human Resources Officers (CHROs) at 85 companies found that while HR management is making progress in terms of influence in corporate strategy and has many opportunities, much room for improvement remains.
According to the authors, "Two decades after McKinsey coined the term 'war for talent,' there is relatively little evidence that companies have made tangible progress developing and implementing strategies to compete for human talent," even though, they report, this remains a top CEO priority. While the authors found general agreement between CEOs and CHROs that human resources is regularly consulted on employee matters, there is major disagreement on the substance of that role in terms of specific impact on corporate strategy.
The Cascade Effect
"Only 18% rate their company a 5 on a scale of 1 to 5, when asked to what extent their HR department does an outstanding job contributing to the strategic success of the organization. Sixty percent rate the company a 4, and a sizeable minority assign their companies ratings of 3 (15%) and 2 (5%). These numbers suggest that while respondents might be highly favorable of the contribution that the CHRO makes to the organization and its strategic management, the contribution that this individual makes might not cascade down through the HR department as a whole," says the report.
On the positive side, the authors note, "96% of respondents 'strongly agree' or 'agree' that the human resources department is vitally important to the strategic success of their company. Combined, respondents believe that HR plays a lead role in actively managing company culture and values (4.6 on a scale of 1 to 5). They give a similar assessment (4.6) of the extent to which HR is highly attuned to employee sentiment, including workplace satisfaction and negative chatter. To a lesser degree, they believe that HR directly contributes to the financial performance of the company (4.0)."
On the other hand, "One issue where we found significant disagreement between the CEO and CHRO is over the role that the human resources department plays in senior-level discussions about company culture: 71% of CHROs claim that they lead the discussion on culture, whereas only 36% of CEOs believe that the CHRO leads the discussion."
Ability to Inspire Is Considered Critical
When asked what high-level leadership skills are most important to their organization's strategic success over the next five years, the answers were:
Ability to inspire and motivate: 80%
Drives for results: 79%
Ability to drive innovation and disruption: 68%
Change management: 62%
Digital literacy, the big hot topic in conferences and social media, came in at 42%.
Not surprisingly, 'recruitment and development' and 'talent' rank No. 1 and No. 3 respectively, as high-level functional skills considered most important for success.
The authors admit that their findings are somewhat optimistic about the role of HR in comparison with past reports. They write: "Studies have examined whether human resource departments have succeeded in this transition [to address the war on talent]. For the most part, the results are negative, suggesting that significant gaps remain between the potential and actual contribution of HR to corporate outcomes. For example, research by The Conference Board and McKinsey finds that 'business unit leaders view HR as lagging in strategic performance relative to transactional duties,' such as payroll, benefits, and recordkeeping. A 2016 study by Development Dimensions International finds that human resources leaders score below their peers on a variety of dimensions, including business savvy, financial acumen, and global acumen. KPMG finds that only a third (35%) of executives believe that HR excels in contributing to the company's people strategy; only 17% believe HR demonstrates the value it provides to the business; and only 15% see HR as able to provide insightful and predictive workforce analytics. A piece in Harvard Business Review claims that "CEOs worldwide…rank HR as only the eighth or ninth most important function in a company." This assessment is reflected in compensation figures. According to Equilar, Chief Human Resource Officers are paid significantly below their peers in the C-suite, earning, on average, a third less in total compensation than Chief Marketing Officers and General Counsel, and half the amounts paid to Chief Financial Officers."
The issue of HR's influence in strategic planning raises a number of questions, the authors conclude. "How in fact does the CEO, the senior management team, and the board of directors validate the quality and effectiveness of its human capital strategy? In a general sense, approving HR strategy is analogous to approving corporate strategy, including the establishment of overall objectives for the organization, identifying the steps necessary to achieving those objectives, establishing targets and metrics to track progress, and developing the supporting budget."
The Need for An Enterprise Approach
The authors assert that "The CEO and CHRO cannot drive HR strategy alone; each leader throughout the organization must be aligned and accountable for prioritizing and delivering against the HR strategy (as they would corporate strategy). To further reinforce the concept that human capital is central to the success of corporate strategy, specific targets should be included in compensation contracts and bonus targets. Furthermore, the board of directors plays an important role in assessing the acceptability of the human capital strategy. This includes not only advising senior management in HR strategy development but also challenging the CEO and CHRO to defend situations where their assessment differs from those of division heads and the broad base of employees. To facilitate the discussion, the board should request that management develop reliable metrics and demonstrate the success or potential areas to improve its efforts through data pulled from human resource management systems (HRMS). For HR strategy to succeed, it needs to be treated more like corporate strategy, as opposed to an addendum to the board book."
---
Featured EEA Supporter:
The Enterprise Engagement Academy
Master the hottest new profession through online training and certification.
For More Information
Or, contact:
Bruce Bolger, President
245 Saw Mill River Rd., Suite 106
Hawthorne NY 10532
914-591-7600, ext. 230
---
Master the Principles of Enterprise Engagement to Achieve Organizational Goals and Enhance Your Career
Profit from a new systematic approach to engagement to enhance your organization's brand equity; increase sales, productivity, quality, innovation, and safety, and reduce risks.
Achieve ISO 10018 Quality People Management Certification to demonstrate your organization's strategic commitment to people to your customers, employees, distribution partners, vendors, communities, investors, and regulators.
Live Education:
The Brand Engagement Conference
, June 18-20, 2019, Chicago, in conjunction with the Selling Power Sales 3.0 Conference. Learn a breakthrough, practical approach to enhance performance and stakeholder experiences at Selling Power's Sales 3.0 Conference, "Frictionless Selling," June 18-19, and "Enterprise Engagement in Action," June 20, at the Drake Hotel.
Register now
.
In Print:

Enterprise Engagement: The Roadmap 5th Edition.
The first and most comprehensive book on Enterprise Engagement and the new ISO 9001 and ISO 10018 quality people management standards.
Online:

The Enterprise Engagement Academy at EEA.tmlu.org
, providing the only formal training on Enterprise Engagement and the new ISO 9001 and ISO 10018 quality people management standards. Provides preparation for professionals to support organizations seeking ISO 10018 employer or solution provider certification, as well as elective courses on Trade Show Engagement, Rewards and Recognition, Government, and other topics.
Plus
:
10-minute short course:
click here
for a 10-minute introduction to Enterprise Engagement and ISO standards on
Coggno.com
.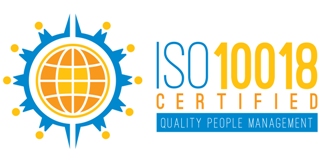 Services: The International Center for Enterprise Engagement at TheICEE.org
, offering: ISO 10018 certification for employers, solution providers, and Enterprise Engagement technology platforms; Human Resources and Human Capital audits for organizations seeking to benchmark their practices and related Advisory services for the hospitality field.
The Engagement Agency at EngagementAgency.net
, offering: complete support services for employers, solution providers, and technology firms seeking to profit from formal engagement practices for themselves or their clients, including Brand and Capability audits for solution providers to make sure their products and services are up to date.
C-Suite Advisory Service
—Education of boards, investors, and C-suite executives on the economics, framework, and implementation processes of Enterprise Engagement.
Speakers Bureau
—Select the right speaker on any aspect of engagement for your next event.
Mergers and Acquisitions.
The Engagement Agency's Mergers and Acquisition group is aware of multiple companies seeking to purchase firms in the engagement field. Contact Michael Mazer in confidence if your company is potentially for sale at 303-320-3777.
Enterprise Engagement Benchmark Tools:
The Enterprise Engagement Alliance offers three tools to help organizations profit from Engagement.
Click here
to access the tools.
• ROI of Engagement Calculator. Use this tool to determine the potential return-on-investment of an engagement strategy.
• EE Benchmark Indicator. Confidentially benchmark your organization's Enterprise Engagement practices against organizations and best practices.
• Compare Your Company's Level of Engagement. Quickly compare your organization's level of engagement to those of others based on the same criteria as the EEA's Engaged Company Stock Index.
• Gauge Your Personal Level of Engagement. This survey, donated by Horsepower, enables individuals to gauge their own personal levels of engagement.
For more information, contact Bruce Bolger at Bolger@TheEEA.org, 914-591-7600, ext. 230.