Confessions of a Cautious Convert: Tricia Veness, Artis REIT HR Exec
Tricia Veness, Director of Human Resources for
Artis REIT
, Winnipeg, admits that she has approached the employee engagement movement with some degree of skepticism. The company describes itself as "a Canadian real estate investment trust who invest in quality commercial real estate in select markets to create value for our stakeholders." Over the past five years, she has had to focus on staffing a rapidly growing and changing company that employs generally highly skilled and trained professionals in almost all areas of real estate. Veness, a recent speaker at the Marcus Evans Talent Management Conference in Toronto, says she's just beginning to have a serious opportunity to explore how to create and sustain a culture, now that the company has achieved its latest round of recruitment goals.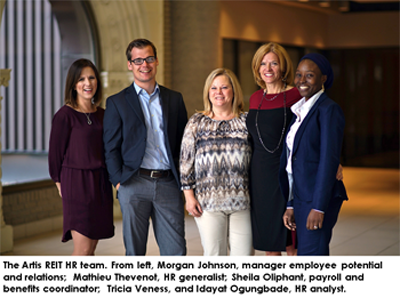 Veness said the term "employee engagement" didn't grab her at first because of the difficulty of seriously measuring engagement and its impact on an organization, let alone defining the term. "How do you really know when an employee is engaged?" she asks. "Yes, we can do a survey, but how do we really define it? And once we do, how can employee engagement work for us?"
Veness says she wondered how the traditional return-on-investment measurements for employee engagement, such as reduced turnover and absenteeism, could apply to her organization, which has turnover of under 10% per year and no absenteeism problem to speak of. The one employee engagement survey the company conducted showed no major issues in the first round of data they've received so far. These questions, she adds, along with her background in the military (a culture that expects engagement), made her uneasy when she began to hear more about the topic of employee engagement over the last few years.
The Catalyst for a New Point of View
Then, last year, after attending a conference on employee engagement, her opinions began to shift. "I think as you read more research, you look at what's driving people and you look at the characteristics of the people entering the workforce, there really is an opportunity to start looking at the idea of a tool to retain and develop the workforce." The timing is right for her organization, she says, because with over 170 highly skilled management in five offices and a relatively limited available talent pool, "We want to look good, make our people feel good for the purposes of retention and recruitment….and for how we come across and perform for our clients. I guess that's why they came up with the concept of employee engagement. I can see its importance related to organizational strategy."
The subject, she says, is now "very important to us because we're a relatively small team but have $5.5 billion in assets to manage. We run lean, and it's a tough market in which to recruit. We have to manage costs for our clients and help them improve the return of their assets." That, Veness says, requires expertise in leasing, finance, real estate law, property management and more. The jobs can be demanding because the fast pace of the industry requires flexibility and the ability to learn on the fly to deal with new challenges on a regular basis. "We don't want to spend unnecessary time recruiting people," she notes. "We want to better manage and develop the people we have."
After having had to recruit almost on her own 36, 51, and 48 professionals in her first three years on the job respectively, Veness says she has learned a lot about the importance of having an employee brand – which led to the development of a campaign for employee recruitment called "
Stories of success
," which is a theme similar to the "Properties of success" theme Artis REIT uses for marketing to clients.
Now, she says, her focus is shifting to building a more clearly defined, sustainable brand built off of the company's culture. With only herself and a small staff, she explains that "we've tried first to get the main compensation and benefits issues established," adding that the company pays for 70% of benefits; has a generous wellness program; 15 days of vacation time the first year; free bus passes and parking; an active corporate social responsibility programs involving employees; and tries to address work-life balance with each employee. "I think we're doing a good job of accommodating peoples' needs as much as we can."
A More Formal Approach
Veness looks at the future: "Now that we can begin to think about our long-term goals, the key is to identify what we need to retain and develop for our team in a way that helps deliver results for clients." This, she says, is where the final "ah-ha" occurred for her concerning engagement. In focusing on building a sustainable internal brand, she realized the need for a formal process with a clear return on investment so that management could see the value. At the same time, she realized she needs more than ad hoc gestures to fulfill the goal of "leveraging the potential of our people to maximize returns for our clients."
This, Veness explains, translates into the development of more formal strategy covering these additional key areas of engagement:
Assessment. The company uses roundtables as opposed to formal engagement surveys at this stage, although they untilized a survey tool test developed by a graduate student at a local university to measure employee-manager relationships for which they received generally satisfying reviews, but for which she's awaiting final results.
Communications. "We have an employee portal and generally an informal communications approach," she says, adding that now, as a larger company, there's an opportunity to formalize this more.
Training development. Veness says she sees education more focused on delivering the brand promises through best in class service, personal effectiveness and teamwork.
Career laddering and succession planning. She says the company employs a lot of Millennials who want to have a sense of where they can grow.
Rewards and recognition. Veness believes the company has reached the stage where it's time to take a more formal approach to these programs and consider how they align with organizational goals.
Most important, she says, is the ability to measure the return on this investment. "We're just starting to link this to performance," and Veness believes this is an important goal. She notes that human resources is the natural leader within an organization to drive employee engagement, even though many of the branding and communications skill-sets overlap with marketing.
So does she now believe the employee engagement movement is for real?
"The concept of being more formal about employee engagement makes sense," Veness says. "When we start thinking about organizational goals and how to achieve them through our people, employee engagement becomes important. But in order to make it work, the process has to be formalized with a return our management and shareholders can understand. I can't sell management unless I believe in it, and I can only do so if there's a return on investment."