Total Rewards 2.0: It's Time to Update the Model
Conceived in the 1990s, the concept of Total Rewards represented a revolution in thinking related to compensation that to this day has not been fulfilled at many organizations, that is: a strategic, holistic approach to compensation that considers every aspect of the employee experience and his or her capabilities and potential contributions to the organization. Many organizations continue to take an ad hoc, reactive approach to total rewards that throws tactics at issues rather than addressing the underlying issues that contribute to turnover, low productivity, poor service, and generally low levels of engagement. Total Rewards 2.0 updates the original model to take into account the emergence of Stakeholder Capitalism, human capital management and measurement, and ROI of engagement.
The Total Rewards concept was greeted with fanfare when introduced in the 1990s, based on the volumes of articles published on the subject over the years. The main question: what were the results? Based on Gallup employee engagement statistics, not much. The average level of employee engagement has never even approached 50% in the many years Gallup has conducted the survey, and, while one can question the methodology of any surveys, no one can reasonably argue that the average American loves his or her job or can't wait to start work on Monday morning.
Total Rewards 2.0 addresses the main shortcomings of Total Rewards 1.0:
•
The need to make a strategic link between the Total Rewards strategy to the organization's purpose, values, and goals, under the direct oversight of the CEO.
•
The opportunity to apply basic human capital management metrics for internal and external disclosures to drive better decision-making related to Total Rewards strategies and to link people investments to bottom-line outcomes.
•
The need to energize commitment to diversity and inclusion, not as a check-off-the-box Corporate Social Responsibility, but more importantly to reflect its contribution to financial success. This means having a formal plan and tracking and sharing meaningful metrics to drive continuous improvement.
•
The new focus on job-design—there is an enormous opportunity to enhance quality, productivity, and work experiences by rethinking jobs in a way to make them more interesting and to encourage job-sharing to improve productivity and quality. This includes strategies to build innovation and continuous improvement into every job.
•
A strategic approach to technology that lays a cable into the hearts and minds of every employee through smart phone engagement applications.
The Original Concept of Total Rewards
One of the earliest models for
Total Rewards
came from
World at Work
, originally, the American Compensation Association. This model, conceived over 20 years ago and still on World at Work's web site, puts the Total Rewards strategy at the center, with the influencers on one side of the model and the outcomes on the other. The tactics emphasize compensation, well-being, benefits, development, and recognition, which in theory lead to greater productivity, commitment, and inspiration.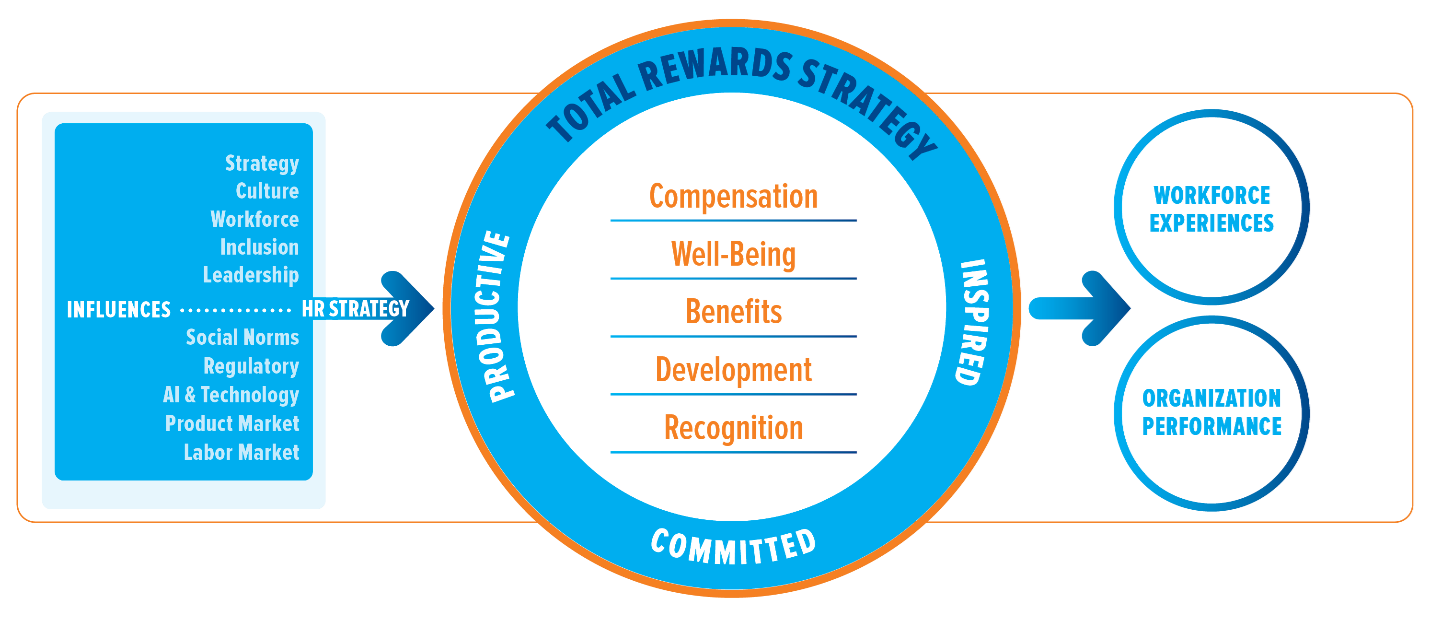 A
Society of Human Resources Management (SHRM) article
says, "A total rewards strategy is a system implemented by a business that provides monetary, beneficial and developmental rewards to employees who achieve specific business goals. The strategy combines compensation and benefits with personal growth opportunities inside a motivated work environment."
It writes that "Designing and implementing a total rewards strategy requires a large-scale approach that drives organizational change. Top executive and management buy-in are critical for the success of a total rewards strategy." According to the paper, the process requires:
1. Assessment of current benefits and compensation systems to determine their effectiveness in helping the organization achieve its goals," and asks such questions as:
•
"Who should be eligible for the rewards?
•
What kinds of behaviors or values are to be rewarded?
•
What type of rewards will work best?
•
How will the company fund this?"
2. Design: The senior management team identifies "what will be rewarded and what rewards will be offered to employees for those achievements. In a total rewards strategy, pay rewards for achievement of goals will not be the only consideration. HR strategists will also determine additional benefits (flexible work schedule, additional time off) or personal development opportunities (training or promotions) that employees will receive as a result of meeting the established company objectives."
3. Execution: The HR department implements the new rewards system by circulating "materials that communicate the new strategy to employees. Training also commences so that managers and decision-makers are able to effectively measure the achievement and employees are able to understand what they need to obtain to receive the rewards."
4. Evaluation: "The effectiveness of the new plan must be measured and the results communicated to company decision-makers. Based on this, modifications can be proposed to the strategy for future implementation."
https://www.shrm.org/resourcesandtools/tools-and-samples/hr-qa/pages/totalrewardsstrategies.aspx
A
survey conducted in 2018
by Willis Towers Watson found that a majority of companies were rethinking their Total Rewards strategies in response to tightening labor markets. Changes include: greater workplace flexibility; more health and well-being benefits; more personalized communications; more technology investments, and greater pay transparency. This report was, of course, published before the pandemic.
Total Rewards 2.0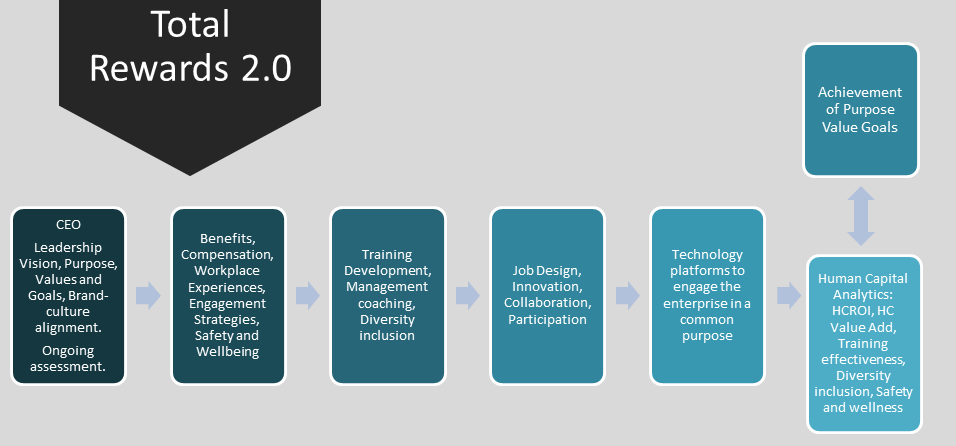 The World at Work model puts Total Rewards program at the center. The updated model from the Enterprise Engagement Alliance focuses activities toward organizational purpose. As shown, the new model focuses on the desired outcomes of Total Rewards: the fulfillment of the organization's purpose, values, mission, and financial goals. It embraces the overall implementation process of assessment; design, execution, and evaluation, with additional elements.
The process starts with CEO leadership that provides a clear definition of the organization's purpose, values, mission, and goals, updated at least annually, and sometimes more frequently. It ends with clear measures both in terms of achieving organizational goals and in measuring the impact on people with clear year-to-year comparable metrics. The new model includes the need to make a strategic link between the Total Rewards strategy to the organization's purpose, values, and goals, under the direct oversight of the CEO.
Total Rewards 2.0 addresses the importance of employee engagement and workplace experiences not as an end in and of themselves but as a way to achieve organizational objectives.
The updated model puts a big emphasis on job design and what can be done to inspire innovation, collaboration, job sharing and continuous improvement. It modifies training programs to help build the competencies necessary for each job; such as agility and resilience. The grocery chain Trader Joe's moves people around the store throughout the day not only to break up monotony but to introduce employees to different areas of the business so they can easily fill in for people out sick or on vacation.
The updated model includes an emphasis on diversity, equity and inclusion as a proactive strategy to attracting more talent and broader perspectives, rather than a reactive approach to regulatory or community pressures.
Academic studies
have shown a substantial positive correlation between degree of diversity and financial outcomes.
Total Rewards 2.0 includes a fundamental digital strategy to align communications, learning, innovation and collaboration, rewards and recognition, diversity inclusion, and other efforts on a single smart phone application available to all. Properly integrated employee engagement applications not only enable organizations to easily align all activities, they provide invaluable empirical data based on what people actually do rather than on what they say in survey responses.
Most importantly, perhaps, Total Rewards 2.0 differs in that it is linked specifically to organizational financial results as well as to its ability to fulfil its purpose, values, and mission. The strategy includes very clear human capital analytics linked to both financial and other qualitative goals, including:
•
Human Capital Return on Investment
•
Human Capital Value Add
•
Safety and wellness
---
Master the Principles of Stakeholder Capitalism And Implementation Through Enterprise Engagement
Education, Certifications, and Information to Activate
Stakeholder Capitalism Available Nowhere Else
A complete learning, certification, and information program and a course syllabus for educators.
Training and Certification
Enterprise Engagement Alliance Education: Certified Engagement Practitioner; Advanced Engaged Practitioner, and Certified Engagement Solution Provider learning and certification programs on how to implement Stakeholder Capitalism principles at the tactical level.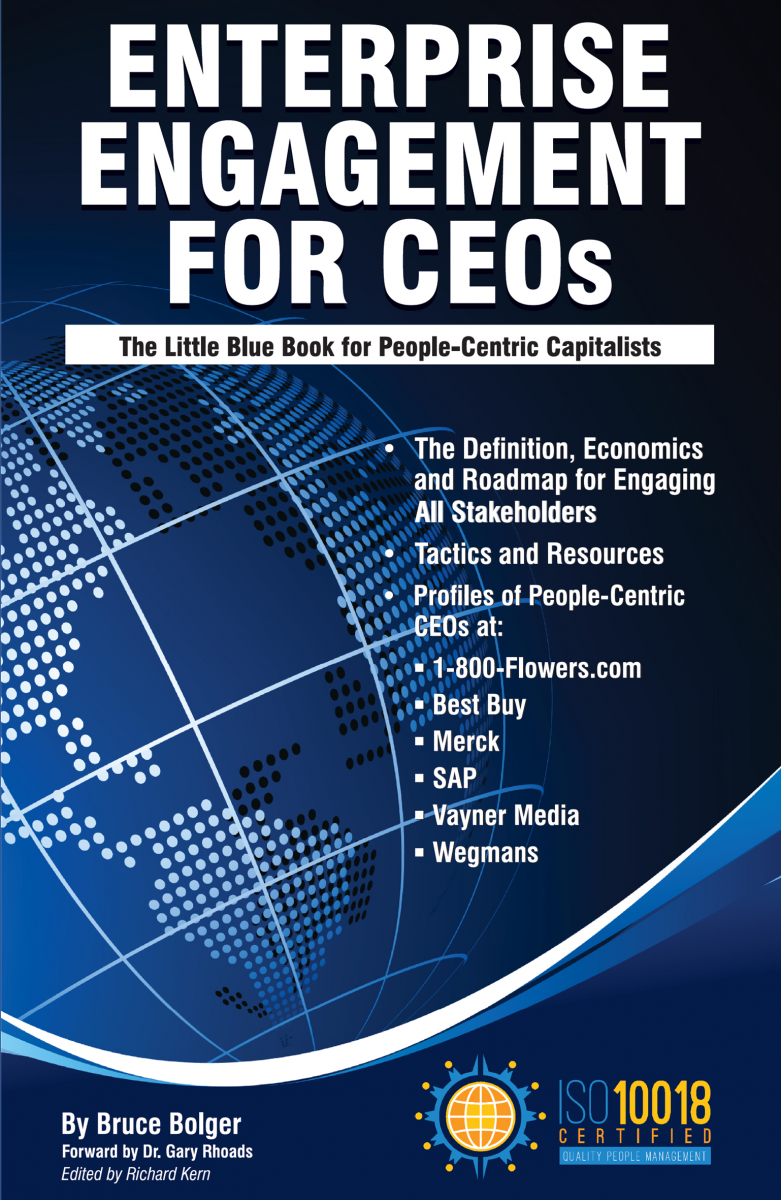 Join the EEA to begin your certification process or see our other resources below.
THE ONLY BOOKS ON STAKEHOLDER CAPITALISM IMPLEMENTATION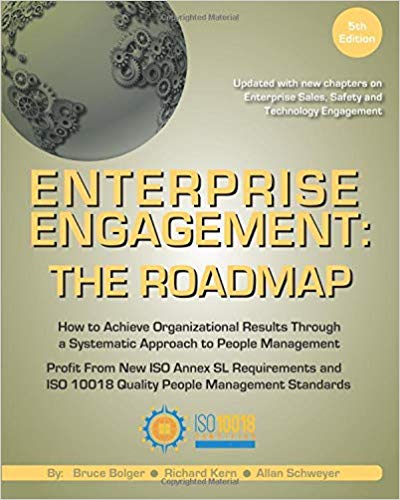 Enterprise Engagement: The Roadmap 5th Edition
The first and most comprehensive book on Enterprise Engagement and the new ISO 9001 and ISO 10018 quality people management standards. Includes 36 chapters detailing how to better integrate and align engagement efforts across the enterprise. (312 pages, $36.)
OTHER RESOURCES TO ACTUALIZE STAKEHOLDER CAPITALISM
Communities:
The
Enterprise Engagement Alliance and Advocate
and the
Brand Media Coalition
free resource centers offering access to the latest research, news, and case studies; discounts, promotions, referrals, and commissions, when appropriate to third-party solution providers from participating coalition solution provider members.
Enterprise Engagement
Resources:
EEXAdvisors.com provides the only curated online marketplace to access hundreds of solution providers in all areas of human capital management and enterprise engagement throughout the world.
Online Overview:
10-minute short course: click here for a 10-minute introduction to Enterprise Engagement and ISO standards from the Coggno.com learning platform.
Services:
• The Engagement Agency at EngagementAgency.net, offering: complete support services for employers, solution providers, and technology firms seeking to profit from formal engagement practices for themselves or their clients, including Brand and Capability audits for solution providers to make sure their products and services are up to date.
• C-Suite Advisory Service—Education of boards, investors, and C-suite executives on the economics, framework, and implementation processes of Enterprise Engagement.
• Speakers Bureau—Select the right speaker on any aspect of engagement for your next event.
• Mergers and Acquisitions. The Engagement Agency's Mergers and Acquisition group is aware of multiple companies seeking to purchase firms in the engagement field. Contact Michael Mazer in confidence if your company is potentially for sale at 303-320-3777.
Enterprise Engagement Benchmark Tools: The Enterprise Engagement Alliance offers three tools to help organizations profit from Engagement. Click here to access the tools.
• ROI of Engagement Calculator. Use this tool to determine the potential return-on-investment of an engagement strategy.
• EE Benchmark Indicator. Confidentially benchmark your organization's Enterprise Engagement practices against organizations and best practices.
• Compare Your Company's Level of Engagement. Quickly compare your organization's level of engagement to those of others based on the same criteria as the EEA's Engaged Company Stock Index.
• Gauge Your Personal Level of Engagement. This survey, donated by Horsepower, enables individuals to gauge their own personal levels of engagement.
For more information, contact Bruce Bolger at Bolger@TheEEA.org, 914-591-7600, ext. 230.