Stakeholder Capitalism: A Primer
Introduction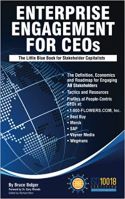 Governors in Texas, Florida, and Louisiana have drawn attention to Stakeholder Capitalism through their proposed measures to curtail state pension funds from investing in investment managers that promote or support ESG (Environmental, Social, Governance) practices, increasingly associated with Stakeholder Capitalism. Nineteen states have now formed a coalition to oppose ESG investing. Sen. Pat Toomey, R., PA., made national news by requesting detailed information of standards from more than a dozen ESG ratings firms. Writing recently in opposition to Stakeholder Capitalism in multiple publications and cable media platforms, a former health care entrepreneur, asset manager, and now Republican presidential candidate Vivek Ramaswamy, says, without reference to any formal definition, that "Stakeholder capitalism refers—or at least used to refer—to the idea that companies should serve not just their shareholders, but also other societal interests." Ramaswamy is now running for the GOP nomination for US president on an anti-Stakeholder Capitalism plank using a definition with no basis in established usage.

On the other side of the Atlantic, the European Union is moving rapidly toward establishing ESG and Stakeholder Capitalism as the primary business framework. In late 2022, it passed the Corporate Sustainability Reporting Directive, which will apply to all organizations that do business in or with EU companies with more than 250 employees, ar at least 40 million euros in annual sales or a balance sheet of 20 million euros in assets. It requires companies to file detailed human capital practics and analytics affecting their employees and those of their distribution and supply chain partners, as well as equally detailed information on customer and community engagement practices and metrics, and the environment. According to Carmen Lu, Counsel, ESG, for New York-based Wachtell, Lipton, Rosen, and Katz, "I think we are experiencing a kind of key inflection point in the shift to Stakeholder Capitalism. The movement has been going on for many years but with the rise of ESG and now the CSRD law, corporations will be forced to make the shift." She believes that US companies and those around the world that wish to do business in the EU or with large EU companies will have little to no recourse in local courts if they do not want to comply.

For those following the topic, there's a lot of talk about Stakeholder Capitalism, but ask the average business person or American citizen if he or she has heard of it, and the usual response is "no," "sort of" or "maybe." Despite recent references to Stakeholder Capitalism in the New York Times, Fortune, Forbes, the Economist, Financial Times, and on CNBC, Fox News, in some academic journals, and in bills introduced in Congress in the past by senators Elizabeth Warren, Dem., MA; Mark Warner, Dem., VA, and Rep. Cindy Axne, Dem., ID, advocating for human capital disclosures, the debate around Stakeholder Capitalism rests largely below the public radar. Google searches for the term skyrocketed in 2019 after the Business Roundtable changed its definition of the charter of an organization to address the needs of all stakeholders, but as of March 2023, there are only about 720 followers of the subject on Linkedin, up from about 30 in 2020, and not a lot of activity on Twitter, most of it from the anti-ESG crowd.
The recent definitions appear to have been spawned by the Business Roundtable 2019 prouncement that defines it as taking into account the interests of all stakeholders with almost no further explanatory definition. In the academic and business world from which its principles came, which predate the Business Roundtable pronouncement by decades, Stakeholder Capitalism focuses on ethical behavior and aligning and addressing the interests of all stakeholders as a means of achieving organizational objectives, not as an obligation, an important distinction. A recent meta-analysis of Stakeholder Engagement academic papers conducted by three professors in Europe defines the underlying theory as the "aims, activites and impacts of stakeholder relations in a moral, strategic, and/or pragmatic manner." It's not about robbing from shareholders to pay other stakeholders, but about growing the pie. Nor is it about diverting profits to support pet political causes as is common in shareholder capitalism. Similarly, an article in the May-June 2023 edition of Harvard Business Review entited "How to Create a Stakeholder Strategy," by Bain & Company executives Darrel Rigby, Zach First, and Dunigan O'Keeffe, makes no mention of making contributions to social causes but rather focuses on stakeholder capitalism as a more sustainable means of creating wealth.
The Definition of Stakeholder Capitalism Consistent With Sound Business Principles and Decades of Practice
Opponents Focus on an Illogical Definition of Stakeholder Capital

Arthur C. Brooks, a Harvard professor and social scientist agrees. "The best organizations, the best societies, the best-run companies, the healthiest families—what do they do? They look out for each other. They think about what everybody needs. That's what going on in good organizations."

The Contributors to Stakeholder Capitalism Principles
Below is a list of people and organizations who have over the years promoted the principles of addressing the needs of all stakeholders in the formulation and implementation of organizational management strategies, mostly at a practical level for their employers and/or clients or in the academic arena. Stakeholder Capitalism and the field of Enterprise Engagement are not to be confused with tactical strategies related to employee and customer engagement or experience. Therefore, many worthy advocates for employee and customer engagement are not included in the list below unless their work focuses on the alignment of these activities toward a common organizational brand, purpose, and objectives. If we have missed anyone, let us know.
The concept of addressing the needs of all stakeholders so well articulated by Edward W. Demings' "14 principles" published decades ago, is unique in that it focuses on having a strategic and systematic approach to engaging and enabling all stakeholders in a way that fosters alignment and eliminates the silos so prevalent in most organizations. While every organization needs specialists in employee and customer engagement, a key principle of Stakeholder Capitalism is that the CEO and C-suite will achieve better results in terms of sustainable performance and better experiences through the application of a strategic and systemic approach to aligning all interests toward common goals.