Case Study Part I: The Shift to a Human Capital Management Strategy
In its desire to implement a strategic, systematic, and transparent strategy to achieve organizational results through people, the Ukraine- and Russia-based application developer JetRuby turned to the Enterprise Engagement Alliance's Engagement Agency. The company says its goal is to utilize a roadmap that addresses the needs of all stakeholders—its employees, customers, and communities—and that follows proven practices; in this case, those based on the same strategic approach that ISO 9001 Quality Management standards applied to transform quality in manufacturing in the 1990s. Since publication of this article, the company published the first draft of its human capital report.
Click here
to read the full report.

JetRuby is growing fast in an increasingly competitive market for talent worldwide. US companies now in some cases are willing to pay offshore developers what they are paying domestic developers to address the labor shortage.
Ivan Linko
, the Founder and CEO, says his company is growing to the extent he now must look at his people strategy like he does the deployment of a major application—and that, rather than react to circumstances as is so often the case in a fast-growing organization, it is time to step back to take a strategic and systematic approach. US customers especially, he says, increasingly want to know how JetRuby will effectively manage its people as it grows.
"I am an engineer at heart," Ivan explains, "and engineers and the people who support them are the essence of our business. It is not possible to scale to the extent we have to without looking at our people as our biggest ongoing project with the client being ourselves."

Svetlana Goryushkina
, CHRO, with over 13 years of experience in human resources, product management and business development, says she was excited to step back to view her job as a profit center that could sustainably deliver measurable value to the organization. But she was also fearful of the potential work involved. "We're a small company of only a little more than 200 people, and we are growing rapidly and have people working remotely in multiple parts of the world. If there are ways we can create new value from our people, we must do it, but we also have to recognize the limitations of time and resources."
The Potential for Time Savings
Goryushkina reports that she was happy to see that the process can not only demonstrate the potential return-on-investment of the organization's people practices but also what methods most specifically engage key stakeholders and how to manage the processes on an ongoing basis. Using the Enterprise Engagement Alliance's Human Capital Management Reporting framework, which is based on ISO 30414 Human Capital Reporting and ISO 10018 People Engagement standards in order to address all stakeholders, "We quickly saw that it is actually a relatively easy process to assess what we've got right and what we have to address; what we can easily measure, and how we can correlate those measures to the bottom line or to other goals we wish to accomplish."
On the positive side, she elaborates, "We saw that we are doing a lot of the right things but not in a strategic, proactive way linked to clear metrics and organizational goals." For instance, "Starting with Leadership, we quickly saw that we have clear values and principles and that we do share them with people in the onboarding process, but after that, we fail to reinforce them with an ongoing strategy. When it comes to human capital metrics related to costs and productivity, we realized we didn't have any that we actively used or correlated to financial results."
For organizational culture, they recognized the company can do more to express appreciation for the actions that contribute to success in a meaningful way that becomes part of everyone's jobs. It is looking at solutions to better reinforce the culture through recognition and management training; considering employee engagement technology solutions specifically related to wellness and evaluating employee bench strength and workforce availability. "Instead of viewing these tactics in a vacuum or as quick fixes; we're looking at how they work together with a set of metrics in place to see if they help engage and equip all our stakeholders over time."

A Stakeholder Perspective
Continues Goryushkina, "What we like is that this human capital evaluation process touches on our customers and community engagement strategies, as well. That's important to us, because customers and communities are equally important. We have a very high customer retention rate, so that has not been a problem, but we must be ever vigilant. On the community engagement side, we've always made a commitment to educating college students on software development and have some of them upon graduation. This process has made us realize that our Corporate Social Responsibility outreach can provide a strategic advantage that helps our communities as well. This leads us to ask if we should start these education efforts even in our secondary schools?"
The human capital evaluation and plan development process took much less time than Goryushkina feared, she says, because "it's a basic gap analysis. I can imagine that even in a very large company it is not difficult to honestly appraise one's practices against what is a very logical framework for looking at stakeholder engagement and the degree of alignment. We could have tried to do this ourselves, but it would have taken a lot longer and would not have had the same discipline or ability to audit." Her challenge will be to make sure that the process turns into a formal plan that gets implemented and measured on an ongoing basis across the enterprise, she adds.
For CEO Linko, another challenge is what to disclose in terms of external human capital reporting. "We at JetRuby are very proud to be at the forefront of a privately held SMB (small to medium-size business) focusing on a strategic human capital management and measurement plan across all stakeholders. I also believe, as an engineer, that having effective metrics linked with our financial and other goals will help us better manage our growth goals through people in a sustainable way."

What to Disclose
His one reservation: "Public disclosures. I can understand why no CEO wants to be locked in to disclosing specifics on Human Capital ROI or Value Add; or revenues and costs per customer and employee, or turnover or willingness to recommend—that is highly competitive information. It's one thing for a company to disclose this information when all of its major competitors have to do the same, but for a relatively small company like ours to disclose competitive information in a vacuum strikes me as irresponsible business."
The solution, he thinks, is "to share in our human capital reporting our goals and what we are doing related to all the key human capital issues, including employees, customers, and communities; the types of metrics that we use to measure our activities, and even our satisfaction or dissatisfaction with our progress and what we're doing about these issues in any given year."
What he's hesitant to do, he asserts, "is to share the actual numbers when no one else is. I am okay with having an ISO auditor verifying that we are in fact implementing a formal approach to internal and external human capital reporting. The auditor can verify the veracity of our statements related to addressing these issues and the metrics we use to guide us."
The next step: The drafting of the company's first public human capital report, scheduled for summer 2021.
For More Information
Bruce Bolger
Founder, Enterprise Engagement Alliance at
TheEEA.org
914-591-7600, ext. 230
---
Master the Principles of Stakeholder Capitalism And Implementation Through Enterprise Engagement
Education, Certifications, and Information to Activate
Stakeholder Capitalism Available Nowhere Else
A complete learning, certification, and information program and a course syllabus for educators.
Training and Certification
Enterprise Engagement Alliance Education: Certified Engagement Practitioner; Advanced Engaged Practitioner, and Certified Engagement Solution Provider learning and certification programs on how to implement Stakeholder Capitalism principles at the tactical level.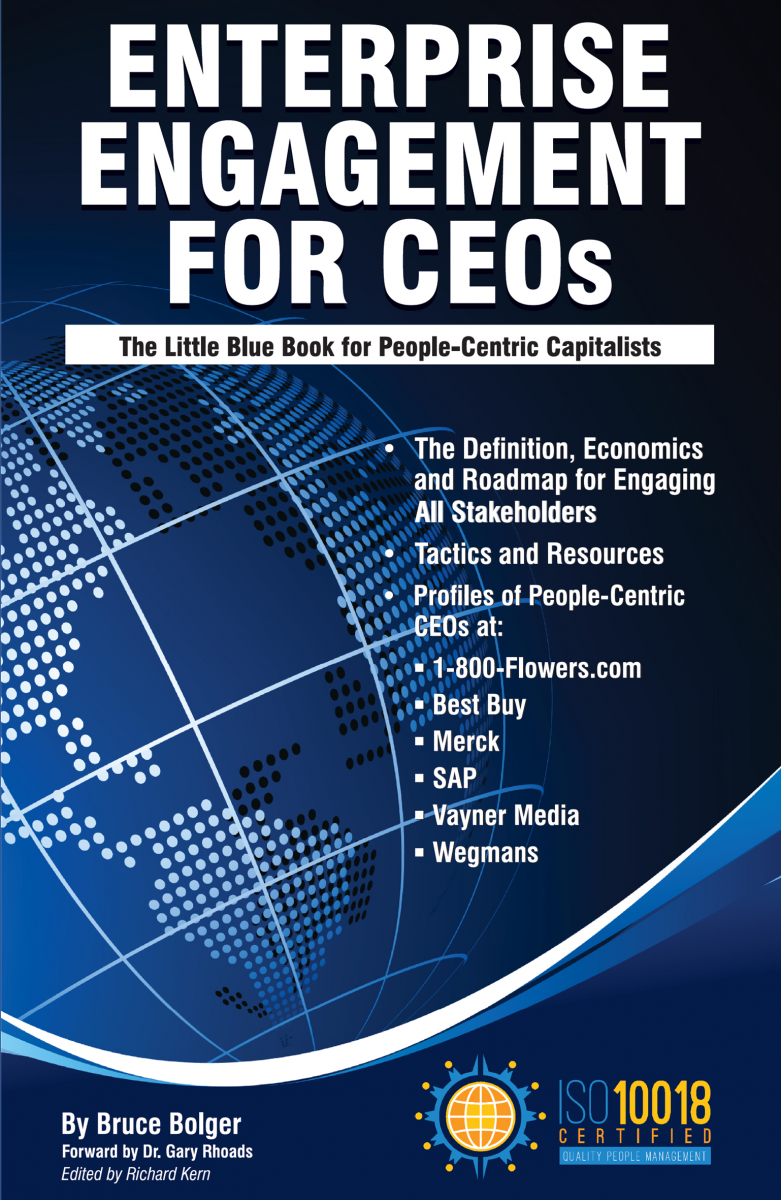 Join the EEA to begin your certification process or see our other resources below.
THE ONLY BOOKS ON STAKEHOLDER CAPITALISM IMPLEMENTATION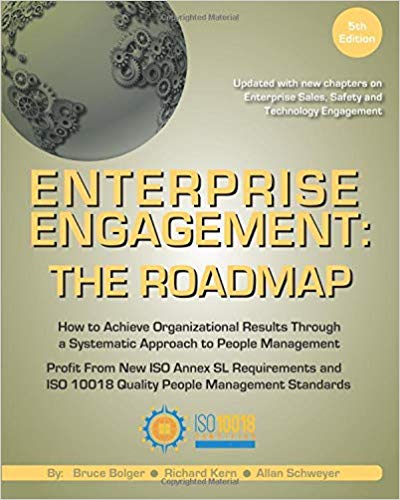 Enterprise Engagement: The Roadmap 5th Edition
The first and most comprehensive book on Enterprise Engagement and the new ISO 9001 and ISO 10018 quality people management standards. Includes 36 chapters detailing how to better integrate and align engagement efforts across the enterprise. (312 pages, $36.)
OTHER RESOURCES TO ACTUALIZE STAKEHOLDER CAPITALISM
Communities:
The
Enterprise Engagement Alliance and Advocate
and the
Brand Media Coalition
free resource centers offering access to the latest research, news, and case studies; discounts, promotions, referrals, and commissions, when appropriate to third-party solution providers from participating coalition solution provider members.
Enterprise Engagement
Resources:
EEXAdvisors.com provides the only curated online marketplace to access hundreds of solution providers in all areas of human capital management and enterprise engagement throughout the world.
Online Overview:
10-minute short course: click here for a 10-minute introduction to Enterprise Engagement and ISO standards from the Coggno.com learning platform.
Services:
• The Engagement Agency at EngagementAgency.net, offering: complete support services for employers, solution providers, and technology firms seeking to profit from formal engagement practices for themselves or their clients, including Brand and Capability audits for solution providers to make sure their products and services are up to date.
• C-Suite Advisory Service—Education of boards, investors, and C-suite executives on the economics, framework, and implementation processes of Enterprise Engagement.
• Speakers Bureau—Select the right speaker on any aspect of engagement for your next event.
• Mergers and Acquisitions. The Engagement Agency's Mergers and Acquisition group is aware of multiple companies seeking to purchase firms in the engagement field. Contact Michael Mazer in confidence if your company is potentially for sale at 303-320-3777.
Enterprise Engagement Benchmark Tools: The Enterprise Engagement Alliance offers three tools to help organizations profit from Engagement. Click here to access the tools.
• ROI of Engagement Calculator. Use this tool to determine the potential return-on-investment of an engagement strategy.
• EE Benchmark Indicator. Confidentially benchmark your organization's Enterprise Engagement practices against organizations and best practices.
• Compare Your Company's Level of Engagement. Quickly compare your organization's level of engagement to those of others based on the same criteria as the EEA's Engaged Company Stock Index.
• Gauge Your Personal Level of Engagement. This survey, donated by Horsepower, enables individuals to gauge their own personal levels of engagement.
For more information, contact Bruce Bolger at Bolger@TheEEA.org, 914-591-7600, ext. 230.