Have Accountants Lost Their Balance? What's Missing From Financial Reports
A new book by author Nick Shepherd, an accomplished finance professional, asserts that today's accounting profession is failing to report on what truly counts: human capital.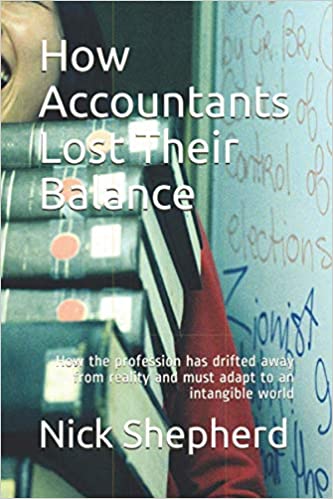 Accounting has lost touch with reality, asserts Nick Shepherd, in his new book,
How Accountants Lost Their Balance
. Shepherd is a retired financial officer with decades of practical management experience and is a Fellow of the Chartered Professional Accountants of Canada in Ontario. He is also an active proponent of the concept of Integrated Reporting.
"The days of relying on audits and financial reporting to verify the health of a company are no longer enough. Relying on an audit to verify that a business is a going concern has proven to be clearly misleading," Shepherd writes.
"The application of financial standards to the way that cash is used in today's organizations fails to disclose the significance of investments in the key intangible assets that form a critical part of today's business model. The risk to business continuity posed by maximizing profitability while depleting critical intangible resources is often not discovered until the damage is done. Inadequate attention to human behavior as a key element of internal controls can result in unplanned surprises and unethical conduct," he asserts.
While the world has changed over the last fifty years, he says, "the profession of accounting has become less relevant and no longer fit-for-purpose. There are clearly cracks in its' ability to demonstrate that it remains independent, objective, and aligned with societal expectations of ethical behavior."
Audit Reports Lack Meaning
As a result, he argues, audit reports are no longer a quality stamp of approval on a set of accounts. "Financial records that used to underpin some 95% of an organizations market value, today only represent about 15%. While this 15% of value at risk remains well recorded, visible, and verifiable by accounting, the balance of 85% is represented by something else: something that cost money to create, but for which there are no financial records. When the money was spent it was written off against current year earnings, depleted shareholders' equity, and reduced accounting value. Yet for the investor, if it was developed and nurtured, it created value."
Organizations, he points out, "have spent billions creating global supply chains and in developing state-of-the-art processes. They have spent billions in developing managers and leaders to create an innovative, responsive, and creative workforce, as well as developing the skills and capabilities of the workforce. They have invested large sums to identify, collect, develop, and use the knowledge contained within and about their organization. They have spent billions building their brand and with it their reputation and customer loyalty. Yet almost none of this is reflected as an organizational asset. It is there. It cost money to create. It contributes to the creation of value. But it disappears from the financial records."
The income statement used to explain how the profit was generated, he points out. How much revenue was billed, and the expenses incurred to generate that revenue. Not anymore. Many of the expenses charged against income today are costs incurred to create income in the future.
How to Improve Financial Reporting
This book explains how the economy and structure of business has changed and how the practise of accounting, especially financial reporting, has failed to adapt. It suggests a number of improvements.
Firstly, reporting of expenses must be expanded and improved to explain "where the money went," he says. How much was invested to earn current income? How much was spent to build the intangible assets and how much was spent to sustain these assets? The gross aggregation of payroll costs is no longer acceptable.
Second, he continues, "accounting must embrace the reporting of intangible assets that consume a significant portion of an organizations cash flow and which contribute a substantial portion of market value. There must be some explanation of where all the investment went to create these intangible assets, and some level of transparency as to their continued existence and health as drivers of value creation."
Accounting must also lead the effort to create a bridge between financial reporting of intangibles and the growing use of non-financial indicators, he adds. "If an organization is making training commitments, how much expense is this consuming and what is its impact on current earnings and the value of the workforce? How much revenue is being generated from new products and services and how does this compare to the investment being made to create a climate for innovation and creativity? How much investment has been made in supply chain's and how do these impact innovation, creativity, and earnings?"
Accounting for the Unaccounted for
The reasons for change are apparent when considering that the stocks of Facebook, Amazon, Apple, Netflix, and Google "collectively are worth close to $5 trillion, yet their financial records reflect about less than 10% of that. Their brand values alone are worth about ¾ of a billion dollars, yet even that amount is not recorded, audited, or reported as part of an annual report."
Shepherd says, "New approaches to corporate reporting have been developing over the last thirty years that have identified many of these non-financial resources that are strategically critical. These reports provide some level of insight into what these intangible assets are, but there remains no link between these reports and the financial records."
There is much talk about integrated thinking and integrated reporting, but real resource integration, which is what business leaders do on a day-to-day basis, remains a collection of stand-alone performance indicators, he argues.
Shepherd's book suggests where the gaps might be and what types of changes could be made to work towards more realistic integration. The author addresses:
•
How the flow of funds has shifted from tangible "bricks and machinery" to intangible people, processes, and relationships.
•
How these investments by management have created operational assets that form the core of today's business model.
•
How investments continue to be made in keeping these underlying capabilities healthy.
•
How effective management is managing the risks among all the key resources, to ensure system sustainability while optimizing performance.
"Change is a journey," he writes. "The journey for the accounting profession must include a reflection of its underlying principles and the development of an approach that provides valuable information that adds value to both the internal decision maker and the external investor."
---
Master the Principles of Enterprise Engagement to Achieve Organizational Goals and Enhance Your Career
Profit from a new strategic and systematic approach to engagement to profit from the principles of Stakeholder Capitalism, enhance your organization's brand equity; increase sales, productivity, quality, innovation, and safety, and reduce risks.
Get trained to become a Chief Engagement Officer for your organization.
Learn how to create Sustainability or Integrated Reports for Your Organization or Clients.
Learning and Certification:
The Enterprise Engagement Alliance 2.0 education program, the only learning and certification platform for boards, executives, and managers seeking to understand the implementation principles of Stakeholder Capitalism, human capital management and measurement, and ROI of engagement. For more information, contact Bruce Bolger at Bolger@TheICEE.org or 914-591-7600, ext. 230.
Resources:
ESM at EnterpriseEngagement.org, an online trade publication founded in 2008 that features news, profiles, research, and more on the field of Enterprise Engagement, the implementation process for Stakeholder Engagement, and the EEXAdvisors.com buyer's guide and resource directory. This includes a comprehensive resource library on Stakeholder Capitalism, human capital management, measurement, and ROI of engagement.

RRN at RewardsRecognitionNetwork.com, an online trade publication founded in 1996 that features news, profiles, research and more on rewards, recognition, gifting and brand media, and the Brand Media Coalition, the only guide to the story-telling power of brands and where to source them for business, event, promotional gifting, and rewards and recognition. This features a comprehensive resource library on brand media, rewards, recognition, incentives, gifting and more.
The Enterprise Engagement Alliance Human Capital Management and ROI of Engagement Youtube channel featuring one-hour and 30-minute panel discussions with experts on multiple topics on Stakeholder Capitalism, Human Capital Management reporting and measurement, and engagement tactics.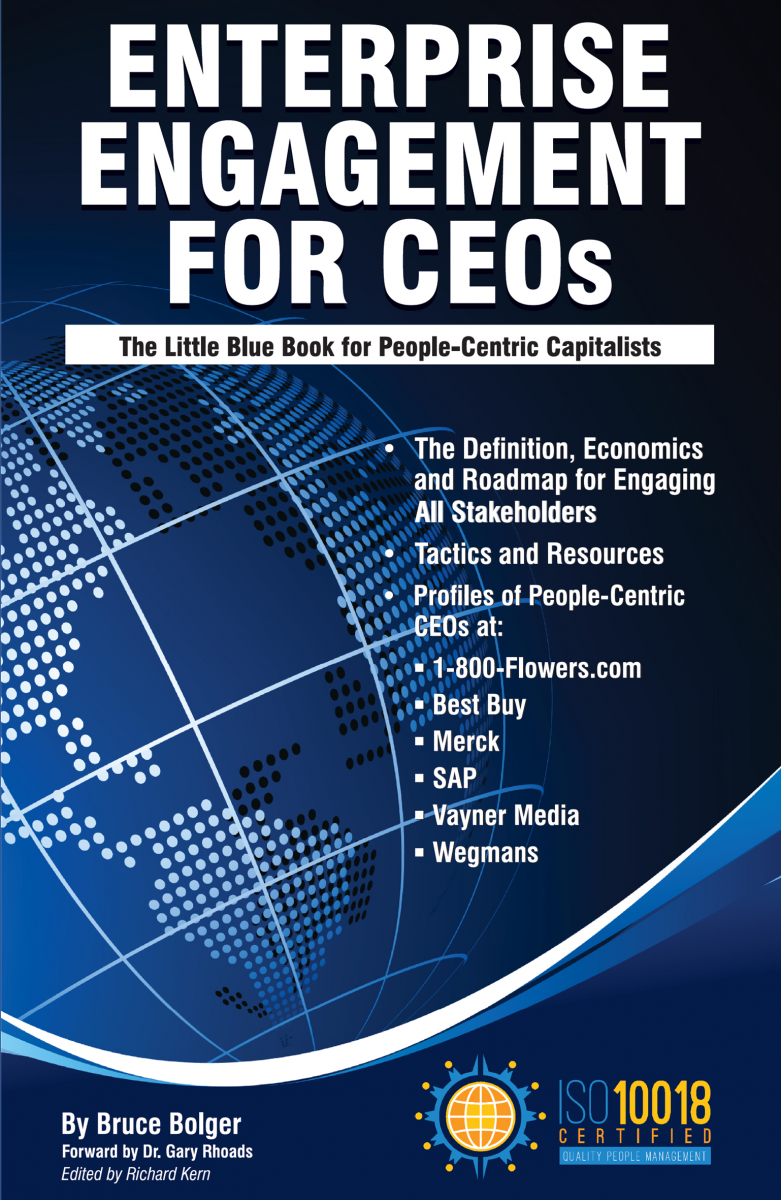 Enterprise Engagement: The Roadmap 5th Edition
The first and most comprehensive book on Enterprise Engagement and the new ISO 9001 and ISO 10018 quality people management standards. Includes 36 chapters detailing how to better integrate and align engagement efforts across the enterprise. (312 pages, $36.)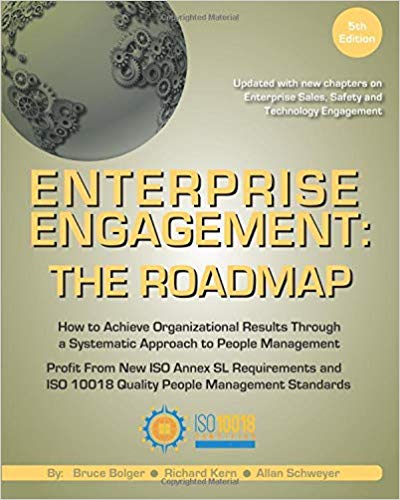 Services:
• The International Center for Enterprise Engagement at TheICEE.org, offering: ISO 10018 certification for employers, solution providers, and Enterprise Engagement technology platforms; Human Resources and Human Capital audits for organizations seeking to benchmark their practices and related Advisory services for the hospitality field.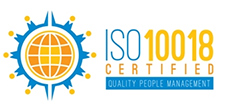 • The Engagement Agency at EngagementAgency.net, offering: complete support services for employers, solution providers, and technology firms seeking to profit from formal human capital management, reporting, and ROI of engagement practices for themselves or their clients, including Brand Alignment audits for brands and Capability audits for solution providers to make sure their products and services are up to date.
• C-Suite Advisory Services—Education of boards, investors, and C-suite executives on the economics, framework, and implementation processes of Enterprise Engagement.
• Speakers Bureau—Select the right speaker on any aspect of engagement for your next event.
• Mergers and Acquisitions. The Engagement Agency's Mergers and Acquisition group focuses on helping organizations focused on people sell to the right buyer and on assisting engagement solution providers seeking an exit or merger. Contact Michael Mazer in confidence if your company is potentially for sale at 303-320-3777.
Enterprise Engagement Benchmark Tools: The Enterprise Engagement Alliance offers three tools to help organizations profit from Engagement. Click here to access the tools.
• ROI of Engagement Calculator. Use this tool to determine the potential return-on-investment of an engagement strategy.
• EE Benchmark Indicator. Confidentially benchmark your organization's Enterprise Engagement practices against organizations and best practices.
• Compare Your Company's Level of Engagement. Quickly compare your organization's level of engagement to those of others based on the same criteria as the EEA's Engaged Company Stock Index.
• Gauge Your Personal Level of Engagement. This survey, donated by Horsepower, enables individuals to gauge their own personal levels of engagement.
For more information, contact Bruce Bolger at Bolger@TheICEE.org, 914-591-7600, ext. 230.