Guest Opinion: Make Ethics Your Competitive Advantage
How important is ethics to the success of your business? How important is ethics to your employees? Do you think the business world, in general, needs to become more ethical? Most businesspeople agree that ethics is of the utmost importance, however, the word 'ethics' is absent from the employee engagement narrative. I couldn't find the word 'ethics' on the ESM website, nor on any of the employee engagement services promoted there.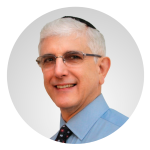 When someone does something unethical to us, it's infuriating. Conversely, when we see someone doing something highly ethical to someone else, it moves and touches us. Ethics is a superpower, in that there is nothing more human than ethics. Animals have emotions, but animals can't choose to be ethical. Ethics is uniquely human, yet the power of ethics as it pertains to employee engagement is grossly unappreciated.
Ethics is not taught in public secondary schools, nor do colleges and universities mandate one ethics course for undergraduates. Notwithstanding, it has been well documented that ethics improves business performance by significant margins as indicated by the Ethisphere Ethics 5-Year Index (see the chart in this article). Infusing the discipline of ethics into the mainstream discourse of employee engagement is a first mover opportunity for 21st century business leaders.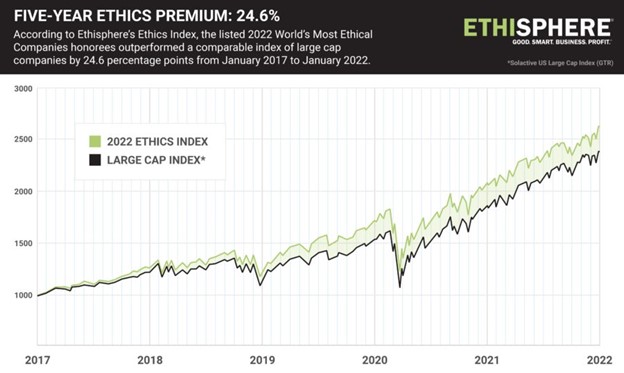 Ethics Cannot Be Relegated to the Legal Department
Most businesses relegate ethics to the compliance or legal departments, whose job is to prevent employees from transgressing company rules or business laws. But these rules and laws are solely focused on preventing 'wrong conduct'. Prevention is the backside of the ethics coin. It is the frontside of ethics, such as loyalty, humility, kindness, compassion, accountability, ownership, service, etc., that continually humanizes corporate cultures and truly empower employee engagement across the board. By making ethics your competitive advantage, employee engagement will improve naturally.
"There is nothing new under the sun"-- (King Solomon, circa 950 BCE). In ancient times, when everyone worshiped idols, there was no need for the term 'idolatry', because it was the only game in town, until someone said "there's got to be a better way." Only when the concept of and the term for "monotheism" arrived, did the term for and the concept of "idolatry" enter the mainstream of societal discourse. The same is true for 'Stakeholder Capitalism'. When Shareholder Capitalism was the only game in town, there was no need for the term Stakeholder Capitalism, until someone said, "there's got to be a better way" - then Shareholder Capitalism became an issue. Once the entire marketplace embraces the ethic of Stakeholder Capitalism, no longer will Stakeholder Capitalism be a competitive advantage, and Shareholder Capitalism will be an ancient object of the past. The reason Stakeholder Capitalism now exists and is on the rise is simply due to the fact that Stakeholder Capitalism is more ethical than Shareholder Capitalism. This behooves ethical business leaders and followers to integrate ethics into corporate strategy and culture. For this to occur, the word 'ethics' must be properly defined, and the human pre-conditions required for optimizing an ethical culture must be established.
The Foundation of Ethics: Freedom of Choice
One of the most important preconditions for establishing an ethical culture is to realize that ethics is irrelevant unless an employee feels free to choose between right and wrong, regardless of the circumstances. Academic research has demonstrated that the lack of belief in human freedom increases unethical behavior and has also been linked to a reduction in helping behaviors and lowered feelings of gratitude. Therefore, it behooves employers to first teach employees principles of human freedom; otherwise, teaching the discipline of ethics to employees will lack efficacy.
According to a Scientific American site survey, only 60% of visitors endorse the idea of free will. If this reflects the views of the general population, then 40% of employees don't believe they are truly free. The alternative belief is that something outside oneself is determining one's own behavior, in which case it would be unreasonable to hold oneself accountable, and it would be unjust for an employer to hold an employee accountable. Consequently, unless a company cultivates the belief in human freedom, the organizational culture will suffer from suboptimal accountability.
Create a Culture of Empowerment
The best method for generating employee engagement is to create a culture that knows how to maximize employee empowerment. People naturally want to return to places where they were empowered, whether it is in a retail store, a place of worship, or their workplace. Employee empowerment occurs when employees learn a new way to exercise their free wills, which is possible if and only if people truly believe they are free to begin with. An employee will love their job and will work for less when they are truly empowered by their employer. Those employers with the ethic to teach their employees about human freedom will significantly outperform their competition.
What keeps a great CEO up at night is the fear of losing market share if a competitor is first to discover an early trend in the marketplace, i.e. a first mover opportunity. Stakeholder Capitalism is on the rise: make ethics your competitive advantage and take your competition by surprise.
For More Information
Richard Messing, President
Kotel Group LLC
347-709-0429
Click here to get ESM news delivered each week.
---
Master the "S" of Environmental, Social, Governance (ESG), A.k.a. Stakeholder Capitalism
The Enterprise Engagement Alliance at
TheEEA.org
is the world's first and only organization that focuses on outreach, certification and training, and advisory services to help organizations achieve their goals by fostering the proactive involvement of all stakeholders. This includes customers, employees, distribution and supply chain partners, and communities, or anyone connected to an organization's success.
Training and Thought Leadership
Enterprise Engagement Advisory Services
Organizations of all types develop strategic Stakeholder Capitalism and Enterprise Engagement processes and human capital management and reporting strategies; conduct human capital gap analyses; design and implement strategic human capital management and reporting plans that address DEI (Diversity, Equity, and Inclusion), and assist with managed outsourcing of engagement products and services.
Human resources, sales and marketing solution providers profit from the emerging discipline of human capital management and ROI of engagement through training and marketing services.
Investors make sense of human capital reporting by public companies.
Buyers and sellers of companies in the engagement space or business owners or buyers who seek to account for human capital in their mergers and acquistions.
For more information:
Contact Bruce Bolger at
Bolger@TheICEE.org
or call 914-591-7600, ext. 230.