Grand Canyon Among First Known Universities to Focus on Stakeholder Capitalism Principles
Despite the enormous academic interest in the world of sustainability in general, the academic world has largely ignored the concepts of Stakeholder Capitalism, often called Conscious Capitalism, Inclusive Capitalism, Stakeholder Management, or the "Social" of Environmental, Social, Governance (ESG) management. Grand Canyon University is among the first focus on Conscious Capitalism in its graduate program.
Founded in 1949, Grand Canyon University is a private for-profit Christian university in Phoenix and is probably the largest Christian university in the world with about 20,000 students on campus and 70,000 online. (The university is in the process of moving back to a not-for-profit status.) So, it should come as no surprise that this might be one of the first universities to focus on the principles of
Conscious Capitalism
, a movement of organizations that believe capitalism can be a force for good.
According to a recent
article in the New York Times
, more MBA and other university programs are beginning to focus not only the environmental aspects of ESG but also the social.
Explains the university's web site, "Since its founding, GCU's Colangelo College of Business has provided students with a distinct view of business that pairs integrity with success and promotes profit with purpose for the greater good. It was on this ideal that GCU was founded in West Phoenix, with the goal to create a mission-minded university while transforming the community of West Phoenix. Therefore, GCU not only teaches the ideals of conscious capitalism, but implements them." The principles are taught in both under-graduate and graduate courses.
Conscious capitalism "is a deliberate movement toward ethical business practices upholding the value of capitalism and all stakeholders. Simply put, it is the idea that business elevates humanity when practiced consciously."
The university explains that "By providing ethical and high-quality service, businesses can prosper and use their prosperity to support others. The idea behind Stakeholder Capitalism is to make profit more meaningful, where both internal and external stakeholders can benefit – living out business as a force for good."
It goes on to say that "Free market capitalism can help our world solve problems through innovative solutions that create and bring value. Governments cannot do it alone. Businesses with a higher purpose and a stakeholder orientation have never been more needed by society in the way they are now."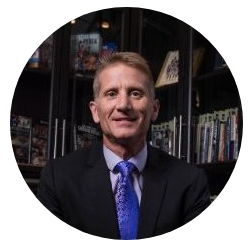 Randy Gibb
, the Dean of Colangelo College of Business (CCOB) at Grand Canyon University, says, "The ideals of business as a force for good, spelled out in the principles of Conscious Capitalism, are embedded in everything the college teaches. Conscious Capitalism is all about higher purpose, stakeholder integration, culture, and leadership.
Gibb says that the school is currently working on a more formal curriculum on the implementation of Conscious Capitalism at the practical level. It does not currently offer executive education for the general business public.
---
Master the "S" of Environmental, Social, Governance (ESG), A.k.a. Stakeholder Capitalism
The Enterprise Engagement Alliance at
TheEEA.org
is the world's first and only organization that focuses on outreach, certification and training, and advisory services to help organizations achieve their goals by fostering the proactive involvement of all stakeholders. This includes customers, employees, distribution and supply chain partners, and communities, or anyone connected to an organization's success.
Training and Thought Leadership
Enterprise Engagement Advisory Services
For more information:
Contact Bruce Bolger at
Bolger@TheICEE.org
or call 914-591-7600, ext. 230.