EEA YouTube Show: The State of Stakeholder Capitalism with R. Edward Freeman, a Pioneer of the Movement
Who better to catch up with on the state of Stakeholder Capitalism than R. Edward Freeman, Professor of Business Administration at the University of Virginia Darden School of Business. His 1984 book "Stakeholder Management" helped give rise to the extensive research on the benefits and methods of managing and addressing all stakeholders in an organization, rather than focusing specifically on the interests of shareholders. This has earned him the designation as a "father" of Stakeholder Capitalism by organizations such as JUST Capital.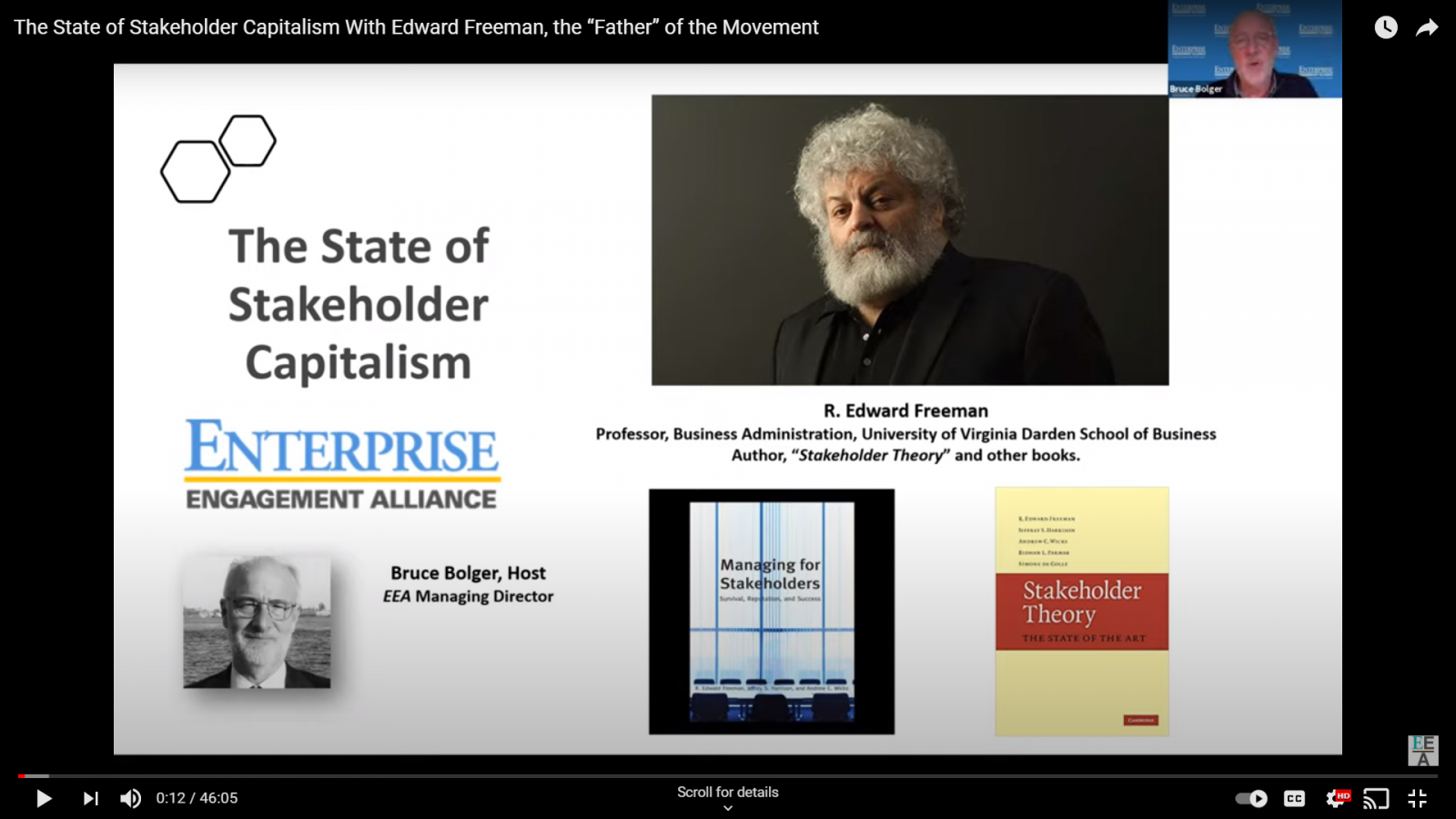 Stakeholder Capitalism is in the "fifth" inning but has a long way to go and still faces the risk of becoming another bright shiny object. That's a key conclusion from this Enterprise Engagement Alliance Youtube show, part of a comprehensive and rapidly growing library of insight and practical how-to videos with experts in all areas of engagement.
Click here
to access the show.
Here is a summary of some of the many insights in this program.
• We're in the fifth inning of a nine-inning game, but there is no going back. Pressure is coming from investors, customers, employees, communities, and regulators.
• Definitions can be a distraction and an excuse for failing to act. Stakeholder Capitalism is an overall movement of which Stakeholder Management is an operational method. It's a big tent: There is plenty of room for distinct approaches, such as Conscious Capitalism, Inclusive Capitalism, Economics of Mutuality.
• Stakeholder Capitalism is a better way of doing business and should not be confused with Corporate Social Responsibility. Successful business can be about profits and people and doesn't have to be a trade-off.
• While there has been much progress, large systemic obstacles remain that might require generations to overcome. This starts with having boards and CEOs who fundamentally believe in the economics and societal benefits and who are committed to the ongoing work of baking the principles into the organization's systems and culture on a day-to-day basis.
• The concept of Stakeholder Management and Theory are taught in many business schools but are not commonly integrated into the education program for management in leadership, finance, human resources, marketing, sales, operations, etc., helping to reinforce the siloes standing in the way of greater harmony.
• Forcing public companies to disclose information about human capital certainly draws attention to the importance of the subject but should proceed with much caution because each company is different, and metrics can lead to check-off-the-box or even unethical behaviors.
• The use of the term "human capital" minimizes the true value of people by trying to monetize them when their true value is in their individuality, creativity, and ability to push back against bad practices and/or innovate. One shouldn't have to give into the need that everything must have a bottom line without considering the value contribution of individual efforts or loyalty.
• How do we address the education issue? We must get to the young people.
• While government action is not necessary to promote Stakeholder Capitalism, he believes it can further the cause by promoting great companies and creating incentives for companies that invest in addressing social disparities, provided it can be done with controls against graft.
• The biggest risk to the movement? It just becomes another buzzword or what Robert Reich recently slammed as white-washing. It's a fundamental shift in the way companies operate. The change for some might seem like hard work, but the result is greater efficiency, better experiences for all stakeholders, more sustainable profits and a more prosperous and healthy society.
---
Master the "S" of Environmental, Social, Governance (ESG), A.k.a. Stakeholder Capitalism
The Enterprise Engagement Alliance at
TheEEA.org
is the world's first and only organization that focuses on outreach, certification and training, and advisory services to help organizations achieve their goals by fostering the proactive involvement of all stakeholders. This includes customers, employees, distribution and supply chain partners, and communities, or anyone connected to an organization's success.
Training and Thought Leadership
Enterprise Engagement Advisory Services
For more information:
Contact Bruce Bolger at
Bolger@TheICEE.org
or call 914-591-7600, ext. 230.