Contractors Seek Help to Enhance Their Business, Survey Finds
Contractors value companies that help them use technologies and other services to enhance efficiency and generate more business, according to a survey of 750 contractors in the electrical, roofing, plumbing, HVAC/R and landscaping industries. The survey was designed to gain greater insights into the trends that are driving contractor decisions on where they purchase their materials and was conducted by Channel Marketing Group and with the support of Prokeep and SproutLoud, partners of HMI Performance Incentives.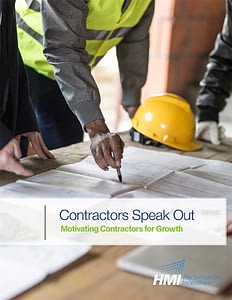 "The voice of the contractor matters to distributors, dealers and manufacturers" is a key conclusion of a survey of 750 contractors in a range of consumer and business-to-business industries, according to this report from HMI Performance Incentives that can be downloaded by
clicking here
.
"When co-op marketing funds and MDF (market development funds) that originate with the manufacturer are passed along ultimately to contractors to bolster their local marketing efforts and grow their businesses, this benefits distributors. At every step in the process, using funds to incentivize SMBs (small- to medium-size businesses) to participate in localized digital marketing has a profound impact on generating leads and increasing brand sales in local markets," says
Gary Ritkes
, President of
SproutLoud
, a channel marketing technology company.
"This research illuminates the growing desire contractors have to do business with their distributors in more efficient, electronic ways that complement – not replace – the existing channels they've used to date. My hope is that these insights will help guide the industry on practical, next steps they can take to honor their customer's desire for an omnichannel approach to communications. While some electronic channels may seem daunting, texting is a readily accessible entry point – one that will actually strengthen relationships distributors have worked so hard to build and contractors value so deeply," observes,
Jack Carrere
, Co-Founder at
Prokeep
, a text messaging platform for distributors, which also helped produce the study.
---
Master the "S" of Environmental, Social, Governance (ESG), A.k.a. Stakeholder Capitalism
The Enterprise Engagement Alliance at
TheEEA.org
is the world's first and only organization that focuses on outreach, certification and training, and advisory services to help organizations achieve their goals by fostering the proactive involvement of all stakeholders. This includes customers, employees, distribution and supply chain partners, and communities, or anyone connected to an organization's success.
Training and Thought Leadership
Enterprise Engagement Advisory Services
For more information:
Contact Bruce Bolger at
Bolger@TheICEE.org
or call 914-591-7600, ext. 230.