It's Time to Focus on the ROI of Diversity Inclusion
By Bruce Bolger, Eric Darrisaw, and Dorien Nunez
Diversity, Equity, and Inclusion (DEI) is not just about Corporate Social Responsibility, it's about better business. DEI will not achieve its full potential until organizations treat it as a profit center rather than as only a charitable contribution.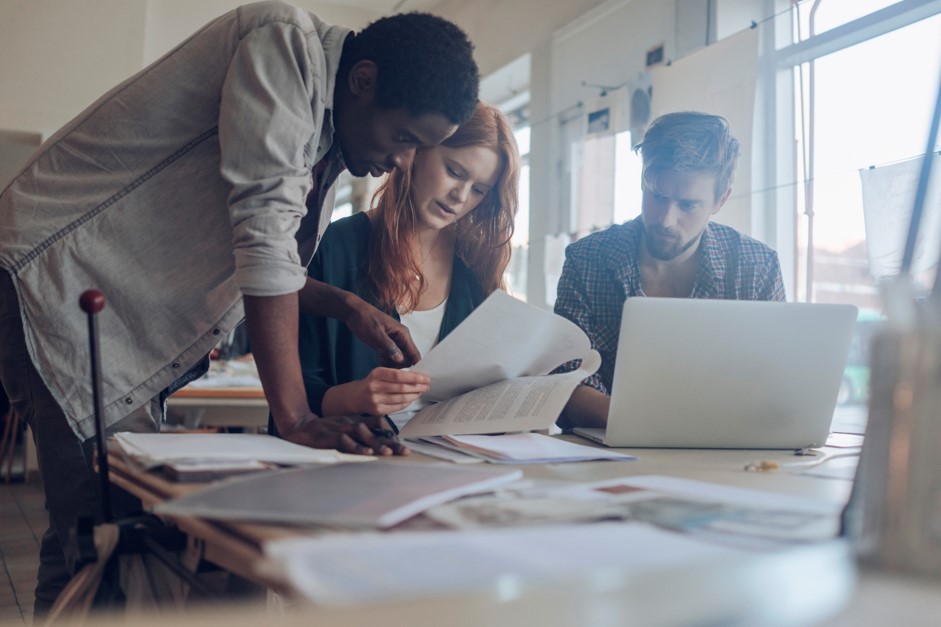 For those in the business of helping corporate America profit from DEI over the last decade or more, the outpouring of support for the Black Lives Matter cause appeared like a hopeful sign that the country had awakened to the fundamental inequity of exclusion. Across the US, leading organizations expressed their commitment to a new focus on diversity, with many naming executives in charge of the effort.
Unfortunately, this new interest has exposed why years of efforts to promote DEI in business have fallen far short of expectations. DEI should not be confused with Corporate Responsibility: it's better for business in a way that benefits society as well.
Long before George Floyd, an industry of diverse DEI experts has sought to help corporate America benefit from DEI. Extensive research demonstrates that DEI practices are linked to enhanced organization performance and employee engagement.* Having a diverse community of talent, customers, supply chain partners, and strong community relationships reduces the costs of recruiting critical stakeholders, because people who feel good about an organization become natural brand ambassadors. Having a highly diverse and inclusive community of engaged stakeholders also coincides with greater and retention, because people with strong connections to an organization are less likely to leave.
Going Beyond Compliance
The long-standing challenge for the DEI advisory community is that for the most part, boards and CEOs see DEI as a compliance issue or a matter of conscience, rather than a strategic path to more sustainable profitability. They often view DEI as a matter of putting someone other than a heterosexual male in charge of diversity, whose job likely focuses on managing compliance; developing programs to recruit from more diverse populations; creating and managing Employee Resource Groups; and/or to coordinating social responsibility efforts. Even the investor or social justice groups interested in DEI tend to focus on disclosures, compliance, and charitable contributions, rather than on whether the organization has baked DEI into its strategic plan, organizational metrics, management incentives, and as a key path to sustainable profitability.
While organizations are jumping to wave the flag of DEI, we risk once again failing to address the true opportunity: demonstrate to boards and CEOS how DEI will make them more profitable.
Fortunately, this time, the focus on DEI is occurring when the definition of capitalism itself is being reshaped around the world. There is a growing recognition that organizations can generate more sustainable profits by creating wealth for people rather than by extracting it from them. Increasingly known as Stakeholder Capitalism, or Inclusive Capitalism, this reformation movement is based on extensive research demonstrating that organizations that strategically foster the proactive involvement of all stakeholders—employees, customers, the supply chain, and communities—generally outpace their competitors in financial performance and enhanced experiences. Defined as a system that creates wealth for shareholders by creating value for all stakeholders and the environment, Stakeholder Capitalism and its principles have been embraced by such leading organizations as the Business Roundtable, World Economic Forum, the world's five largest accounting firms, and many other capitalists. An increasing number of investors are investing in ESG-oriented companies because of their belief that these companies will produce greater financial returns over time.
Why the Times Are Changing
Late last year, the US Securities & Exchange Commission officially deemed human capital management material to an organization's success by requiring public companies to report on their people practices in annual 10-K filings to the extent such practices are material to their business. As a result of the events of summer 2020, the issue of diversity and inclusion suddenly became material for many companies. The NASDAQ stock exchange has announced new rules requiring greater diversity on member boards, and more organizations than ever are publishing Corporate Sustainability Reports to disclose their people and environmental practices.
So what does this have to do with DEI strategies? Instead of viewing diversity, equity, and inclusion as a compliance and check-off-the-box issue, Stakeholder Capitalists sees DEI as part of an overall strategy to improve both financial performance and stakeholder experiences through a proactive approach to people management. It's not enough to invite a more diverse community to the dance; the true benefit comes when we get everyone to dance together.
Ironically, the practical solution comes from the very same principles developed by the International Organization for Standardization (ISO) and other processes that transformed quality manufacturing in the 1990s: the application of a CEO-led, strategic, systematic, proactive, and measurable approach, as opposed to the reactive, compliance-based culture that prevailed in the 1980s.
This means:
•
The board and CEO build DEI into the organizational purpose and develop key metrics upon which management incentives are based. DEI becomes one of the key pillars of a multi-faced human capital plan so that it is baked into day-to-day activities, rather than an appendage.
•
The metrics used to measure DEI are not simply based on the percentages represented by each group or participation in ERGs, but also on their respective levels of participation and engagement in an organization's leadership development process; communications efforts; training; recognition programs; collaboration and innovation efforts; loyalty, event, and other marketing programs; or whatever an organization does to engage or provide enrichment for stakeholders. Much of this activity can be measured through customer relationship management and increasingly prevalent enterprise engagement technology platforms. Organizations can measure and report on the relative degree of engagement in these practices by different components of their stakeholder groups.
•
DEI is viewed as a business opportunity in sales and marketing, human resources, supply chain management, and community relations, and is included as part of the annual plan of every division head. Each division's plan not only includes the diversity goals but the anticipated return-on-investment in terms of more revenue, lower costs, or better experiences, often measured by less litigation or fewer complaints.
•
Instead of only using charitable dollars to check off another box, DEI is used to develop new talent, customers, or distribution partners in diverse communities, starting as early as supporting community school mentoring, training, or leadership development programs. This is good business because organizations that support education have the earliest access to a new marketplace of stakeholders as they come out of school and into the economy and, collectively, such efforts can foster widespread advancement of people out of poverty.
•
Organizations build DEI reporting into their overall Corporate Sustainability Reports, revealing not only their goals, but the metrics used to measure and the methodologies used to achieve them. This is because increasing numbers of investors and other stakeholders believe that human capital is critical to sustainable success, and because customers and employees want to do business with organizations that care about people.
Shifting the concept of DEI from a cost-center to a profit center is an important part of the path to social justice and equity. Demonstrating that diversity is better business, and not a public relations gesture, will yield to far more sustainable improvements than public relations campaigns during Black America month or on International Women's Day.
For More Information
Bruce Bolger, EEA Founder and CEO
914-591-7600, ext. 230
References:
---
Master the Principles of Stakeholder Capitalism And Implementation Through Enterprise Engagement
Education, Certifications, and Information to Activate
Stakeholder Capitalism Available Nowhere Else
A complete learning, certification, and information program and a course syllabus for educators.
Training and Certification
Enterprise Engagement Alliance Education: Certified Engagement Practitioner; Advanced Engaged Practitioner, and Certified Engagement Solution Provider learning and certification programs on how to implement Stakeholder Capitalism principles at the tactical level.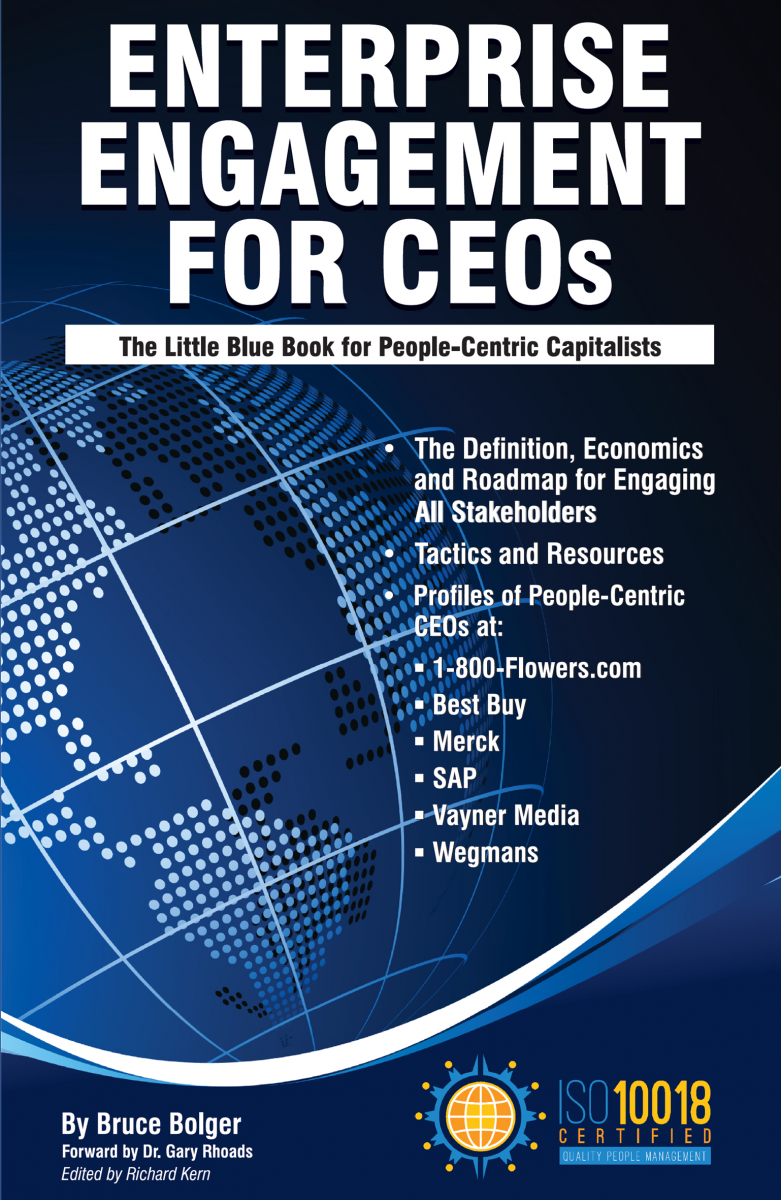 Join the EEA to begin your certification process or see our other resources below.
THE ONLY BOOKS ON STAKEHOLDER CAPITALISM IMPLEMENTATION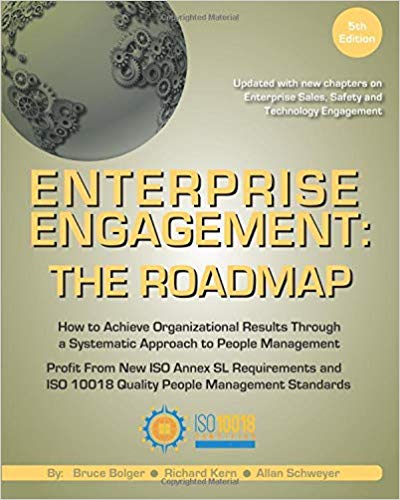 Enterprise Engagement: The Roadmap 5th Edition
The first and most comprehensive book on Enterprise Engagement and the new ISO 9001 and ISO 10018 quality people management standards. Includes 36 chapters detailing how to better integrate and align engagement efforts across the enterprise. (312 pages, $36.)
OTHER RESOURCES TO ACTUALIZE STAKEHOLDER CAPITALISM
Communities:
The
Enterprise Engagement Alliance and Advocate
and the
Brand Media Coalition
free resource centers offering access to the latest research, news, and case studies; discounts, promotions, referrals, and commissions, when appropriate to third-party solution providers from participating coalition solution provider members.
Enterprise Engagement
Resources:
EEXAdvisors.com provides the only curated online marketplace to access hundreds of solution providers in all areas of human capital management and enterprise engagement throughout the world.
Online Overview:
10-minute short course: click here for a 10-minute introduction to Enterprise Engagement and ISO standards from the Coggno.com learning platform.
Services:
• The Engagement Agency at EngagementAgency.net, offering: complete support services for employers, solution providers, and technology firms seeking to profit from formal engagement practices for themselves or their clients, including Brand and Capability audits for solution providers to make sure their products and services are up to date.
• C-Suite Advisory Service—Education of boards, investors, and C-suite executives on the economics, framework, and implementation processes of Enterprise Engagement.
• Speakers Bureau—Select the right speaker on any aspect of engagement for your next event.
• Mergers and Acquisitions. The Engagement Agency's Mergers and Acquisition group is aware of multiple companies seeking to purchase firms in the engagement field. Contact Michael Mazer in confidence if your company is potentially for sale at 303-320-3777.
Enterprise Engagement Benchmark Tools: The Enterprise Engagement Alliance offers three tools to help organizations profit from Engagement. Click here to access the tools.
• ROI of Engagement Calculator. Use this tool to determine the potential return-on-investment of an engagement strategy.
• EE Benchmark Indicator. Confidentially benchmark your organization's Enterprise Engagement practices against organizations and best practices.
• Compare Your Company's Level of Engagement. Quickly compare your organization's level of engagement to those of others based on the same criteria as the EEA's Engaged Company Stock Index.
• Gauge Your Personal Level of Engagement. This survey, donated by Horsepower, enables individuals to gauge their own personal levels of engagement.
For more information, contact Bruce Bolger at Bolger@TheEEA.org, 914-591-7600, ext. 230.