Just Capital Releases Rankings of Top 100 Stakeholder Capitalists
Microsoft, Nvidia, Apple, Intel, and Alphabet receive the top five honors in Just Capital's annual rankings of Stakeholder Capitalist companies. The companies are ranked based on the priorities of Americans surveyed on an ongoing basis by the Harris poll, focus groups, and online surveys, according to JUST Capital. Forbes recently held a webinar with top executives and board members from multiple companies to discuss Stakeholder Capitalism. Click here for a list of the top 100 and details on the methodology.
How companies invest in workers by far outranks the criteria on which companies should be measured, according to JUST Capital's combination of surveys and focus groups involving thousands of Americans each year. The JUST 100 companies this year are judged based on: how they treat workers (41%); how a company supports its communities (21%); how a company treats its customers (15%); how a company delivers value to shareholders (15%); how a company reduces its environmental impact (9%).
The top 10 companies in the rankings are: Microsoft, Nvidia, Apple, Intel, Alphabet, JP Morgan Chase, Salesforce, AT&T, Cisco Systems, and Adobe.
In a
webinar
hosted by Forbes.com to announce the annual top 100 rankings, senior executives shared their views on Stakeholder Capitalism and why they believe it will become the successor to Shareholder Capitalism.
Stakeholder Capitalists Believe They Do Better
Microsoft CEO
Satya Nadella
says Stakeholder Capitalism is more profitable because it creates prosperous employees, distribution and supply chain partners and communities whose success in turn creates more opportunities.
Dan Schulman
, CEO PayPal agrees: "Properly paid employees are more productive, provide better service, and increase profits."
Steven Bertoni
, VP, Senior Editor, Forbes, doesn't see any tradeoffs. "By serving and investing in employees, customers, communities and the environment, corporations make investors happy too."
Metrics are critical. "We have always thought it's important to have a purpose for our company, what are we doing for our people, customers, and society as a whole…We are setting metrics to use toward our goals, and using robust, high-quality measures to do that. Without that, I don't see how we can make sustainable change," asserts
Ann Cairns
, Executive Vice Chair, Mastercard
Crises Create Opportunities, Too
On crisis leadership,
Kenneth Chenault
, former Amex chair says the keys to crisis leadership include: define reality, focus on your people, give hope, communicate, figure out how to stay liquid, understand your costs, and watch for opportunities for selective investments because crises accelerate change--digitalization will see huge growth.
Kenneth Frazier, Merck CE0: The private sector needs to be involved with the reinvention and rebuilding of our society and can profit by doing so. Investors get it, too, says Paul Tudor Jones, JUST Capital founder: "Markets now know that companies that focus on their employees, customers, the environment and communities perform better and contribute to a more just society."
---
Master the Principles of Stakeholder Capitalism And Implementation Through Enterprise Engagement
Education, Certifications, and Information to Activate
Stakeholder Capitalism Available Nowhere Else
A complete learning, certification, and information program and a course syllabus for educators.
Training and Certification
Enterprise Engagement Alliance Education: Certified Engagement Practitioner; Advanced Engaged Practitioner, and Certified Engagement Solution Provider learning and certification programs on how to implement Stakeholder Capitalism principles at the tactical level.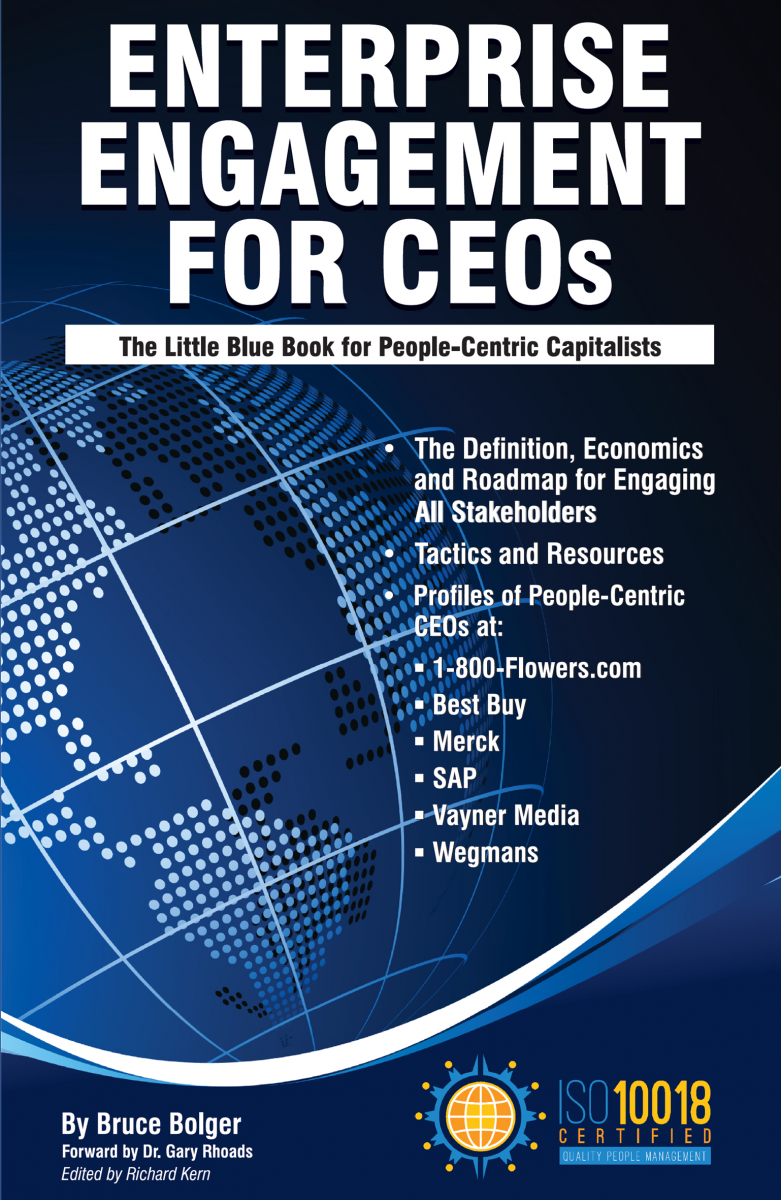 Join the EEA to begin your certification process or see our other resources below.
THE ONLY BOOKS ON STAKEHOLDER CAPITALISM IMPLEMENTATION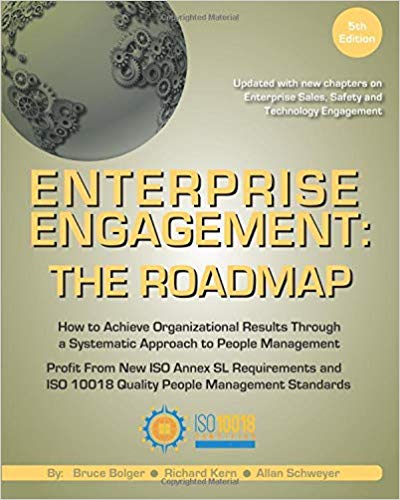 Enterprise Engagement: The Roadmap 5th Edition
The first and most comprehensive book on Enterprise Engagement and the new ISO 9001 and ISO 10018 quality people management standards. Includes 36 chapters detailing how to better integrate and align engagement efforts across the enterprise. (312 pages, $36.)
OTHER RESOURCES TO ACTUALIZE STAKEHOLDER CAPITALISM
Communities:
The
Enterprise Engagement Alliance and Advocate
and the
Brand Media Coalition
free resource centers offering access to the latest research, news, and case studies; discounts, promotions, referrals, and commissions, when appropriate to third-party solution providers from participating coalition solution provider members.
Enterprise Engagement
Resources:
EEXAdvisors.com provides the only curated online marketplace to access hundreds of solution providers in all areas of human capital management and enterprise engagement throughout the world.
Online Overview:
10-minute short course: click here for a 10-minute introduction to Enterprise Engagement and ISO standards from the Coggno.com learning platform.
Services:
• The Engagement Agency at EngagementAgency.net, offering: complete support services for employers, solution providers, and technology firms seeking to profit from formal engagement practices for themselves or their clients, including Brand and Capability audits for solution providers to make sure their products and services are up to date.
• C-Suite Advisory Service—Education of boards, investors, and C-suite executives on the economics, framework, and implementation processes of Enterprise Engagement.
• Speakers Bureau—Select the right speaker on any aspect of engagement for your next event.
• Mergers and Acquisitions. The Engagement Agency's Mergers and Acquisition group is aware of multiple companies seeking to purchase firms in the engagement field. Contact Michael Mazer in confidence if your company is potentially for sale at 303-320-3777.
Enterprise Engagement Benchmark Tools: The Enterprise Engagement Alliance offers three tools to help organizations profit from Engagement. Click here to access the tools.
• ROI of Engagement Calculator. Use this tool to determine the potential return-on-investment of an engagement strategy.
• EE Benchmark Indicator. Confidentially benchmark your organization's Enterprise Engagement practices against organizations and best practices.
• Compare Your Company's Level of Engagement. Quickly compare your organization's level of engagement to those of others based on the same criteria as the EEA's Engaged Company Stock Index.
• Gauge Your Personal Level of Engagement. This survey, donated by Horsepower, enables individuals to gauge their own personal levels of engagement.
For more information, contact Bruce Bolger at Bolger@TheEEA.org, 914-591-7600, ext. 230.