Transcend Engagement CEO: Will Disruption Create New Focus on ROI?
What attracted Bob Randall to the engagement space and prompted him to launch an engagement technology and advisory service is the level of measurability he soon learned very few companies apply to their engagement efforts. Will the crisis cause that to change?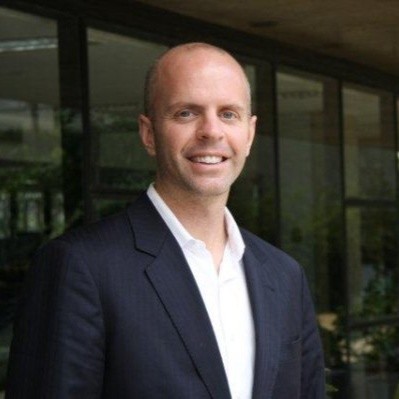 Bob Randall
is CEO and founder of
Transcend Engagement
, a Minneapolis-based firm with a technology designed to engage stakeholders on a mobile platform and a methodology to apply it in a measurable way. With over 20 years of management experience in sales, operations, and product launches in multiple industries, and with a Ph.D. in organizational psychology, he came to the field from the perspective of someone who believes that engagement is critical to success.
Before launching the company, Randall says he did his research and found that despite significant investments, employee engagement remained surprisingly low. Even more compelling, he found that while about 70% of organizations conduct employee surveys, only about 5% have a systematic plan for acting on the results. "It was also a subject about which I heard a lot of discussion in my academic circles." Other studies by the Incentive Research Foundation at
TheIRF.org
also have found that few organizations have serious return-on-investment measures for recognition or incentive programs.
Based on his background in organizational psychology, he launched Transcend five years ago to develop and sell an engagement technology with four modules to address different facets of engagement: Communications, Recognition, Performance Management, and Surveys. In addition, Transcend provides advisory services to help clients design the most effective processes. To gain access to clients, he purchased a recognition company with an established base of accounts to which Transcend brings its more advanced solutions.
That part of the plan worked, but what Randall says he soon learned is that a remarkable number of companies do not have a strategic engagement strategy linked to the organizational goals, culture, or performance metrics of their enterprises, nor any type of return-on-investment measures. "This did come to me as a surprise, because when properly designed, engagement is a relatively measurable process. For instance, we have seen a significant uptick in activity on our platform with clients since so many people have begun working at home. There are multiple ways to use our platform to gain information invaluable to making better decisions." The number of companies that have a strategic approach to engagement with return-on-investment measures, he says, is a small percentage of the market.
Randall believes that the current crisis might put more focus on engagement strategy and stakeholder capitalism but remains cautious. "Before the crisis, the conversation about measuring employee engagement was beginning to slowly change, but at a snail's pace. There were some companies starting to bring human resources into the corporate suite, but the cases were few and far between. At most companies, HR is focused on the transactional process of getting people recruited, paid, and managing reporting and compliance rather on the engagement of the enterprise."
That said, he believes that several factors could force change: The Covid-19 crisis and the sudden dispersal of the workforce and newfound respect for "essential" people at all levels of the organization could make engagement and alignment more important. The other potential driver of change, he believes, is the influence of Millennials and now Gen Y, "who have very different expectations than older generations. Younger people want to feel aligned with their work and will be more inclined to follow their passions as much as money," once, of course, the economy has recovered, and choices open up again.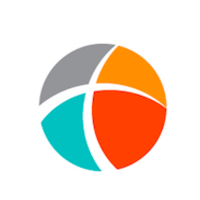 Finally, Randall has been working with his team at Transcend on creating relevant training and educational resources for leaders. "We are writing white papers, speaking at industry events and conducting webinars. We often refer people to the Enterprise Engagement Alliance website. There is a big need for people to better understand what motivates and engages people. Maximizing human potential is possible and should be a top priority for every leader who wants to create impressive, sustainable results," says Randall.
For More Information
Bob Randall
---
Master the Principles of Stakeholder Capitalism And Implementation Through Enterprise Engagement
Education, Certifications, and Information to Activate
Stakeholder Capitalism Available Nowhere Else
A complete learning, certification, and information program and a course syllabus for educators.
Training and Certification
Enterprise Engagement Alliance Education: Certified Engagement Practitioner; Advanced Engaged Practitioner, and Certified Engagement Solution Provider learning and certification programs on how to implement Stakeholder Capitalism principles at the tactical level.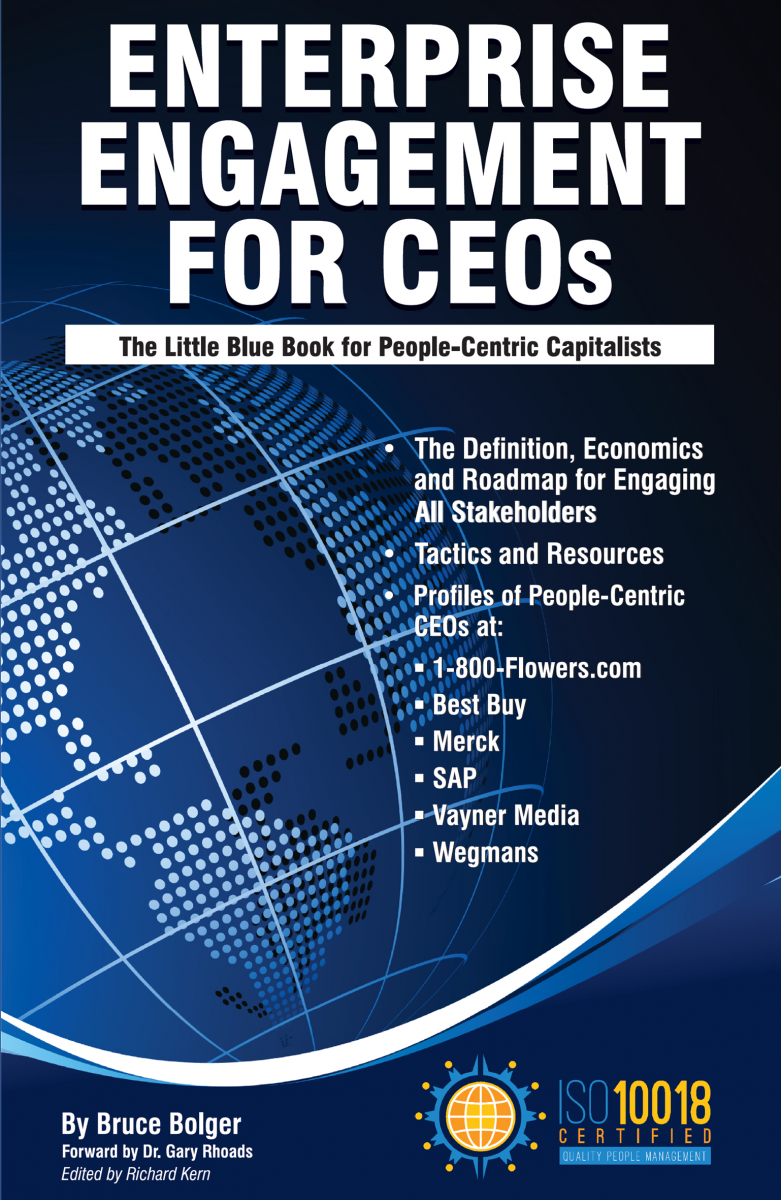 Join the EEA to begin your certification process or see our other resources below.
THE ONLY BOOKS ON STAKEHOLDER CAPITALISM IMPLEMENTATION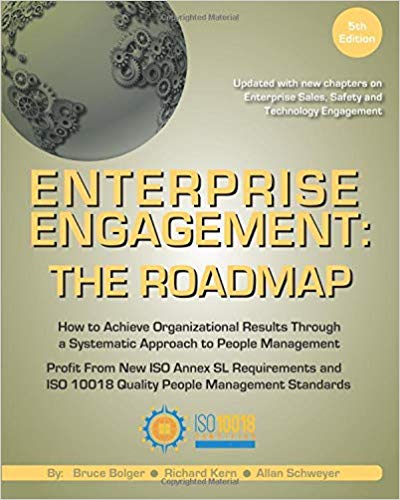 Enterprise Engagement: The Roadmap 5th Edition
The first and most comprehensive book on Enterprise Engagement and the new ISO 9001 and ISO 10018 quality people management standards. Includes 36 chapters detailing how to better integrate and align engagement efforts across the enterprise. (312 pages, $36.)
OTHER RESOURCES TO ACTUALIZE STAKEHOLDER CAPITALISM
Communities:
The
Enterprise Engagement Alliance and Advocate
and the
Brand Media Coalition
free resource centers offering access to the latest research, news, and case studies; discounts, promotions, referrals, and commissions, when appropriate to third-party solution providers from participating coalition solution provider members.
Enterprise Engagement
Resources:
EEXAdvisors.com provides the only curated online marketplace to access hundreds of solution providers in all areas of human capital management and enterprise engagement throughout the world.
Online Overview:
10-minute short course: click here for a 10-minute introduction to Enterprise Engagement and ISO standards from the Coggno.com learning platform.
Services:
• The Engagement Agency at EngagementAgency.net, offering: complete support services for employers, solution providers, and technology firms seeking to profit from formal engagement practices for themselves or their clients, including Brand and Capability audits for solution providers to make sure their products and services are up to date.
• C-Suite Advisory Service—Education of boards, investors, and C-suite executives on the economics, framework, and implementation processes of Enterprise Engagement.
• Speakers Bureau—Select the right speaker on any aspect of engagement for your next event.
• Mergers and Acquisitions. The Engagement Agency's Mergers and Acquisition group is aware of multiple companies seeking to purchase firms in the engagement field. Contact Michael Mazer in confidence if your company is potentially for sale at 303-320-3777.
Enterprise Engagement Benchmark Tools: The Enterprise Engagement Alliance offers three tools to help organizations profit from Engagement. Click here to access the tools.
• ROI of Engagement Calculator. Use this tool to determine the potential return-on-investment of an engagement strategy.
• EE Benchmark Indicator. Confidentially benchmark your organization's Enterprise Engagement practices against organizations and best practices.
• Compare Your Company's Level of Engagement. Quickly compare your organization's level of engagement to those of others based on the same criteria as the EEA's Engaged Company Stock Index.
• Gauge Your Personal Level of Engagement. This survey, donated by Horsepower, enables individuals to gauge their own personal levels of engagement.
For more information, contact Bruce Bolger at Bolger@TheEEA.org, 914-591-7600, ext. 230.