HR Gazette and EEA Partner to Provide Comprehensive Coverage for HR Community and Vendors
Two media properties partner to provide a multi-media platform to help Human Resources practitioners and solution providers seize the opportunity of the coming worldwide human capital mandate.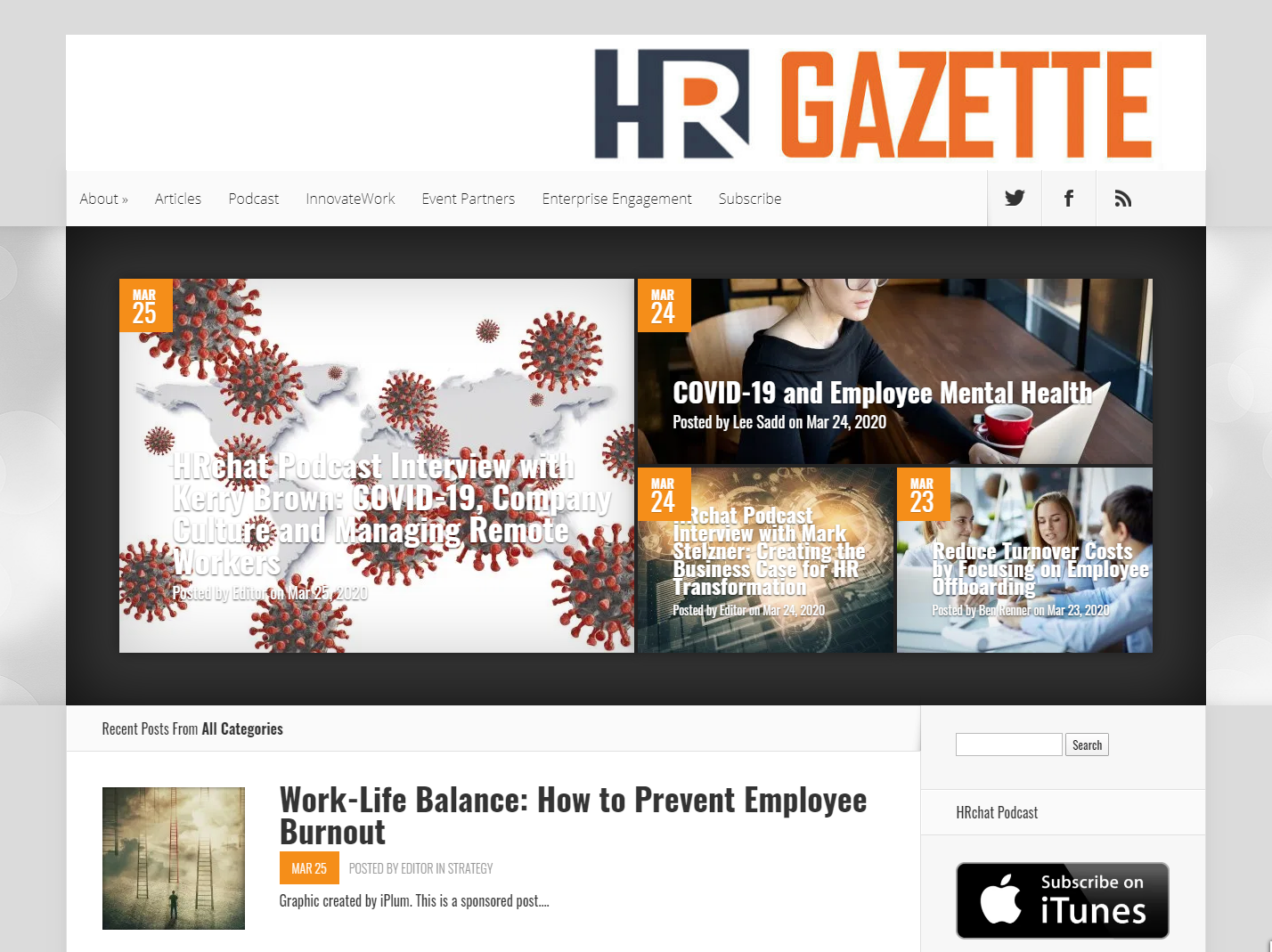 The Enterprise Engagement Alliance's ESM media property at
EnterpriseEngagement.org
and HR Gazette at
HR-Gazette.com
have partnered to offer the Human Resources community a multi-media information and marketplace platform designed to advance the profession's role in organizations in North America and throughout the world. The combined services will help practitioners take advantage of the growing human capital imperative to enhance the organizational role of HR and find solution providers equipped to address their wide range of needs related to human capital management.
Explains Bill Banham, Publisher of HR Gazette, "Now that human capital is truly becoming an imperative being driven by some of the world's most prestigious organizations, including the Business Roundtable, World Economic Forum, the Embankment Project, and many more, it is clear that organizations need a practical implementation roadmap that connects the dots between all their HR tactics and provides measurable results. By partnering with the Enterprise Engagement, we offer both practitioners and solution providers with a complete marketplace of research, ideas, and solution providers ready to help organizations profit from their human capital in a measurable way."
Combined, the two organizations reach over 30,000 practitioners and solution providers a month, about 80% in North America, with the rest in the UK and other parts of the world. Content is produced by experienced business journalists and expert practitioners and solution providers and delivered via web, podcasts, e-newsletters, an online marketplace, social media, and face-to-face events, enabling practitioners and solution providers to connect across multiple platforms. Under the agreement, the two media platforms will share useful and insightful content and help practitioners find solution providers to address their needs.
HR Gazette is a leading HR multi-media platform with up to 20,000 web site visitors a month. It produces two podcasts per week featuring leading practitioners and solution providers. It is also one of the organizing partners behind the fast-growing InnovateWork meetups and summits, launched first in Canada with events in Toronto, Vancouver, Ottawa, and Mississauga with new events coming to Australia and the US.
The Enterprise Engagement Alliance publishes ESM at
EnterpriseEngagement.org
, an online media platform covering the emerging field of enterprise engagement and stakeholder capitalism, as well as the
EEXAdvisors.com
, the first ever marketplace of engagement solution providers. It has about 20,000 e-newsletter subscribers, about 7,000 unique visitors per month, and a combined social media audience of about 35,000 professionals, mostly in the US.
EEA is the outreach organization of the International Center for Enterprise Engagement at
TheICEE.org
, which offers the first ISO certifications in ISO 30414 Human Capital Reporting, ISO 10018 Quality People Management, ISO 30401 Knowledge Management and ISO 30409 Workforce Management.
Says Bruce Bolger, Founder of the EEA, "HR Gazette has done a terrific job of creating a community of cutting-edge practitioners and solution providers. Bringing these ideas to our readers can only help organizations benefit from the application of a more strategic and systematic approach to engaging all stakeholders."
Content covered includes all areas of Human Resources and stakeholder engagement, including:
•
Organizational branding, mission, values and culture
•
Assessment and feedback
•
Innovation and collaboration
•
Diversity and inclusion
•
Rewards and recognition
•
Corporate social responsibility
•
ISO human capital standards
For More Information
Bruce Bolger, EEA
Tel. 914-591-7600, ext. 230
---
Master the Principles of Enterprise Engagement to Achieve Organizational Goals and Enhance Your Career
Profit from a new strategic and systematic approach to engagement to enhance your organization's brand equity; increase sales, productivity, quality, innovation, and safety, and reduce risks.
Get trained to become a Chief Engagement Officer for your organization.
Learn how to create Sustainability or Integrated Reports for Your Organization or Clients.
Enterprise Engagement
Resources:
EEXAdvisors.com provides the only curated online marketplace to access hundreds of solution providers in all areas of human capital management and enterprise engagement throughout the world.
Communities: The Enterprise Engagement Alliance and Advocate and the Brand Media Coalition free resource centers offering access to the latest research, news, and case studies; discounts, promotions, referrals, and commissions, when appropriate to third-party solution providers from participating coalition solution provider members.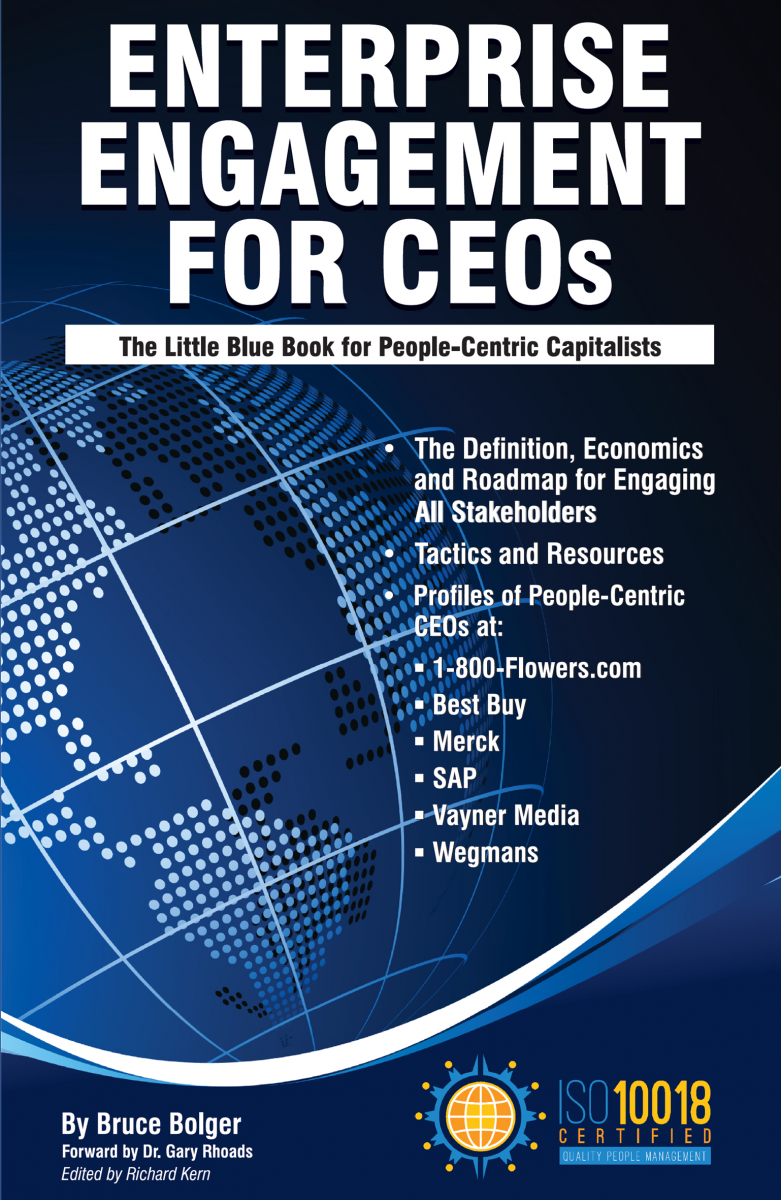 Enterprise Engagement: The Roadmap 5th Edition
The first and most comprehensive book on Enterprise Engagement and the new ISO 9001 and ISO 10018 quality people management standards. Includes 36 chapters detailing how to better integrate and align engagement efforts across the enterprise. (312 pages, $36.)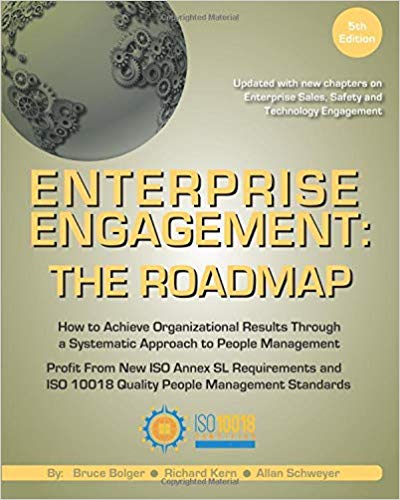 Online:
10-minute short course: click here for a 10-minute introduction to Enterprise Engagement and ISO standards from the Coggno.com learning platform.
Services:
• The International Center for Enterprise Engagement at TheICEE.org, offering: ISO 10018 certification for employers, solution providers, and Enterprise Engagement technology platforms; Human Resources and Human Capital audits for organizations seeking to benchmark their practices and related Advisory services for the hospitality field.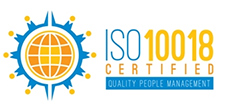 • The Engagement Agency at EngagementAgency.net, offering: complete support services for employers, solution providers, and technology firms seeking to profit from formal engagement practices for themselves or their clients, including Brand and Capability audits for solution providers to make sure their products and services are up to date.
• C-Suite Advisory Service—Education of boards, investors, and C-suite executives on the economics, framework, and implementation processes of Enterprise Engagement.
• Speakers Bureau—Select the right speaker on any aspect of engagement for your next event.
• Mergers and Acquisitions. The Engagement Agency's Mergers and Acquisition group is aware of multiple companies seeking to purchase firms in the engagement field. Contact Michael Mazer in confidence if your company is potentially for sale at 303-320-3777.
Enterprise Engagement Benchmark Tools: The Enterprise Engagement Alliance offers three tools to help organizations profit from Engagement. Click here to access the tools.
• ROI of Engagement Calculator. Use this tool to determine the potential return-on-investment of an engagement strategy.
• EE Benchmark Indicator. Confidentially benchmark your organization's Enterprise Engagement practices against organizations and best practices.
• Compare Your Company's Level of Engagement. Quickly compare your organization's level of engagement to those of others based on the same criteria as the EEA's Engaged Company Stock Index.
• Gauge Your Personal Level of Engagement. This survey, donated by Horsepower, enables individuals to gauge their own personal levels of engagement.
For more information, contact Bruce Bolger at Bolger@TheEEA.org, 914-591-7600, ext. 230.