LivingLens Powers Video to Enrich Customer and Employee Feedback
This six-year-old U.K.-based firm uses videos, machine learning, and human insights to help companies see who they truly are. Could LivingLens disrupt the traditional survey and focus group industry?
Carl Wong,
LivingLens
founder, will tell you "the world is awash with data. What we have lost is real people." LivingLens is an assessment and analytics company that uses permission-based video and audio feedback along with database management, machine learning, and artificial intelligence to help organizations connect emotionally with the experiences of their customers, employees, or other stakeholders.
Wong believes that one of the biggest problems with data is that little gets done with it. Despite billions spent on customer and employee engagement surveys each year, he points out, levels of employee and customer engagmement remain relatively low throughout the world. He believes that when senior management and other stakeholders personally experience how people feel about their organizations through the process of seeing and listening, there's a more visceral response and a greater sense of urgency for action.
"Our technology enables the CEO, management, and all relevant people to see how customers, employees or other audiences truly see their brand by capturing feedback through video and audio. It is then made automatically searchable by type of emotion or theme. Once senior executives and managers see and hear the emotional responses to their organization, extracted from so many responses, it has much more of an emotional impact on them than a column of survey percentages."

Mike Sinoway, President and CEO of MaritzCX, whose customer experience company brings the LivingLens solution to its clients, shares this point of view. "There's little that is more powerful than seeing actual customers relay their feedback and then making it available to frontline teams and executives to act upon," he says. "Pairing the strength of LivingLens' video with the power of our experience management platform gives businesses access to new visual data to influence experience decisions, increase loyalty, and improve ROI."

Search Video by Keywords, Sentiments and More
Based on the client, LivingLens provides multiple ways to enable customers, employees, or any stakeholders to respond to a survey via video or audio on a permission basis and includes the ability to blur faces for anonymity. The surveys, he says, are generally open-ended, enabling people to express their feelings, which he says explains why many people enjoy a video survey over a written one. The company's technology translates the audio to searchable text categorized by topic, including the emotional sentiments expressed, so that management can zero into the causes of various sentiments.
The technology "recognizes facial expressions, so we can navigate to different emotional states in the video to see when people are engaged or frustrated and find out why based on their response." The technology even records the location of respondents. Since they can respond from almost anywhere via mobile devices, they're given the option for both video and text, Wong explains. Companies can search videos by category and then zero into specific videos to see and/or hear the sentiments expressed. "We are able to turn these different responses into playlists that enable organizations to get a very quick but meaningful sense of people's experiences. Being able to hear or see these experiences firsthand helps organizations create meaningful stories that drive change in the organization. It helps teams understand what someone is feeling and thereby understand what they must do to address their needs and promote those behaviors internally."
While the logistics of video can sometimes reduce the overall volume of response, Wong believes the quality of the response is much higher because of the ability for people to convey more meaningfully the emotions that will lead to more direct action. If people believe that someone will truly listen and act on their feelings, the engagement rate can be quite high, he says. He also notes that response rates to traditional surveys continues to decline, requiring organizations to find more effective ways to engage and understand their key audiences.
People Seek to Be Treated With Dignity, Honesty, and Appreciation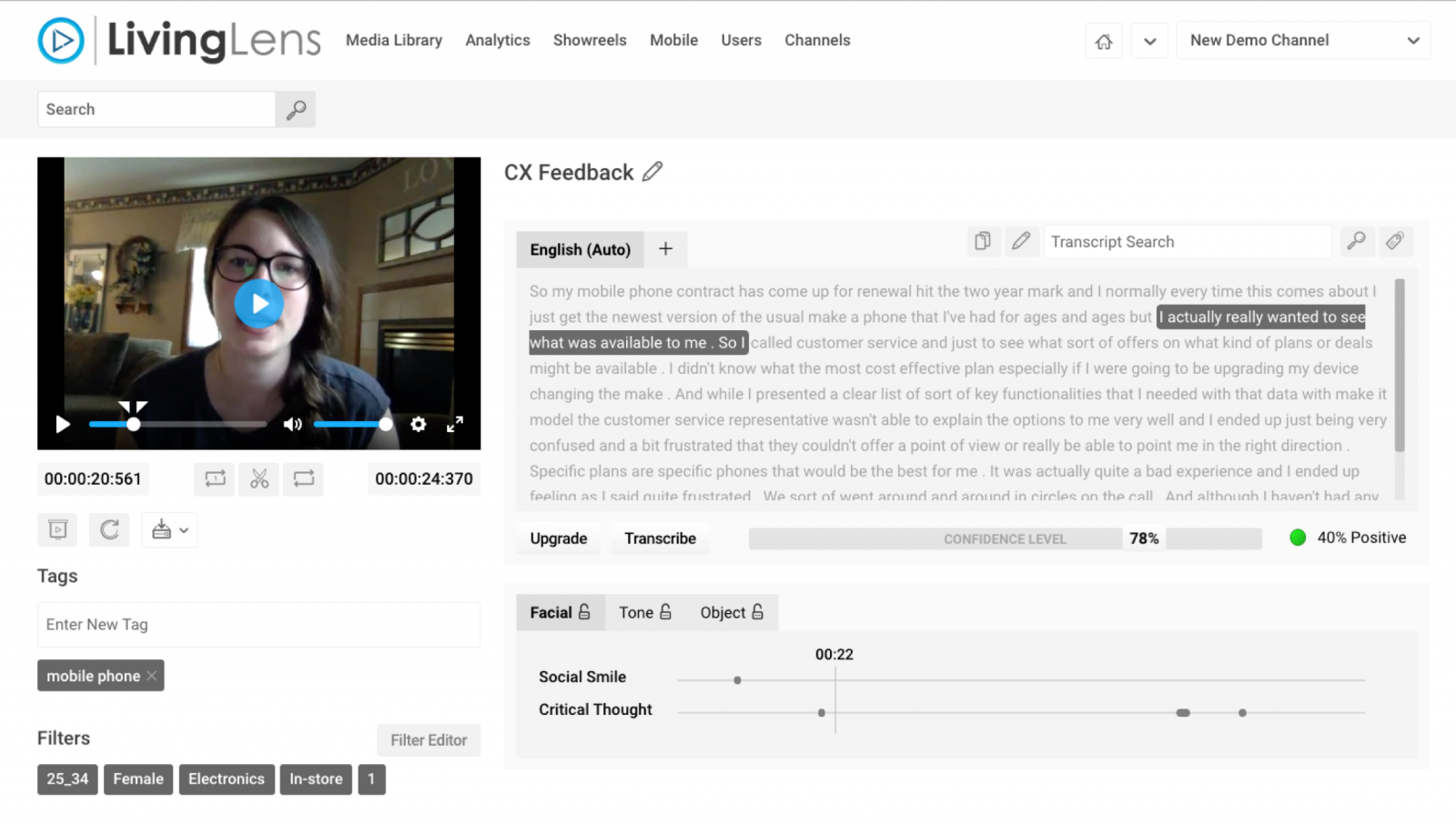 As for gaining engagement for video by privacy-wary respondents, he says: "It's about consent, transparency, and giving them choices," including options for audio, facial blurring, and name anonymity. Equally important, he says, is the organization's commitment to listening. "Have the CEO be the one who makes the request for feedback. Tell people what you are doing with the information. Have a means of making it clear to respondents that their voices are being heard and privacy protected. Incentives can help as well. Recognize people for their contributions in a meaningful way. When you do that, many people aren't concerned about anonymity, because they appreciate that someone is listening."
What are the biggest conclusions Wong has drawn from the aggregate experience of dozens of leading clients around the world? "People are motivated by emotional engagement. Even though we're a data science business, all the data points to the fact that what drives people are emotions. If we can help organizations understand what it feels like to be a customer, employee, patient, etc., they can get at the essence of the actions to take to achieve sustainable success." The data, he says, suggests that people generally wish to be treated with dignity and honesty and to be appreciated.
The company works both directly with some of the world's leading brands and in many cases their agencies. While artificial intelligence comes into play in many ways, "the technology only gets you about 80% there; it takes the experience and common sense of human beings at our brand and agency customers. With our help, they can draw the most effective conclusions and, most importantly, develop and implement an action plan."
LivingLens
works on a subscription basis based on the project requirements. The return on investment? Wong believes that if the organization puts into action the findings of the analysis, the ROI is multi-fold in terms of higher retention, satisfaction, quality, experiences, or other outcomes—as long as the organization engages the entire team in finding and implementing what is necessary to address the research findings.
Could LivingLens disrupt the traditional focus group, new product testing, or survey business? "We're not replacing anything—we're adding a new platform to make those processes more effective by using video and audio and helping management make more sense of the findings."
For More Information
Matt Marontate
Senior Vice President, Sales, LivingLens
1-416-580-1223
Wally Cromar
Account Development Manager, MaritzCX
1-386-695-2800
---
Master the Principles of Enterprise Engagement to Achieve Organizational Goals and Enhance Your Career
Profit from a new strategic and systematic approach to engagement to enhance your organization's brand equity; increase sales, productivity, quality, innovation, and safety, and reduce risks.
Get trained to become a Chief Engagement Officer for your organization.
Achieve ISO 10018 Quality People Management Certification to demonstrate your organization's strategic commitment to people to your customers, employees, distribution partners, vendors, communities, investors, and regulators.
Learn how to create Sustainability or Integrated Reports for Your Organization or Clients.
Get up-to-speed on ISO human resources standards and guidelines to enhance HR performance.
Live Education:
The Northwestern University Law School's Workforce Science Project is hosting the first certification preparation program for ISO 30414 Human Capital Reporting and ISO 10018 Quality People Management standard, the first of which was recently achieved by DTE Energy. Professionals for organizations and solution providers seeking to benefit from the new ISO 30414 Human Capital Standards, ISO 10018 Quality People Management, and other standards can attend an intensive program requiring no more than one night away from the office for most US attendees to learn how these standards an improve performance, efficiency, and stakeholder experiences and prepare for certification. Click here for more information.
Enterprise Engagement in Action. Take advantage of scheduled monthly live webinar preparation courses for the Certified Engagement Practitioner designation consisting of three one-hour classes and of quarterly Advanced Engagement Practitioner courses consisting of three one-hour webinar classes. The AEP course is for individuals or teams seeking preparation ISO 10018 professional certification status. ICEE periodically runs regional one-day workshops on ISO 10018 Quality People Management principles and certification.
Resources: The Brand Media Coalition, the only guide to the story-telling power of brands and where to source them for business, event, promotional gifting, and rewards and recognition.
2019 Enterprise Engagement Solution Provider Directory
. The only directory of engagement solution providers covering all types of agencies and tactics as well as insights on how to select them.
Communities: The Enterprise Engagement Alliance and Advocate and the Brand Media Coalition free resource centers offering access to the latest research, news, and case studies; discounts, promotions, referrals, and commissions, when appropriate to third-party solution providers from participating coalition solution provider members.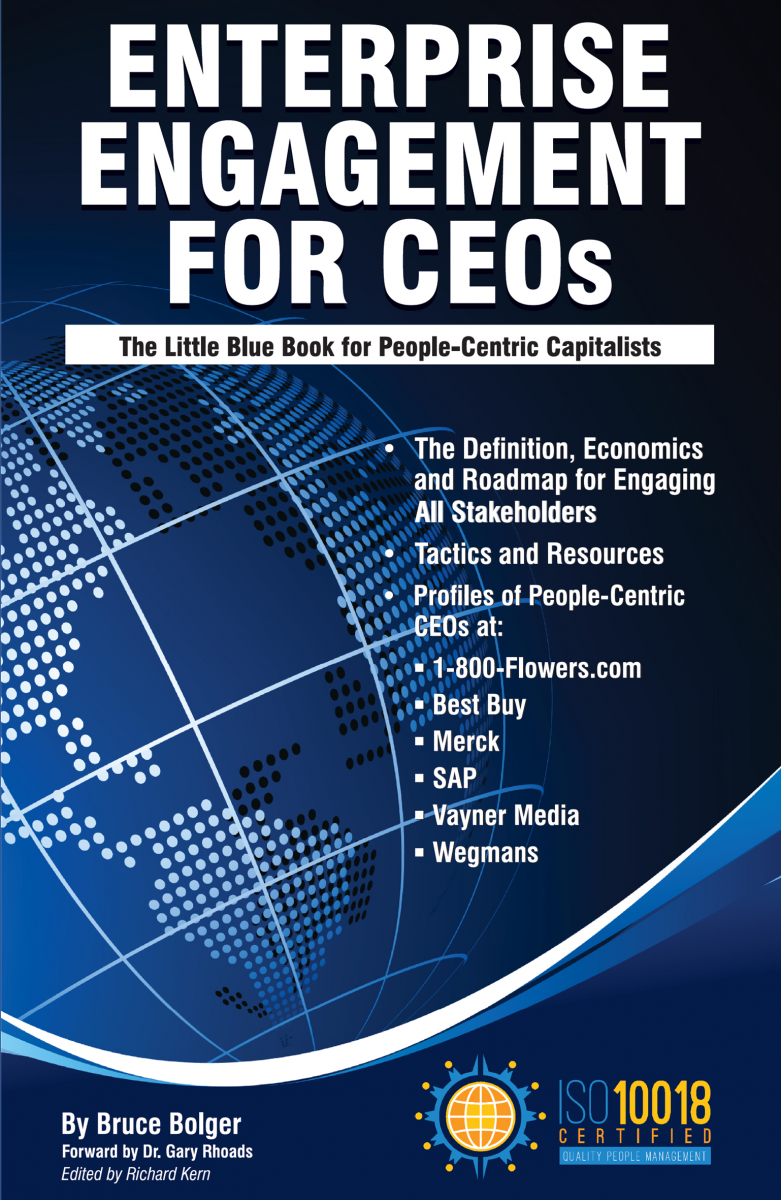 Enterprise Engagement: The Roadmap 5th Edition
The first and most comprehensive book on Enterprise Engagement and the new ISO 9001 and ISO 10018 quality people management standards. Includes 36 chapters detailing how to better integrate and align engagement efforts across the enterprise. (312 pages, $36.)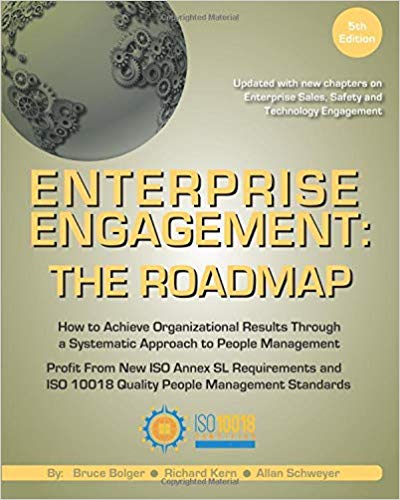 Online:
10-minute short course: click here for a 10-minute introduction to Enterprise Engagement and ISO standards from the Coggno.com learning platform.
Services:
• The International Center for Enterprise Engagement at TheICEE.org, offering: ISO 10018 certification for employers, solution providers, and Enterprise Engagement technology platforms; Human Resources and Human Capital audits for organizations seeking to benchmark their practices and related Advisory services for the hospitality field.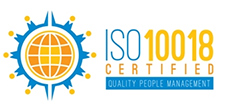 • The Engagement Agency at EngagementAgency.net, offering: complete support services for employers, solution providers, and technology firms seeking to profit from formal engagement practices for themselves or their clients, including Brand and Capability audits for solution providers to make sure their products and services are up to date.
• C-Suite Advisory Service—Education of boards, investors, and C-suite executives on the economics, framework, and implementation processes of Enterprise Engagement.
• Speakers Bureau—Select the right speaker on any aspect of engagement for your next event.
• Mergers and Acquisitions. The Engagement Agency's Mergers and Acquisition group is aware of multiple companies seeking to purchase firms in the engagement field. Contact Michael Mazer in confidence if your company is potentially for sale at 303-320-3777.
Enterprise Engagement Benchmark Tools: The Enterprise Engagement Alliance offers three tools to help organizations profit from Engagement. Click here to access the tools.
• ROI of Engagement Calculator. Use this tool to determine the potential return-on-investment of an engagement strategy.
• EE Benchmark Indicator. Confidentially benchmark your organization's Enterprise Engagement practices against organizations and best practices.
• Compare Your Company's Level of Engagement. Quickly compare your organization's level of engagement to those of others based on the same criteria as the EEA's Engaged Company Stock Index.
• Gauge Your Personal Level of Engagement. This survey, donated by Horsepower, enables individuals to gauge their own personal levels of engagement.
For more information, contact Bruce Bolger at Bolger@TheEEA.org, 914-591-7600, ext. 230.