Motisha Aims to Power Engagement Across the Enterprise
Bruges, Belgium-based Motisha, a European engagement and incentive platform, has recruited Fintan Connolly from Workhuman.com to help it create a platform to power the discipline of enterprise engagement.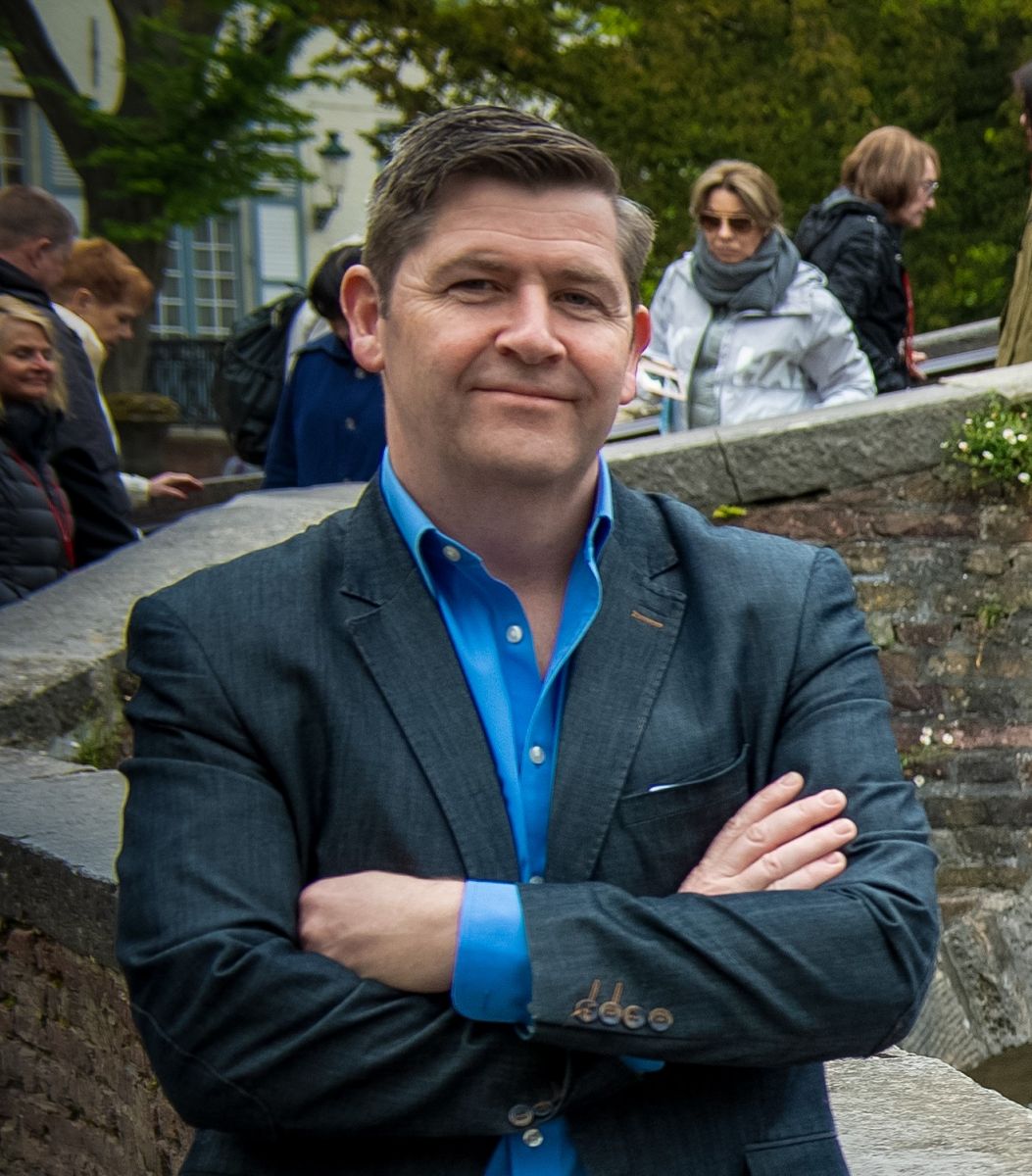 The idea of using technology to connect the entire enterprise came to Fintan Connolly over time, he explains in a recent interview. His focus at Globoforce (now Workhuman) was on employee recognition. The brainstorming began with the team at Motisha, a leading loyalty and recognition platform serving major financial and other enterprises, mostly in the Benelux countries and Europe in general.
In our discussions, "We asked ourselves, how can we look at loyalty and engagement across the enterprise? How could the same principles of loyalty be brought to salespeople and other employees, distribution partners, etc.? We asked ourselves how we could look at all of these audiences from an enterprise point of view?" Connolly believes there are numerous advantages to having customers, employees, distribution partners, etc. on the same platform and disadvantages to having multiple platforms.

"The way we look at it, as we look at these programs, it's a matter of how people engage, whether it's to motivate a customer to make a purchase or an employee to align his or her passion with the organization. Whatever is required to achieve that, be it hard work, learning, more commitment, the question is understanding how do you engage that individual, understanding what the drivers are, supporting and building upon them. Why should there be a different platform for each audience when the clear advantage is to align activities under the same brand? You can imagine the analytics that are lost by having different audiences on different platforms, not to mention the added costs."

To meet the needs of its major loyalty clients, Motisha, he explains, made a major investment in technology designed to address all the key ways that technology can engage with consumers on a SaaS (Software as a Service) platform that could make it highly scalable for the SME (Small-to-Medium Enterprise) market in addition to their larger enterprise clients. "Why not apply those same tools to all an organization's key stakeholders, we asked ourselves?" The result of this discussion: the launch of an ambitious effort to help organizations across the world connect the dots between all the audiences who drive their success. "A company can easily test our application to address a single issue or audience, and then, once they see the benefits, expand into other audiences."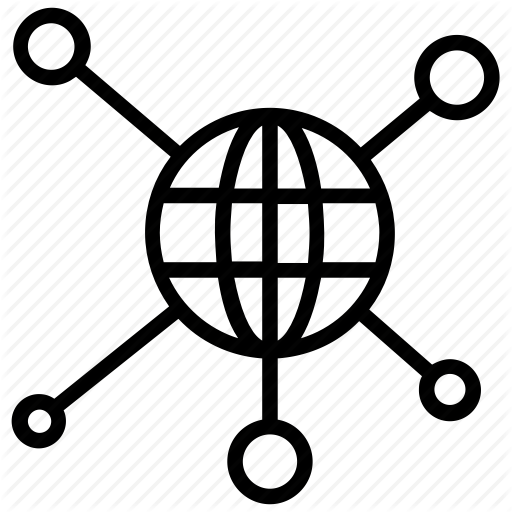 Motisha's technology uses a white-label approach that enables different types of agencies, consultants, advisors, including recognition, incentive, loyalty, and promotional firms, to create their own highly customized approaches to engagement for their individual clients--without having to make the investment not only in creating but maintaining technology. While the company has its roots in Europe, Connolly has extensive ties to the US due to his past work and has already begun customer recruitment here.
As with customer relationship management software, he says, "We believe that it simply doesn't make sense for most companies to create their own technology, and that there are for most far better ways to make money and add value in terms of program design, implementation, and return on investment analytics. Motisha is a technology company, that's at the core of what we do. That's simply not possible for most advisory or solution provider companies."
The growing need for international solutions further raises the bar, he asserts. "Over the last five years, we have expanded with clients in South Korea, Russia, Latin America, and now Africa. We must support multiple languages, currency conversions, points calculation considerations, and reward delivery options that simply are not in the scope of most solution providers. We believe most engagement solution providers can provide much more added-value through effective design, implementation, and analytics than on technology."

The company's web site says it provides a complete selection of rewards with "over 10 million global rewards including merchandise, retail gift cards, flights and vacations, movies and more," but he says "we are completely rewards agnostic. No one must use our rewards platform. Our fees are based on a set-up charge, which can be very low based on the type of program, and a very small per-user fee, so that we are ideally suited for the mid-market that is largely overlooked in most countries."

While he would not provide more pricing details for publication, he says the goal is to offer industry partners a robust, low-cost, easily customized platform that most solution providers can learn to manage on their own. "We are continually working on new solutions to lift engagement across all organizations in a human way, one customer, one partner and one employee at a time and so our partner network can offer best in class engagement to their local and global customers.
For More Information on partner opportunities across the US.
Fintan Connolly
Chief Revenue Officer, Motisha
---
Master the Principles of Enterprise Engagement to Achieve Organizational Goals and Enhance Your Career
Profit from a new strategic and systematic approach to engagement to enhance your organization's brand equity; increase sales, productivity, quality, innovation, and safety, and reduce risks.
Get trained to become a Chief Engagement Officer for your organization.
Achieve ISO 10018 Quality People Management Certification to demonstrate your organization's strategic commitment to people to your customers, employees, distribution partners, vendors, communities, investors, and regulators.
Learn how to create Sustainability or Integrated Reports for Your Organization or Clients.
Get up-to-speed on ISO human resources standards and guidelines to enhance HR performance.
Live Education: Enterprise Engagement in Action. Take advantage of scheduled monthly live webinar preparation courses for the Certified Engagement Practitioner designation consisting of three one-hour classes and of quarterly Advanced Engagement Practitioner courses consisting of three one-hour webinar classes. The AEP course is for individuals or teams seeking preparation ISO 10018 professional certification status. ICEE periodically runs regional one-day workshops on ISO 10018 Quality People Management principles and certification.
Resources:
2019 Enterprise Engagement Solution Provider Directory
. The only directory of engagement solution providers covering all types of agencies and tactics as well as insights on how to select them.
The
Brand Media Coalition
, the only guide to the story-telling power of brands and where to source them for business, event, promotional gifting, and rewards and recognition.
Communities: The Enterprise Engagement Alliance and Advocate and the Brand Media Coalition free resource centers offering access to the latest research, news, and case studies; discounts, promotions, referrals, and commissions, when appropriate to third-party solution providers from participating coalition solution provider members.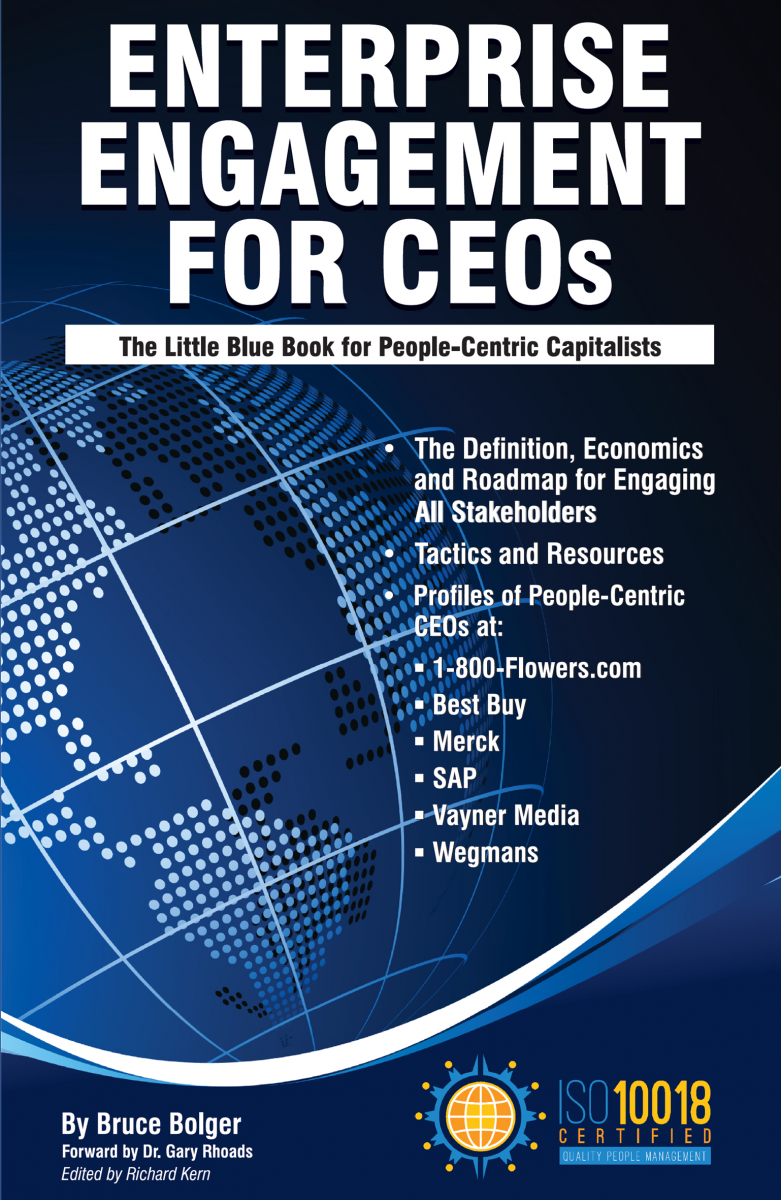 Written specifically to provide CEOs and their leadership teams a concise overview of the framework, economics, and implementation process of a CEO-led strategic and systematic approach to achieving success through people. (123 pages, $15.99)
Enterprise Engagement: The Roadmap 5th Edition
The first and most comprehensive book on Enterprise Engagement and the new ISO 9001 and ISO 10018 quality people management standards. Includes 36 chapters detailing how to better integrate and align engagement efforts across the enterprise. (312 pages, $36.)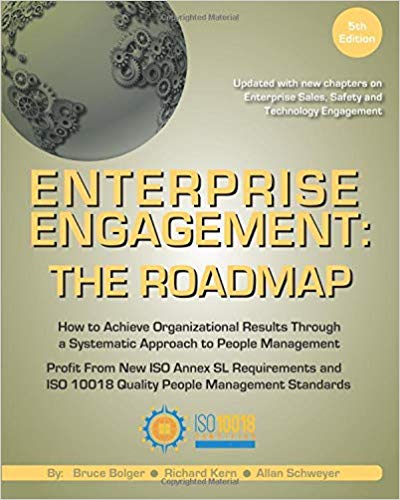 Online:
• 10-minute short course: click here for a 10-minute introduction to Enterprise
• Engagement and ISO standards on Coggno.com.
• 5-minute Audiopedia summary of the Enterprise Engagement field.
Services:
• The International Center for Enterprise Engagement at TheICEE.org, offering: ISO 10018 certification for employers, solution providers, and Enterprise Engagement technology platforms; Human Resources and Human Capital audits for organizations seeking to benchmark their practices and related Advisory services for the hospitality field.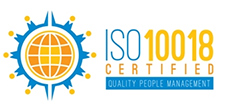 • The Engagement Agency at EngagementAgency.net, offering: complete support services for employers, solution providers, and technology firms seeking to profit from formal engagement practices for themselves or their clients, including Brand and Capability audits for solution providers to make sure their products and services are up to date.
• C-Suite Advisory Service—Education of boards, investors, and C-suite executives on the economics, framework, and implementation processes of Enterprise Engagement.
• Speakers Bureau—Select the right speaker on any aspect of engagement for your next event.
• Mergers and Acquisitions. The Engagement Agency's Mergers and Acquisition group is aware of multiple companies seeking to purchase firms in the engagement field. Contact Michael Mazer in confidence if your company is potentially for sale at 303-320-3777.
Enterprise Engagement Benchmark Tools: The Enterprise Engagement Alliance offers three tools to help organizations profit from Engagement. Click here to access the tools.
• ROI of Engagement Calculator. Use this tool to determine the potential return-on-investment of an engagement strategy.
• EE Benchmark Indicator. Confidentially benchmark your organization's Enterprise Engagement practices against organizations and best practices.
• Compare Your Company's Level of Engagement. Quickly compare your organization's level of engagement to those of others based on the same criteria as the EEA's Engaged Company Stock Index.
• Gauge Your Personal Level of Engagement. This survey, donated by Horsepower, enables individuals to gauge their own personal levels of engagement.
For more information, contact Bruce Bolger at Bolger@TheEEA.org, 914-591-7600, ext. 230.