News Analysis: More CEOs Calls for an Enterprise Approach to Engagement: Now What?
Over the last three months, the prestigious Business Roundtable and trend-setting CEOs such as Marc Benioff of Salesforce and Henry Blodget of BusinessInsider.com have advocated for a new approach to capitalism that all have one principle in common: the need to strategically and systematically address the needs of all stakeholders—customers, employees, business partners, communities, anyone who touches the organization directly or indirectly. The question is no longer if CEOs are going to get it, but rather what they are going to do.

The light bulbs are going off in the C-suite. In the last year, the
Social and Human Capital Coalition
of leading companies and the
EPIC Coalition
were formed supported by the CEOs of the world's largest companies to promote sustainable management practices and transparent reporting. The preeminent investor
Larry Fink of BlackRock
declared that his company's funds would focus on organizations with a strategic plan to address the needs of all stakeholders, as well as the planet. Hundreds of leaders say they have reached the same conclusion: that the CEO must lead a strategic and systematic approach to managing relationships with all stakeholders. That said, the discussion still focuses mostly on why, and not how in practical terms these CEOs will turn this commitment into a successful and sustainable strategy.
In an Oct. 13, 2019, New York Times op-ed piece, "We Need a New Capitalism," Salesforce's CEO Marc Benioff writes that to fix capitalism, "We need businesses and executives to value purpose alongside profit." His prescription: "First, business leaders need to embrace a broader vision of their responsibilities by looking beyond shareholder return and also measuring their stakeholder return. This requires that they focus not only on their shareholders, but also on all of their stakeholders—their employees, customers, communities and the planet. Fortunately, nearly 200 executives with the Business Roundtable recently
committed
their companies, including Salesforce, to this approach, saying that the 'purpose of a corporation' includes 'a fundamental commitment to all of our stakeholders.' As a next step, the government could formalize this commitment, perhaps with the Securities and Exchange Commission requiring public companies to publicly disclose their key stakeholders and show how they are impacting those stakeholders." Note: He apparently is not aware of pending
Securities and Exchange Commission human capital disclosure
requirements.
Benioff: Purpose-Based Organizations Do Better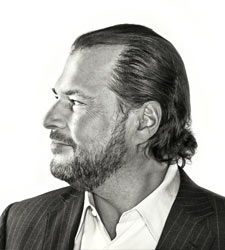 To those who object to this approach, Benioff argues, "Skeptical business leaders who say that having a purpose beyond profit hurts the bottom line should look at the facts.
Research
shows that companies that embrace a broader mission--and, importantly, integrate that purpose into their corporate culture-- outperform their peers, grow faster, and deliver higher profits. Salesforce is living proof that new capitalism can thrive and everyone can benefit. We don't have to choose between doing well and doing good. They're not mutually exclusive. In fact, since becoming a public company in 2004, Salesforce has delivered a 3,500% return to our shareholders. Values create value."
He concludes: "When we finally start focusing on stakeholder value as well as shareholder value, our companies will be more successful, our communities will be more equal, our societies will be more just, and our planet will be healthier."
Henry Blodget: The Outcomes Are Better for the Company, Employees, Customers, and Society
BusinessInsider.com CEO and preeminent capitalist
Henry Blodget joined the campaign
about a year ago and has included this passion in his speaking engagements. He says, "We need to create 'better capitalism,' which means creating value for shareholders, yes, but also for the employees who work at the company, its customers, and society as a whole." He began this campaign a year before the Business Roundtable adopted its new "Enterprise Engagement" charter--i.e., what the Enterprise Engagement Alliance (EEA) calls this focus on all stakeholders.
While the lightbulbs are going off, the case is not closed: the advocates are still making the case rather than proposing a practical solution. None of these prescriptions include other than basic principles and goals; none include the practical leadership and implementation processes needed to ensure that organizations turn these principles into a sustainably successful enterprise.
What We Can Learn From the Quality Crisis of the 1990s
In other words, quality people management is in the same state of maturity as US quality manufacturing in the 1980s, when the Japanese manufacturers adopted a strategic and systematic approach to quality management that took an enormous toll on US brands until ISO 9000 standards and competitive forces combined to compel US CEOs to authorize a similar approach. The main difference was that the Japanese addressed both the people and process issues involved with quality management; most US companies focused mostly on the process. Organizations can benefit by applying that same strategic and systematic approach to people management that has provided such good results for quality management.
---
Master the Principles of Enterprise Engagement to Achieve Organizational Goals and Enhance Your Career
Profit from a new strategic and systematic approach to engagement to enhance your organization's brand equity; increase sales, productivity, quality, innovation, and safety, and reduce risks.
Get trained to become a Chief Engagement Officer for your organization.
Achieve ISO 10018 Quality People Management Certification to demonstrate your organization's strategic commitment to people to your customers, employees, distribution partners, vendors, communities, investors, and regulators.
Learn how to create Sustainability or Integrated Reports for Your Organization or Clients.
Get up-to-speed on ISO human resources standards and guidelines to enhance HR performance.
Live Education: Enterprise Engagement in Action. Take advantage of scheduled monthly live webinar preparation courses for the Certified Engagement Practitioner designation consisting of three one-hour classes and of quarterly Advanced Engagement Practitioner courses consisting of three one-hour webinar classes. The AEP course is for individuals or teams seeking preparation ISO 10018 professional certification status. ICEE periodically runs regional one-day workshops on ISO 10018 Quality People Management principles and certification.
Resources: The Brand Media Coalition, the only guide to the story-telling power of brands and where to source them for business, event, promotional gifting, and rewards and recognition.
2019 Enterprise Engagement Solution Provider Directory
. The only directory of engagement solution providers covering all types of agencies and tactics as well as insights on how to select them.
Communities: The Enterprise Engagement Alliance and Advocate and the Brand Media Coalition free resource centers offering access to the latest research, news, and case studies; discounts, promotions, referrals, and commissions, when appropriate to third-party solution providers from participating coalition solution provider members.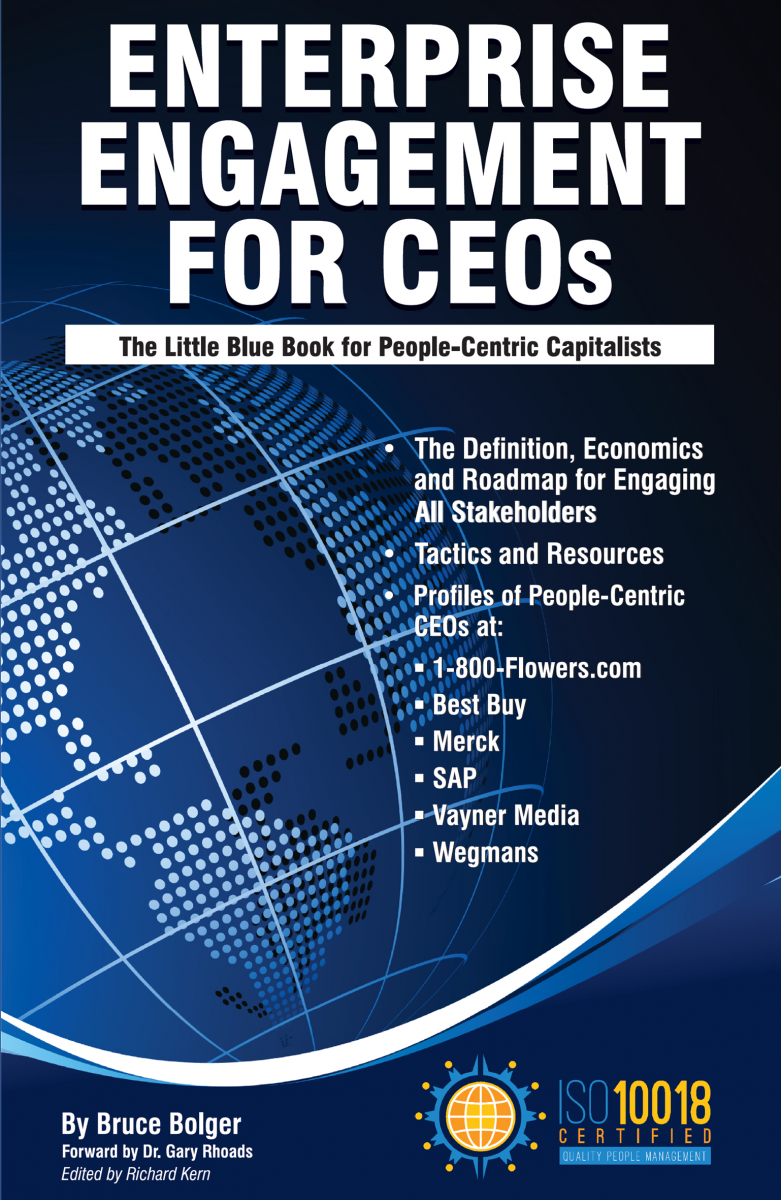 Written specifically to provide CEOs and their leadership teams a concise overview of the framework, economics, and implementation process of a CEO-led strategic and systematic approach to achieving success through people. (123 pages, $15.99)
Enterprise Engagement: The Roadmap 5th Edition
The first and most comprehensive book on Enterprise Engagement and the new ISO 9001 and ISO 10018 quality people management standards. Includes 36 chapters detailing how to better integrate and align engagement efforts across the enterprise. (312 pages, $36.)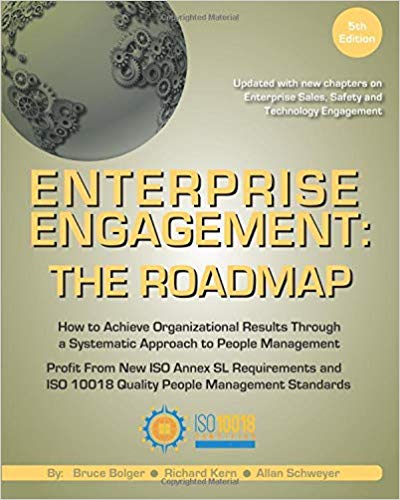 Online:
• 10-minute short course: click here for a 10-minute introduction to Enterprise
• Engagement and ISO standards on Coggno.com.
• 5-minute Audiopedia summary of the Enterprise Engagement field.
Services:
• The International Center for Enterprise Engagement at TheICEE.org, offering: ISO 10018 certification for employers, solution providers, and Enterprise Engagement technology platforms; Human Resources and Human Capital audits for organizations seeking to benchmark their practices and related Advisory services for the hospitality field.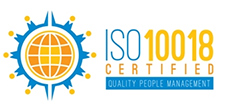 • The Engagement Agency at EngagementAgency.net, offering: complete support services for employers, solution providers, and technology firms seeking to profit from formal engagement practices for themselves or their clients, including Brand and Capability audits for solution providers to make sure their products and services are up to date.
• C-Suite Advisory Service—Education of boards, investors, and C-suite executives on the economics, framework, and implementation processes of Enterprise Engagement.
• Speakers Bureau—Select the right speaker on any aspect of engagement for your next event.
• Mergers and Acquisitions. The Engagement Agency's Mergers and Acquisition group is aware of multiple companies seeking to purchase firms in the engagement field. Contact Michael Mazer in confidence if your company is potentially for sale at 303-320-3777.
Enterprise Engagement Benchmark Tools: The Enterprise Engagement Alliance offers three tools to help organizations profit from Engagement. Click here to access the tools.
• ROI of Engagement Calculator. Use this tool to determine the potential return-on-investment of an engagement strategy.
• EE Benchmark Indicator. Confidentially benchmark your organization's Enterprise Engagement practices against organizations and best practices.
• Compare Your Company's Level of Engagement. Quickly compare your organization's level of engagement to those of others based on the same criteria as the EEA's Engaged Company Stock Index.
• Gauge Your Personal Level of Engagement. This survey, donated by Horsepower, enables individuals to gauge their own personal levels of engagement.
For more information, contact Bruce Bolger at Bolger@TheEEA.org, 914-591-7600, ext. 230.