Why ISO Human Capitals Standards and Certifications and the Role of ICEE?
Lee S. Webster and Dr. Ron B. McKinley answer the most frequently asked questions about the new ISO human capital standards and the role of the International Center for Enterprise Engagement at TheICEE.org.
ESM: Why are ISO human capital standards necessary?
McKinley: Because based on our decades of experience in all aspect of human resources management, we believe that ISO can do for human capital management what it has done for quality management and many other disciplines: help organizations develop and implement a strategic and systematic approach to important aspects of their people management.
ESM: What are ISO standards?
Webster: ISO standards were developed after World War II to facilitate the rebuilding of Europe through implementation of consensus-based, transparent practices to promote efficiency across borders. They are created through a laborious, lengthy process, through volunteer experts often including dozens or more countries. Because of their effectiveness at improving processes through a strategic and systematic approach, their use gradually spread to thousands of technical applications, and now include about 66 business management practices, such as ISO 9001 quality management, which is probably followed by about 1.2 million organizations worldwide. Today, you will see many web sites, office buildings, lobbies, and trucks emblazoned with an ISO logo for quality, safety, environmental, and other critical business processes.
These standards provide a totally voluntary roadmap to ensure that organizational practices are efficient and transparent.
ESM: What ISO human capital standards and certifications are available today?
Webster: Since 2015, ISO has published nine standards that apply specifically to human capital management: ISO 10018 quality people management; ISO 30400 HRM ocabulary; ISO 30414 human capital internal and external reporting; ISO 30401 knowledge management; ISO 30408 guidelines on human governance; ISO 30409 workforce management; IO 30405 recruitment, and ISO 10668 assessment service (parts 1 and 2.)
These standards provide a totally voluntary roadmap to ensure that organizational practices are efficient and transparent.
ESM: Why has there been so little response to these new standards in the HR community?
McKinley: The standards are brand new. The first ISO certification for people management, ISO 10018 quality people management, did not have a certification program until last year and the first HR certifications not until July of this year. lt takes time. In fact, it took several years before ISO 9001 quality management standards took off in the 1990s, and now there are probably about 1.2 million ISO-certified organizations worldwide. Also, since compliance often includes tedious processes, the concept of standards evokes unpleasant images, when in fact standards create one of the biggest opportunities we have seen for HR in our careers: the ability for HR to play a strategic role helping CEOs address the growing demand for a strategic and systematic approach to engaging all stakeholders, and on disclosing those practices in an effective manner. I expect the profession will seize the opportunity sooner or later. For the first time, organizations in the US either publicly held or with more than 500 employees will have to disclose human capital management practices to the public.
ESM: What is the difference between ISO certification and SHRM (Society for Human Resources Management) certifications?
Webster: SHRM and other professional certifications aim to prepare people for specific tasks and to develop skills that can enhance their value to organizations. That's where the similarity with ISO standards stop. ISO standards should be viewed more as a roadmap or guide that provides organizations benchmarks and landmarks to help guide a more strategic and systematic approach to almost any endeavor. ISO standards help keep organizations disciplined and demonstrate to all stakeholders a commitment to sustainable, transparent processes related to the activities that count most to an organization: it's people—employees, customers, distribution partners, vendors, communities, and shareholders.
ESM: What are the most common types of certifications for these standards?
McKinley: ICEE has professional certifications for individuals; organizational certifications for employers and solution providers, and certifications for technology that supports these standards.
ESM: How many certifications have been issued so far?
Webster: Since the launch of the first ISO 10018 quality people management certification last year, we have certified one technology company's enterprise engagement technology and are currently in the process of auditing a leading publicly held energy company for ISO 10018 quality people management. Since launching our other ISO HR certifications in August, we have certified two leaders in ISO 30414 human capital management and in ISO 30409 knowledge management, with other experts in the process.
ESM: What makes ICEE qualified to certify people and organizations to ISO human capital standards?
McKinley: The founders of ICEE are the people who launched the first ISO working group on these standards, and I served on the 10018 committee, so there are probably no people more knowledgeable and passionate about these standards than we. Because of our personal involvement with creating these standards, we are committed to creating an ISO certification that will be respected worldwide.
ESM: What are you doing to ensure the integrity of these certifications?
Webster: We are creating a complete education program on each standard and are requiring that any applicant purchase from ISO the standard for which they are applying. All but the most experienced professionals will have to go through that training. Professional certification requires both an oral exam conducted in a video-recorded web meeting and a written exam based on a case study provided with the exam.
ESM: What are the minimum qualifications?
McKinley: Although there is some flexibility based on experience, applicants for the ISO professional certifications must have at least a bachelor's degree equivalent at a recognized higher-education institution and at least three years of business management or auditing experience. We have a Certified Practitioner level for people who are not yet qualified but who wish to begin their journey.
ESM: What is the most frequent misconception about ISO standards?
Webster: That they require organizations to follow a certain prescription and that they create extra work. Standards provide a road map; they don't tell you how to go but rather how to measure how well you got there based on your organization's needs. When properly implemented, standards can reduce tedious work and, more importantly, improve the workplace experience because the focus is on sensible approaches to problems rather than politics and siloes, which combined are probably among the greatest forms of workplace aggravation.
---
Master the Principles of Enterprise Engagement to Achieve Organizational Goals and Enhance Your Career
Profit from a new strategic and systematic approach to engagement to enhance your organization's brand equity; increase sales, productivity, quality, innovation, and safety, and reduce risks.
Get trained to become a Chief Engagement Officer for your organization.
Achieve ISO 10018 Quality People Management Certification to demonstrate your organization's strategic commitment to people to your customers, employees, distribution partners, vendors, communities, investors, and regulators.
Learn how to create Sustainability or Integrated Reports for Your Organization or Clients.
Get up-to-speed on ISO human resources standards and guidelines to enhance HR performance.
Live Education: Enterprise Engagement in Action. Take advantage of scheduled monthly live webinar preparation courses for the Certified Engagement Practitioner designation consisting of three one-hour classes and of quarterly Advanced Engagement Practitioner courses consisting of three one-hour webinar classes. The AEP course is for individuals or teams seeking preparation ISO 10018 professional certification status. ICEE periodically runs regional one-day workshops on ISO 10018 Quality People Management principles and certification.
Resources: The Brand Media Coalition, the only guide to the story-telling power of brands and where to source them for business, event, promotional gifting, and rewards and recognition.
2019 Enterprise Engagement Solution Provider Directory
. The only directory of engagement solution providers covering all types of agencies and tactics as well as insights on how to select them.
Communities: The Enterprise Engagement Alliance and Advocate and the Brand Media Coalition free resource centers offering access to the latest research, news, and case studies; discounts, promotions, referrals, and commissions, when appropriate to third-party solution providers from participating coalition solution provider members.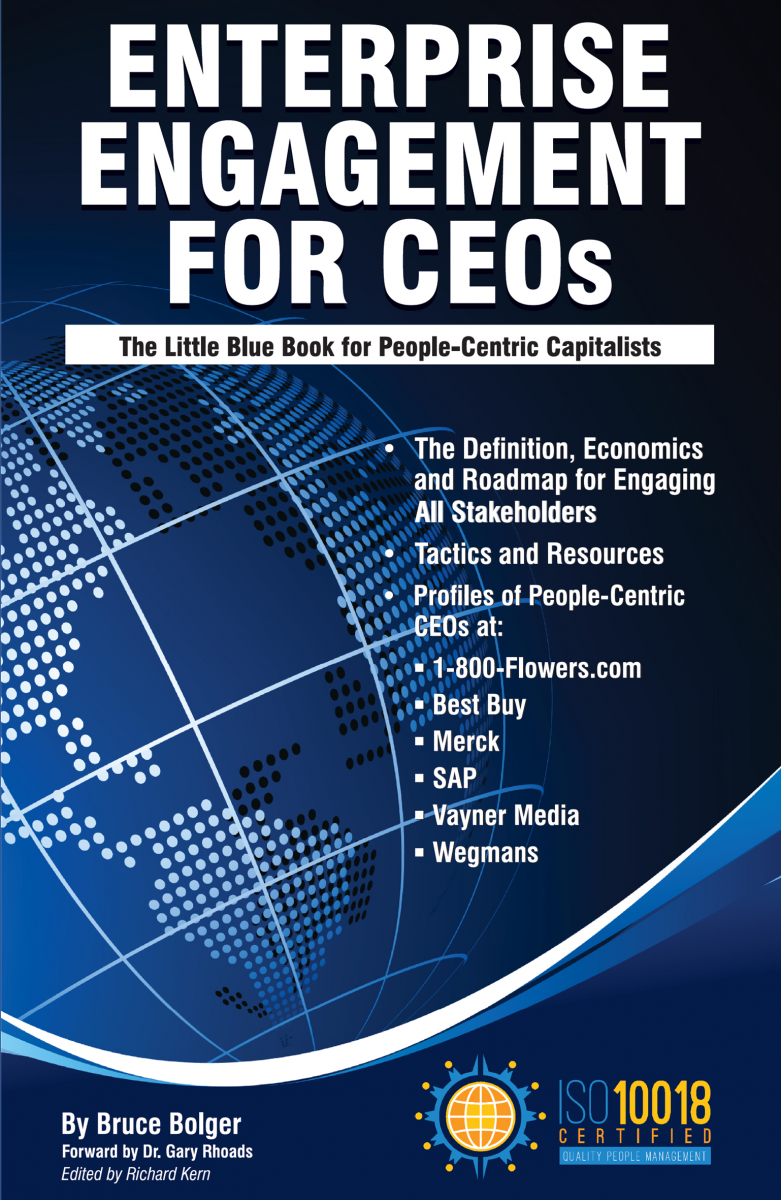 Written specifically to provide CEOs and their leadership teams a concise overview of the framework, economics, and implementation process of a CEO-led strategic and systematic approach to achieving success through people. (123 pages, $15.99)
Enterprise Engagement: The Roadmap 5th Edition
The first and most comprehensive book on Enterprise Engagement and the new ISO 9001 and ISO 10018 quality people management standards. Includes 36 chapters detailing how to better integrate and align engagement efforts across the enterprise. (312 pages, $36.)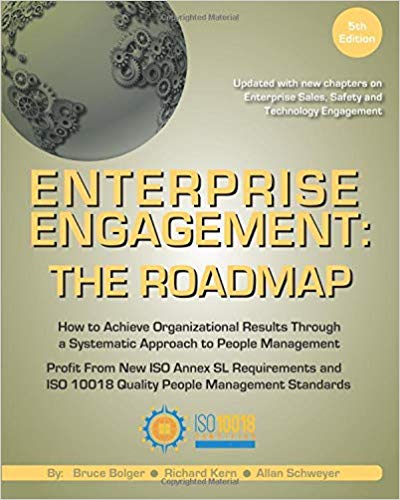 Online:
• 10-minute short course: click here for a 10-minute introduction to Enterprise
• Engagement and ISO standards on Coggno.com.
• 5-minute Audiopedia summary of the Enterprise Engagement field.
Services:
• The International Center for Enterprise Engagement at TheICEE.org, offering: ISO 10018 certification for employers, solution providers, and Enterprise Engagement technology platforms; Human Resources and Human Capital audits for organizations seeking to benchmark their practices and related Advisory services for the hospitality field.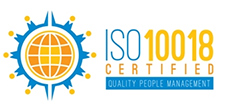 • The Engagement Agency at EngagementAgency.net, offering: complete support services for employers, solution providers, and technology firms seeking to profit from formal engagement practices for themselves or their clients, including Brand and Capability audits for solution providers to make sure their products and services are up to date.
• C-Suite Advisory Service—Education of boards, investors, and C-suite executives on the economics, framework, and implementation processes of Enterprise Engagement.
• Speakers Bureau—Select the right speaker on any aspect of engagement for your next event.
• Mergers and Acquisitions. The Engagement Agency's Mergers and Acquisition group is aware of multiple companies seeking to purchase firms in the engagement field. Contact Michael Mazer in confidence if your company is potentially for sale at 303-320-3777.
Enterprise Engagement Benchmark Tools: The Enterprise Engagement Alliance offers three tools to help organizations profit from Engagement. Click here to access the tools.
• ROI of Engagement Calculator. Use this tool to determine the potential return-on-investment of an engagement strategy.
• EE Benchmark Indicator. Confidentially benchmark your organization's Enterprise Engagement practices against organizations and best practices.
• Compare Your Company's Level of Engagement. Quickly compare your organization's level of engagement to those of others based on the same criteria as the EEA's Engaged Company Stock Index.
• Gauge Your Personal Level of Engagement. This survey, donated by Horsepower, enables individuals to gauge their own personal levels of engagement.
For more information, contact Bruce Bolger at Bolger@TheEEA.org, 914-591-7600, ext. 230.