SEC Still Weighing Human Capital Disclosures by Public Companies
While some Securities & Exchange Commission observers doubted the SEC would act on a formal petition to require public companies to disclose Human Capital investments during this administration, SEC Chair Jay Clayton recently made it clear to its Investor Advisory Committee that such disclosures are still under consideration. In the call, he acknowledged that human capital can now be considered an investment rather than a cost.
On the heels of the recent release of the new ISO 30414 Human Resources reporting guideline, SEC Chair Jay Clayton recently told the commission's Investor Advisory Committee it is grappling with identifying the specific metrics that would be required for Human Capital disclosures by public companies.
According to an article in
Mondaq
, an online business journal, Clayton recently discussed his views related to Human Capital disclosures in Items 101 and 102 of SEC Reg S-K, which include information on people and properties. The SEC is considering a petition by multiple investor groups to include Human Capital disclosures, but which did not include the precise information that should be required.
Requiring public companies to make formal human capital disclosures would have a significant affect on management practices because it would force CEOs to focus on a strategic and systematic approach to engaging all stakeholders and to better scrutinize the efficacy of current human capital investments and practices.

According to the Mondaq article, these disclosure rules "were adopted back when companies' most valuable assets were plant, property and equipment, and human capital was primarily a cost. But now, human capital and intellectual property often represent what Clayton described in a recent call as 'an essential resource and driver of performance for many companies. This is a shift from human capital being viewed, at least from an income statement perspective, as a cost.'"

However, he added, it is a challenge to develop standardized disclosure requirements for Human Capital. He reportedly told the committee on the call that given the need for disclosing information that is material to investors, disclosure requirements may need to differ between companies and industries. He questioned whether it's possible to identify metrics that offer market-wide or industry comparability.

He reportedly said: "Each industry, and even each company within a specific industry, has its own human capital circumstances. For example, I would expect that the material human capital information for a manufacturing company will be different from that of a biotech startup, and different from that of a large healthcare provider. Further, the human capital considerations for a car manufacturer will be different from that of a home manufacturer. Because of those differences and the principles of materiality, comparability, and efficiency, I am wary of jumping in with rules or guidance that would mandate rigid standards or metrics for all public companies."

Clayton reportedly believes that for Human Capital, "it is important that the metrics allow for period-to-period comparability for the company." He said he feels that Human Capital should be viewed "through the eyes of management, whether the focus is on turnover rates, education or experience of the workforce, availability of workers to fill open positions or other factors." He specifically asked the group on the call what information investors are looking for and is continuing to consult with experts on what such disclosures should look like.

According to the
Sustainability Accounting Standards Board
, Human Capital management "addresses the management of a company's human resources (employees and individual contractors) as key assets to delivering long-term value. It includes issues—such as labor practices, employee health and safety and employee engagement, diversity, and inclusion—that affect the productivity of employees, management of labor relations, and management of the health and safety of employees and the ability to create a safety culture."
The Mondaq article's author noted that the new ISO 30414 Human Resource Management guidelines for external and internal capital reporting are designed to "allow investors and others to benchmark companies' performance on human capital management." The new ISO standard calls for companies to publicly report on certain metrics and "to report internally on other metrics related to core human capital areas such as compliance and ethics, costs, diversity, culture, recruitment, mobility and turnover, skill and capabilities, organizational health and safety and productivity."
ISO 30414 guidelines for Human Capital reporting call for: "A formal engagement strategy to support the proactive involvement of employees to consistently address the needs of external and internal customers that aligns activities related to leadership training, engagement assessment, communications, learning, innovation and collaboration, rewards and recognition, analytics, and feedback." (see ESM: "
First ISO Human Capital Disclosure Guidelines Now Available
").
---
Master the Principles of Enterprise Engagement to Achieve Organizational Goals and Enhance Your Career
Profit from a new systematic approach to engagement to enhance your organization's brand equity; increase sales, productivity, quality, innovation, and safety, and reduce risks.
Achieve ISO 10018 Quality People Management Certification to demonstrate your organization's strategic commitment to people to your customers, employees, distribution partners, vendors, communities, investors, and regulators.
Live Education:
Enterprise Engagement in Action Conference at Engagement World
, April 3, 2019, in San Francisco, in conjunction with the Selling Power Sales 3.0 Conference. Learn about the economics, framework, and implementation process for an ISO certifiable approach to achieving organizational objectives by strategically fostering the proactive involvement of all stakeholders.
Learn more and register now
.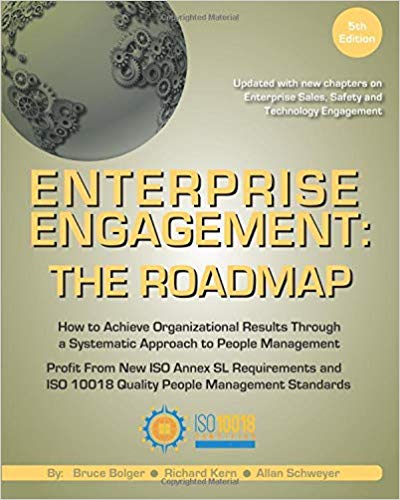 The first and most comprehensive book on Enterprise Engagement and the new ISO 9001 and ISO 10018 quality people management standards.
Online:

The Enterprise Engagement Academy at EEA.tmlu.org
, providing the only formal training on Enterprise Engagement and the new ISO 9001 and ISO 10018 quality people management standards. Provides preparation for professionals to support organizations seeking ISO 10018 employer or solution provider certification, as well as elective courses on Trade Show Engagement, Rewards and Recognition, Government, and other topics.
Plus
: 10-minute short course:
click here
for a 10-minute introduction to Enterprise Engagement and ISO standards on
Coggno.com
.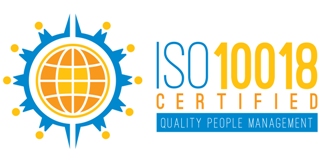 Services: The International Center for Enterprise Engagement at TheICEE.org
, offering: ISO 10018 certification for employers, solution providers, and Enterprise Engagement technology platforms; Human Resources and Human Capital audits for organizations seeking to benchmark their practices and related Advisory services for the hospitality field.
The Engagement Agency at EngagementAgency.net
, offering: complete support services for employers, solution providers, and technology firms seeking to profit from formal engagement practices for themselves or their clients, including Brand and Capability audits for solution providers to make sure their products and services are up to date.
C-Suite Advisory Service
—Education of boards, investors, and C-suite executives on the economics, framework, and implementation processes of Enterprise Engagement.
Speakers Bureau
—Select the right speaker on any aspect of engagement for your next event.
Mergers and Acquisitions.
The Engagement Agency's Mergers and Acquisition group is aware of multiple companies seeking to purchase firms in the engagement field. Contact Michael Mazer in confidence if your company is potentially for sale at 303-320-3777.
Enterprise Engagement Benchmark Tools:
The Enterprise Engagement Alliance offers three tools to help organizations profit from Engagement.
Click here
to access the tools.
• ROI of Engagement Calculator. Use this tool to determine the potential return-on-investment of an engagement strategy.
• EE Benchmark Indicator. Confidentially benchmark your organization's Enterprise Engagement practices against organizations and best practices.
• Compare Your Company's Level of Engagement. Quickly compare your organization's level of engagement to those of others based on the same criteria as the EEA's Engaged Company Stock Index.
• Gauge Your Personal Level of Engagement. This survey, donated by Horsepower, enables individuals to gauge their own personal levels of engagement.
For more information, contact Bruce Bolger at Bolger@TheEEA.org, 914-591-7600, ext. 230.