Creative Visions and The Engagement Agency Ink Agreement to Expand Engagement Services
Creative Visions Inc
., a 30-year-old Raleigh, NC company, has entered into an agreement with The Engagement Agency LLC to bring broader engagement solutions to its clients. Under the terms of the agreement, Creative Visions will also provide strategy, design, live event production, creative services, communications and ROI measurement to The Engagement Agency's clients in the emerging engagement field.

The Engagement Agency
will assist with engagement strategy and content development for Creative Visions' clients in health sciences, higher education, technology, financial services and other areas of business to transform their work into 365-day-a-year engagement strategies using the latest ISO-compliant Enterprise Engagement processes. In turn, Creative Visions will provide event and multimedia communications solutions to The Engagement Agency's growing family of companies seeking to profit from the engagement field.
According to Creative Visions Founder and President Allin Foulkrod, "Over the last few years, it has become clear that organizations of all types and sizes can benefit from a more strategic and systematic approach to engaging their audiences. Very few companies have the resources or the know-how to truly discover client needs and map strategy to effective design and implementation that drive measurable results. Based on the Engagement Agency's extensive experience in all aspects of engagement, it is uniquely qualified to help Creative Visions deliver on the promise of providing results-driven solutions for clients."
Explains Bruce Bolger, Founder of the Engagement Agency, "Creative Visions has created a unique set of in-house capabilities that can help their clients engage audiences year-round. These same tools can help other engagement solution-providers and their clients implement more effective face-to-face engagement and communications strategies. This agreement enables The Engagement Agency to provide its clients with an end-to-end suite of services to help all our clients profit from the engagement field. Since a big part of The Engagement Agency's growth plan includes face-to-face business development strategies, this agreement provides us the resources needed to help our clients achieve their best efforts."
Under the agreement, The Engagement Agency will work with Creative Visions' sales and creative teams to apply Enterprise Engagement processes to their engagement strategies and will utilize Creative Visions' design, event production, creative services, media and communications technology platforms to provide its clients with a full-service solution.
Allin Foulkrod founded Creative Visions to translate clients' visions into reality with live events. Creative Visions, he says, is focused on leveraging its tenured professional subject matter experts to become a national engagement agency supporting both corporations and non-profits across the country.
Bolger is Founder of the Enterprise Engagement Alliance at
TheEEA.org
, which has developed the first learning and certification program in the field of engagement as well as numerous related learning events and is co-founder of the International Center for Enterprise Engagement at
TheICEE.org
, which has created the first certification for ISO 10018 Quality People Management standards. The Engagement Agency division specifically focuses on helping corporations and their solution-providers profit from a strategic, systematic approach to engagement across the enterprise.
For More Information:
Bruce Bolger
The Engagement Agency
Todd Hanson
Chief Engagement Officer
Creative Visions, Inc.
920-850-8195
---
Master the Principles of Enterprise Engagement to Achieve Organizational Goals and Enhance Your Career
Profit from a new systematic approach to engagement to enhance your organization's brand equity; increase sales, productivity, quality, innovation, and safety, and reduce risks.
Achieve ISO 10018 Quality People Management Certification to demonstrate your organization's strategic commitment to people to your customers, employees, distribution partners, vendors, communities, investors, and regulators.
Live Education:
Enterprise Engagement in Action Conference at Engagement World
, April 3, 2019, in San Francisco, in conjunction with the Selling Power Sales 3.0 Conference. Learn about the economics, framework, and implementation process for an ISO certifiable approach to achieving organizational objectives by strategically fostering the proactive involvement of all stakeholders.
Learn more and register now
.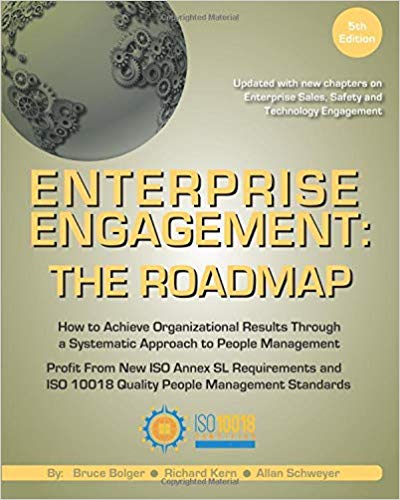 In Print:

Enterprise Engagement: The Roadmap 5th Edition.
The first and most comprehensive book on Enterprise Engagement and the new ISO 9001 and ISO 10018 quality people management standards.
Online:

The Enterprise Engagement Academy at EEA.tmlu.org
, providing the only formal training on Enterprise Engagement and the new ISO 9001 and ISO 10018 quality people management standards. Provides preparation for professionals to support organizations seeking ISO 10018 employer or solution provider certification, as well as elective courses on Trade Show Engagement, Rewards and Recognition, Government, and other topics.
Plus
: 10-minute short course:
click here
for a 10-minute introduction to Enterprise Engagement and ISO standards on
Coggno.com
.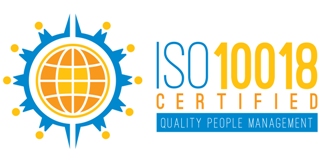 Services: The International Center for Enterprise Engagement at TheICEE.org
, offering: ISO 10018 certification for employers, solution providers, and Enterprise Engagement technology platforms; Human Resources and Human Capital audits for organizations seeking to benchmark their practices and related Advisory services for the hospitality field.
The Engagement Agency at EngagementAgency.net
, offering: complete support services for employers, solution providers, and technology firms seeking to profit from formal engagement practices for themselves or their clients, including Brand and Capability audits for solution providers to make sure their products and services are up to date.
C-Suite Advisory Service
—Education of boards, investors, and C-suite executives on the economics, framework, and implementation processes of Enterprise Engagement.
Speakers Bureau
—Select the right speaker on any aspect of engagement for your next event.
Mergers and Acquisitions.
The Engagement Agency's Mergers and Acquisition group is aware of multiple companies seeking to purchase firms in the engagement field. Contact Michael Mazer in confidence if your company is potentially for sale at 303-320-3777.
Enterprise Engagement Benchmark Tools:
The Enterprise Engagement Alliance offers three tools to help organizations profit from Engagement.
Click here
to access the tools.
• ROI of Engagement Calculator. Use this tool to determine the potential return-on-investment of an engagement strategy.
• EE Benchmark Indicator. Confidentially benchmark your organization's Enterprise Engagement practices against organizations and best practices.
• Compare Your Company's Level of Engagement. Quickly compare your organization's level of engagement to those of others based on the same criteria as the EEA's Engaged Company Stock Index.
• Gauge Your Personal Level of Engagement. This survey, donated by Horsepower, enables individuals to gauge their own personal levels of engagement.
For more information, contact Bruce Bolger at Bolger@TheEEA.org, 914-591-7600, ext. 230.