Enterprise Engagement: The Roadmap, 5th Edition
Edition 5 Now Available on Amazon.com and on BarnesandNoble.com.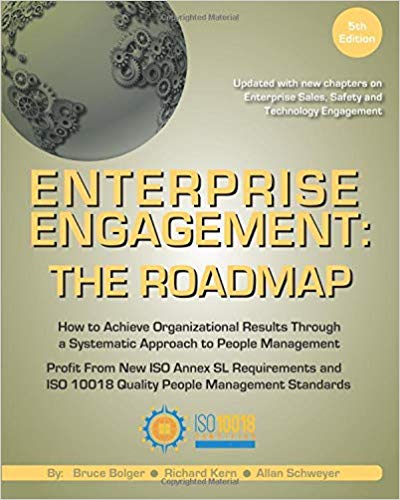 The only practical guidebook and desk reference for executives and front-line management seeking to apply a strategic and systematic approach to achieving organizational objectives and improving shareholder value and share-price performance in public and privately held organizations, government, and not-for-profits. This book offers a formal framework for the application of engagement principles across the enterprise and details the numerous tactics and applications of engagement in all segments of business and the economy. Enterprise Engagement differs from the traditional approach to employee and customer engagement in that it aligns engagement strategies and tactics across the organization to ensure efficiency and measurable success.Enterprise Engagement: The Roadmap is designed for the senior leaders in charge of strategic and tactical engagement plan development and for the front-line managers involved with implementation. It provides a desk reference to all the engagement strategies and tactics and how to better align them to achieve strategic or tactical goals. It provides a guide to developing ISO Annex SL and ISO 1001- compliant strategies and for auditing engagement processes, as well as information on engagement careers and applications for engagement in government and not-for profits.