ISO 10018 Certification Update: Your Organization Might Be Closer Than You Think
This is the first in a three part series on ISO 10018 Quality People Management certification for organizations of any type and size, and for providers of engagement solutions and technologies. Dr. Ron B. McKinley and Lee S. Webster, co-founders of the International Center for Enterprise Engagement at TheICEE.org, offer an update on progress of the first ISO 10018 certifications, noting that many companies are closer to qualifying than they realize.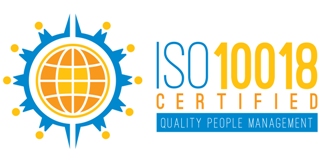 Does your organization, starting with the CEO, sincerely care about all its people—not just customers, but employees, distribution partners, vendors and communities? If so, Dr. Ron McKinley and Lee S. Webster, co-founders of the International Center for Enterprise Engagement (ICEE), believe your company may be close to having one of the most valuable new ISO certifications, specifically because of its potential importance to customers, talent, investors and government. "Our goal is to make ISO 10018 the seal of an organization's commitment to people and provide a clear standard all parties can use to measure improved efficiency and performance, as well as the experience for all stakeholders."
Almost a year since the first ISO 10018 Quality People Management certification was announced by ICEE, nearly a dozen companies are in various stages of gaining their certification, either to demonstrate the organization's commitment to having a strategic and tactical engagement process, or to demonstrate their ability to prepare others for ISO 10018 certification. Organizations seeking to gain ISO 10018 certification for their people management processes need to demonstrate that they have a CEO-led strategic and tactical process for engaging all interested parties in the goals, objectives and values laid out in the standard. Solution-providers seeking to provide audit and consulting services need to employ individuals with the Enterprise Engagement Alliance's Advanced Engagement Practitioner (AEP) certification and to have an Enterprise Engagement initiative audited by an ICEE auditor, either McKinley or Webster, to achieve their ISO 10018 solution-provider certification. There is also a separate ISO 10018 certification for technology that supports an enterprise approach to engagement.
ESM recently checked in with McKinley and Webster to find out what they've learned so far about the launch of ISO 10018 certification.
Up to 15% of Organizations Could Earn ISO 10018 Today
"We're encouraged, because it appears there are a surprising number of organizations that already would qualify for ISO Quality People Management certification—perhaps up to 15% of all organizations in the U.S.," says McKinley. What does he base that determination on? "One only has to read the business media, shop, or do business in general to realize that there are a growing number of CEOs who understand the connection between engaged stakeholders and success," he explains. "When 200 leading organizations join together to form a
Social & Human Capital Coalition
specifically to define how to disclose their human capital processes and outcomes, CEOs clearly understand the importance."
McKinley believes there are many indicators any casual observer would notice about an organization that would determine if it might qualify for the ISO 10018 Quality People Management certification. "First, it's usually easy to determine if a CEO makes a sincere, public and/or internal and consistent effort to focus on people," he says." Is there a clear mission, vision, or values clearly expressed on the organization's website, marketing materials, point of sale, or in their annual reports? If you do business with an organization without knowing what its brand stands for in terms of culture and values, chances are the company wouldn't qualify for ISO 10018 certification. If you do, that's a good sign." As an example, McKinley asks: "What does Southwest stand for in the eyes of the typical consumer versus, say, American Airlines? Which airline has done a better job of not only telling its story but living it; which has been a more consistent performer over time?"
You don't have to be a formal ISO auditor to identify other critical clues that distinguish CEO lip-service from action, says McKinley. "As an outsider, you see it in the attitude of employees you encounter, in the way they handle complaints or problems, in the organization's involvement in the community, in their
Glassdoor.com
ratings, Great Place to Work awards, or J.D. Power Awards, which use surveys to tell part of the story. As an employee, you probably know if the company has a clearly-defined brand that aligns with its culture; whether it recruits to find people compatible with that culture; if it has learning and training programs to support the effort; and communications that unites all stakeholders. If you can articulate your company's brand or culture, values and objectives, and what you can do to support them, your organization is potentially well on its way to an ISO 10018 certification."
ISO 10018 Doesn't Compete With Customer and Workplace Ratings
Lee Webster, who co-founded the ISO 10018 certification program, says the difference between ISO standards and industry ratings and rankings is that standards "demonstrate a commitment to the strategic and tactical leadership that make those awards possible." ISO 9001, he says, means little to the consumer, but even if 80% of ISO 9001-certified companies have a 'check-off-the-box' mentality about compliance, it almost immediately sets a company apart in manufacturing and logistics. "The 20% or more who get the full benefits are often the market leaders. We believe ISO 10018 can accomplish the same mission for people management to the benefit of customers, employees, distribution partners, vendors, communities, investors and government."
He points out that "anyone inside an organization knows if it has systems that foster innovation and involvement of all stakeholders, and recognizes and rewards all stakeholders who embody these values. It really isn't rocket science. We believe ISO 10018 certification will gain traction when companies recognize that their early investments in people can be leveraged into an invaluable process, not only for their organizational performance, but also for recruiting talent and customers, reducing accidents and other sources of risk and litigation, improving their share prices if they're public companies and having better overall community relations."
What do the 15% of companies that are close to ISO 10018 compliance have to do to achieve certification? Ron McKinley says that when organizations with leadership already committed to people go through the initial half-day gap analysis, "most find that they already have most of the processes in place. What's usually missing is a systematic approach, coordinated by one person, that ensures that all the dots get connected." The ISO 10018 process, he says, provides a roadmap for making sure these processes "get baked into daily life, so that they actually improve efficiency rather than add another burden."
ISO 10018 Standards Emphasize Commitment to All Stakeholders
Lee Webster explains that the ISO 10018 Quality People Management certification was officially launched in December 2017 as the only ISO or related standard demonstrating that an organization has a CEO-led strategic and tactical plan to engage all stakeholders in organizational goals. ISO 10018 was designed to address the people issues involved with implementing Quality Management processes, especially at service firms for which the ISO 9001 Quality Management processes may not be appropriate because of that standard's focus on manufacturing and logistics. "ISO has an employee engagement standard under development that will take up to three years," he says. "ISO 10018 provides a process organizations can employ right now to address all their stakeholders, as well as the Annex SL people requirements in 60 ISO standards.
"It can take years for a new ISO certification to gain traction, so we're pleased with the progress so far with ISO 10018," says McKinley.
Lee Webster explains what it takes for a standard to succeed: "Any new standard faces headwinds, including a lack of awareness about the requirements and benefits and confusion over how to implement a process to benefit from the standard. ISO 9001 Quality Management standards faced the same problems in the late 1980s and 1990s, but today they guide practices at over 1.3 million companies worldwide."
That said, McKinley concludes, "ISO 10018 is only for organizations that believe that having a strategic and tactical approach to engaging all stakeholders offers a key competitive edge. For those with leadership dedicated to making this connection, the steps to ISO 10018 are probably relatively easy. For those who have neglected the importance of people, a CEO can start seeing bottom-line results within six months if he or she is truly committed."
---
Master the Principles of Enterprise Engagement to Achieve Organizational Goals and Enhance Your Career
Profit from a new systematic approach to engagement to enhance your organization's brand equity; increase sales, productivity, quality, innovation, and safety, and reduce risks.
Achieve ISO 10018 Quality People Management Certification to demonstrate your organization's strategic commitment to people to your customers, employees, distribution partners, vendors, communities, investors, and regulators.
Live Education:
Enterprise Engagement in Action Conference at Engagement World
, April 3, 2019, in San Francisco, in conjunction with the Selling Power Sales 3.0 Conference. Learn about the economics, framework, and implementation process for an ISO certifiable approach to achieving organizational objectives by strategically fostering the proactive involvement of all stakeholders.
Learn more and register now
.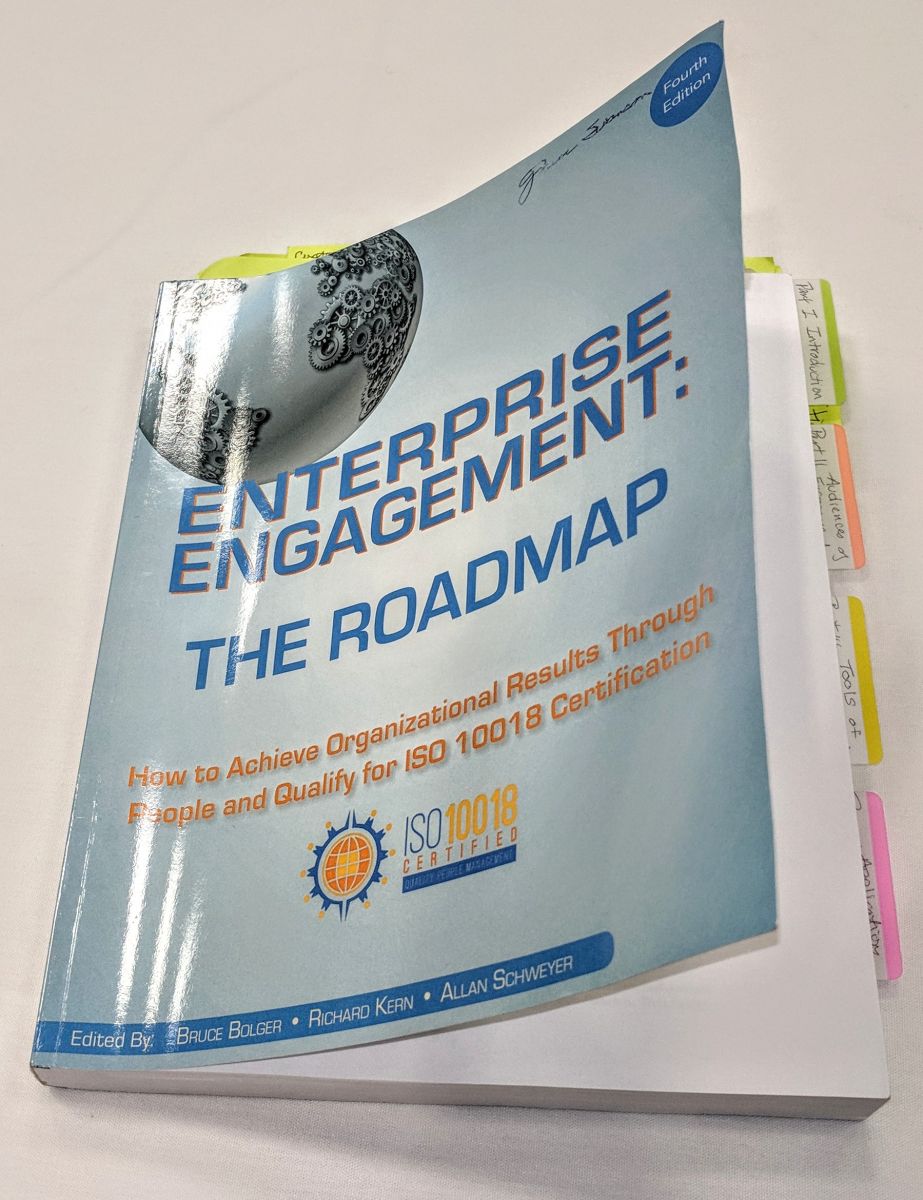 In Print:

Enterprise Engagement: The Roadmap 4th Edition, How to Achieve Organizational Results Through People and Quality for ISO 10018 Certification.
The first and most comprehensive book on Enterprise Engagement and the new ISO 9001 and ISO 10018 quality people management standards.
Online:

The Enterprise Engagement Academy at EEA.tmlu.org
, providing the only formal training on Enterprise Engagement and the new ISO 9001 and ISO 10018 quality people management standards. Provides preparation for professionals to support organizations seeking ISO 10018 employer or solution provider certification, as well as elective courses on Trade Show Engagement, Rewards and Recognition, Government, and other topics.
Plus
: 10-minute short course:
click here
for a 10-minute introduction to Enterprise Engagement and ISO standards on
Coggno.com
.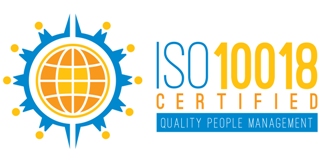 Services: The International Center for Enterprise Engagement at TheICEE.org
, offering: ISO 10018 certification for employers, solution providers, and Enterprise Engagement technology platforms; Human Resources and Human Capital audits for organizations seeking to benchmark their practices and related Advisory services for the hospitality field.
The Engagement Agency at EngagementAgency.net
, offering: complete support services for employers, solution providers, and technology firms seeking to profit from formal engagement practices for themselves or their clients, including Brand and Capability audits for solution providers to make sure their products and services are up to date.
Enterprise Engagement Benchmark Tools:
The Enterprise Engagement Alliance offers three tools to help organizations profit from Engagement.
Click here
to access the tools.
• ROI of Engagement Calculator. Use this tool to determine the potential return-on-investment of an engagement strategy.
• EE Benchmark Indicator. Confidentially benchmark your organization's Enterprise Engagement practices against organizations and best practices.
• Compare Your Company's Level of Engagement. Quickly compare your organization's level of engagement to those of others based on the same criteria as the EEA's Engaged Company Stock Index.
• Gauge Your Personal Level of Engagement. This survey, donated by Horsepower, enables individuals to gauge their own personal levels of engagement.
For more information, contact Bruce Bolger at Bolger@TheEEA.org, 914-591-7600, ext. 230.