Enterprise Engagement: The Roadmap 4th Edition Includes ISO People Standards and Guidelines
Master a new systematic approach to achieving organizational goals through people from the organization that helped transform the quality of products made around the world.


---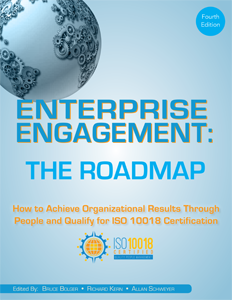 Enterprise Engagement: The Roadmap - How to Achieve Organizational Results Through People and Qualify for ISO 10018 Certification
introduces a new path to organizational success and a better stakeholder experience Enterprise Engagement applies a systematic and strategic focus on people covered in the new standards and guidelines issued by the International Organization for Standardization for ISO 9001 Quality Management. It addresses the critical role of Human Capital in a more systematic way, and also explains why neither customer nor employee engagement have increased in over a decade.
The first edition of this book, entitled Enterprise Engagement: The Textbook, published in 2014, was the first to provide a formal strategy to profit from an organizational, strategic approach to engagement that holistically addressed all audiences and engagement tactics. This fourth edition has been updated to support any organization seeking to profit from the new ISO 9001 and ISO 10018 Quality People Management standards. These are designed to support sustainable performance and a better outcome and experience for customers, employees and stakeholders through a systematic approach similar to that successfully applied to Quality Process Management. The book covers almost every element of Enterprise Engagement, and provides a sample of the ISO 10018 Quality People Management Audit tool, an explanation of the auditing method, and a sample Engagement Process Development Plan. Your organization does not need to gain certification to profit from a more strategic, measurable means of engaging people.
Enterprise Engagement is a proven strategy to:
Increase long-term profitability
Maximize customer loyalty and referrals
Capture the commitment of dealers, agents and distributors, as well as increase sales and improve customer service
Maximize quality, productivity, wellness and more, fostering greater prosperity through a focus on people
Enterprise Engagement: The Roadmap also provides formal preparation for the Enterprise Engagement Certification program required for organizations to gain an ISO 10018 Quality People Management certification.
A Formal Approach You Can Apply Today
Readers will gain a formal framework, strategy and tactics they can apply today to real-time goals and challenges related to managing culture and branding, sales, loyalty, channel partners, human resources, vendors, volunteers, communities and even constituents. The book also prepares people seeking, auditing, or developing ISO Quality People Management processes.
The new ISO 9001 and ISO 10018 standards and certification aim to do for Quality People Management what ISO 9001 accomplished for Quality Process Management: apply a formal, systematic and auditable process to achieving goals that can be continuously improved. This book and the field of Enterprise Engagement address the fundamental reasons why neither customer nor employee engagement have increased over the last decade: the lack of a formal process that integrates the engagement of all organizational stakeholders, as well as the multiple tools—often siloed—that are needed to foster the proactive involvement and capabilities of everyone who can contribute to success in a unified way.
Benefit From the Compelling Economics
Here's why Enterprise Engagement: The Roadmap makes essential reading for management, business academics and students:
Publicly-held companies with highly engaged customers, employees and communities have been shown in four authoritative studies to significantly and consistently outperform the S&P 500 in share price performance.
Leading investors with investment capital of over $17 trillion are demanding that public companies disclose their human capital expenditures, pressuring organizations to increase and document human capital investments.
Over 1.3 million ISO 9001 certified companies worldwide now for the first time must address people strategies in their audit process, and the new ISO 10018 Quality People Management standards are specifically designed to guide service organizations not fully addressed by ISO 9001.
There is an enormous demand for management with the ability to achieve key goals through engagement and to help organizations profit from ISO 9001 and ISO 10018, as well as the coming ISO 30414 Human Capital Disclosure standards.
A 360-Degree Approach to Management and Marketing
With about two dozen contributors representing general management, marketing, sales, data management, business and academia, Enterprise Engagement: The Roadmap 's methodology specifically aligns with the ISO 9001 and ISO 10018 Quality People Management framework, along with additional initiatives not yet recognized by ISO, that are unique in that they achieve strategic and tactical goals by creating a connection between promises made and promises kept, and by addressing all the stakeholders who can affect success—customers, distribution partners, employees, vendors, communities, etc..