New Customer Platform Aims to Integrate the Experience
The Kademi Customer Experience Platform at
Kademi.co
is now available in the U.S. Kademi is designed to deliver every capability needed to engage with, sell and reward a customer in cloud-based platform, according to Kademi Co-Founder Patrick Hones, who recently exhibited at the Rewards & Recognition Expo in Chicago.
He says the platform supports loyalty reward stores, marketing automation and commerce via "a seamless customer experience at every touchpoint."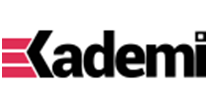 The Kademi "journey builder technology," says Hones, "gives customers the tools they need to design journeys to drive better engagement and create highly targeted and customized experiences. Through the ability to create both business-to-business and business-to-consumer solutions in a single platform, where a brand might engage with its sales channel through a training and incentive program, or sell to and reward its customers through an online store and loyalty program, Kademi brings together these capabilities. This creates a detailed single view of the customer from how they interact to what they buy in order to incentivize, reward and engage with the customer at every touchpoint."
Working with a range of partners from incentive and event marketing companies to digital advertising agencies and brands, Kademi works closely with its customers to combine its next generation platform with their customer needs creating some truly innovative solutions.

Explains Hones: "The challenges that organizations face today in what has become a globalized economy is how to compete where price points and features vary little, there is more choice than ever before and customers have become less forgiving and loyal. These challenges can be easily addressed when organisations become customer-centric and start to focus on the experience first, one that rewards and delights their customer at every touchpoint."

He explains that "with 89% of customers leaving a brand based on a bad experience, companies can no longer choose to ignore how critical customer experience is." On the other hand, Hones cites Forrester Research showing that great customer experience can increase profit margins by as much as 60%, "not to mention the gains in customer loyalty, advocacy and more."

Hones believes the opportunity is to provide clients a seamless platform that integrates rather than silos the customer experience across the enterprise. He asserts that "these systems fail to seamlessly integrate information, forcing customer data into silos and giving companies a fragmented view of their customer across each touchpoint."
---
Contact:
Patrick Hone, Co-Founder
Tel.: 61 410 247 043