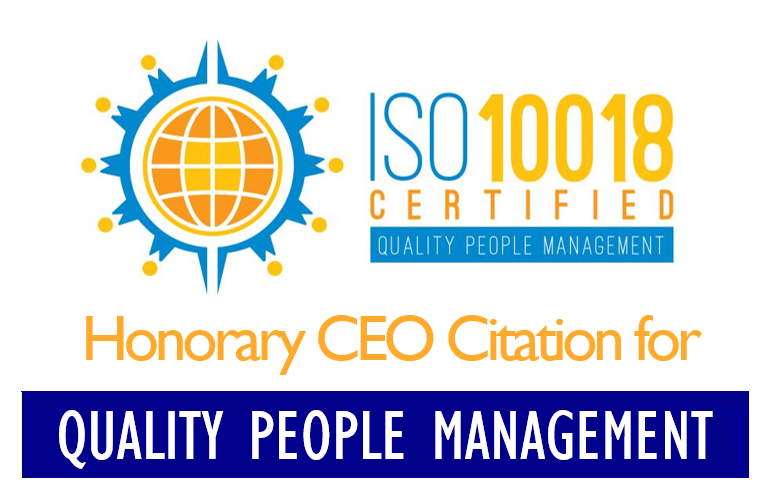 It takes courage to break the mold and adopt a new leadership paradigm. This new ISO 10018 Quality People Management citation is designed to honor CEOs with that courage.
Given the extraordinary tolerance required of CEOs for every day problem-solving, negotiating, risk-taking, and meeting the daily unexpected challenges required by the job—and with the old model of the "imperial" CEO still considered acceptable—only about 20% of organizations at best have a CEO-led strategic or systematic plan to engage all stakeholders; i.e., customers, employees, distribution partners, vendors, communities, etc.
Will the new generation of leaders change the paradigm? According to a study recently published in
Fast Company
, the answer is yes. The survey found that more than half of younger generation managers polled see future workforce planning as a 'top priority' for their departments, nearly three times more than their Baby Boomer counterparts.
While the ISO 10018 certification is only one year old and the recipients of the honorary ISO 10018 CEO leadership designation are not ISO-certified, the CEOs selected will have demonstrated through publicly available documents confirmed by their extensive personal writings and/or interviews to have the necessary commitment to a strategic and systematic approach to engagement across the enterprise that will be necessary for organizations in the 21st century and for those that seek to obtain an actual ISO 10018 certification.
What's Missing? A Strategic and Systematic Approach
"CEOs have access to great coaches, and yet nothing has changed in overall employee and customer satisfaction in decades," says Bruce Bolger, Co-founder of the International Center for Enterprise Engagement at
TheICEE.org
, the first certifier of ISO 10018 Quality People Management standards. "In the end, it's not just about leadership styles or how CEOs treat people; it's about having a strategic and systematic commitment to engaging the entire enterprise in the organization's brand, values and goals. Clearly, what's lacking is the same CEO-led strategic and systematic approach to addressing the needs of all stakeholders that helped transform Quality Management in the last century."
According to ICEE Co-founder Dr. Ron McKinley: "What makes this designation unique is that it's not just about the individual's leadership skills, corporate social responsibility investments, or employee or customer engagement survey scores. It's specifically about the CEO's commitment to having a strategic and systematic approach to engaging all stakeholders consistent with ISO standards and guidelines."
Adds Lee S. Webster, ICEE Co-founder: "We understand that any CEO or company we select will have its detractors. Any leadership role is no different than politics in that a certain percentage of people won't like you, and also because any leader makes decisions or mistakes along the way that can hurt people. Every company will disappoint a certain percent of customers and employees. If perfection were the standard by which we measured people, there would be no leaders able to embrace this new approach to engagement across the enterprise."
Dr. McKinley stresses that this honorary citation does not constitute an ISO Quality People Management certification for the organization. ISO 10018 certification for an organization requires a formal audit to verify that the CEO has all the elements in place to address stakeholders in a systematic and measurable way similar to the way standards have helped improved quality management, safety, environmental products and numerous other products and services (see
TheICEE.org
).
The Courage to Set a New Paradigm of Leadership
The CEOs we are selecting deserve praise because they're at the cutting edge of a new paradigm of leaders who will, in the words of Bill George, a Harvard Business School professor and former Medtronic CEO, 'save capitalism,'" explains Bolger, Founder of the Enterprise Engagement Alliance, which administers the honorary CEO Citation for Quality People Management designation on behalf of the ICEE.
"Starting, turning around, or leading a company takes courage and fortitude and the ability to withstand considerable pressure coming from all sides of the organization almost every day," Bolger continues. "Even the most well-meaning CEO must make tough decisions when it comes to launching a new product or service; turning around a business, facing major competitors, hiring or firing people, making decisions about customers, addressing shareholder pressures, legal or regulatory threats, safety problems, addressing financing or cash flow challenges, or myriad other issues. It takes a certain type of person to withstand that pressure, and one of those traits often involves the ability to compartmentalize that can oftentimes make a CEO appear aloof and uncaring."
Bolger concludes: "Many CEOs can be excused for so-called 'imperial behavior' because it's a tough job in almost any circumstance and because that was the paradigm of their time, just as it was often tolerated to treat women in the workplace in a way that today is offensive. This new honorary CEO Citation is designed to recognize leaders who have the courage to pave a new way to success and who will, as Professor George says, 'save capitalism.'"
To Recommend a CEO for the Honorary ISO 10018 Citation, contact:
Bruce Bolger
Enterprise Engagement Alliance
914-591-7600, ext. 230
---
Master the Principles of Enterprise Engagement to Achieve Organizational Goals and Enhance Your Career
Profit from a new systematic approach to engagement to enhance your organization's brand equity; increase sales, productivity, quality, innovation, and safety, and reduce risks.
Achieve ISO 10018 Quality People Management Certification to demonstrate your organization's strategic commitment to people to your customers, employees, distribution partners, vendors, communities, investors, and regulators.
Live Education:
Enterprise Engagement in Action Conference at Engagement World
, April 3, 2019, in San Francisco, in conjunction with the Selling Power Sales 3.0 Conference. Learn about the economics, framework, and implementation process for an ISO certifiable approach to achieving organizational objectives by strategically fostering the proactive involvement of all stakeholders.
Learn more and register now
.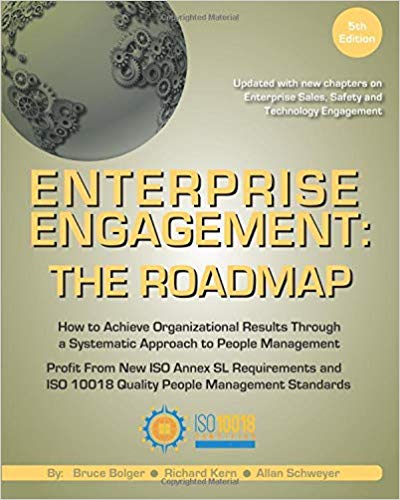 The first and most comprehensive book on Enterprise Engagement and the new ISO 9001 and ISO 10018 quality people management standards.
Online:

The Enterprise Engagement Academy at EEA.tmlu.org
, providing the only formal training on Enterprise Engagement and the new ISO 9001 and ISO 10018 quality people management standards. Provides preparation for professionals to support organizations seeking ISO 10018 employer or solution provider certification, as well as elective courses on Trade Show Engagement, Rewards and Recognition, Government, and other topics.
Plus
: 10-minute short course:
click here
for a 10-minute introduction to Enterprise Engagement and ISO standards on
Coggno.com
.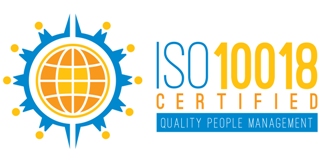 Services: The International Center for Enterprise Engagement at TheICEE.org
, offering: ISO 10018 certification for employers, solution providers, and Enterprise Engagement technology platforms; Human Resources and Human Capital audits for organizations seeking to benchmark their practices and related Advisory services for the hospitality field.
The Engagement Agency at EngagementAgency.net
, offering: complete support services for employers, solution providers, and technology firms seeking to profit from formal engagement practices for themselves or their clients, including Brand and Capability audits for solution providers to make sure their products and services are up to date.
C-Suite Advisory Service
—Education of boards, investors, and C-suite executives on the economics, framework, and implementation processes of Enterprise Engagement.
Speakers Bureau
—Select the right speaker on any aspect of engagement for your next event.
Mergers and Acquisitions.
The Engagement Agency's Mergers and Acquisition group is aware of multiple companies seeking to purchase firms in the engagement field. Contact Michael Mazer in confidence if your company is potentially for sale at 303-320-3777.
Enterprise Engagement Benchmark Tools:
The Enterprise Engagement Alliance offers three tools to help organizations profit from Engagement.
Click here
to access the tools.
• ROI of Engagement Calculator. Use this tool to determine the potential return-on-investment of an engagement strategy.
• EE Benchmark Indicator. Confidentially benchmark your organization's Enterprise Engagement practices against organizations and best practices.
• Compare Your Company's Level of Engagement. Quickly compare your organization's level of engagement to those of others based on the same criteria as the EEA's Engaged Company Stock Index.
• Gauge Your Personal Level of Engagement. This survey, donated by Horsepower, enables individuals to gauge their own personal levels of engagement.
For more information, contact Bruce Bolger at Bolger@TheEEA.org, 914-591-7600, ext. 230.