Dr. Paul White Has Simple Prescription for Better Cultures: Appreciation at Work
According to Dr. Paul White, co-author of The 5 Languages of Appreciation in the Workplace, managers can start improving culture in their own departments even without the support of the CEO by addressing every human's innate desire to feel appreciated. His research and process call into question the validity of many if not most recognition, incentive, and loyalty programs but provide simple and useful ways to significantly improve them.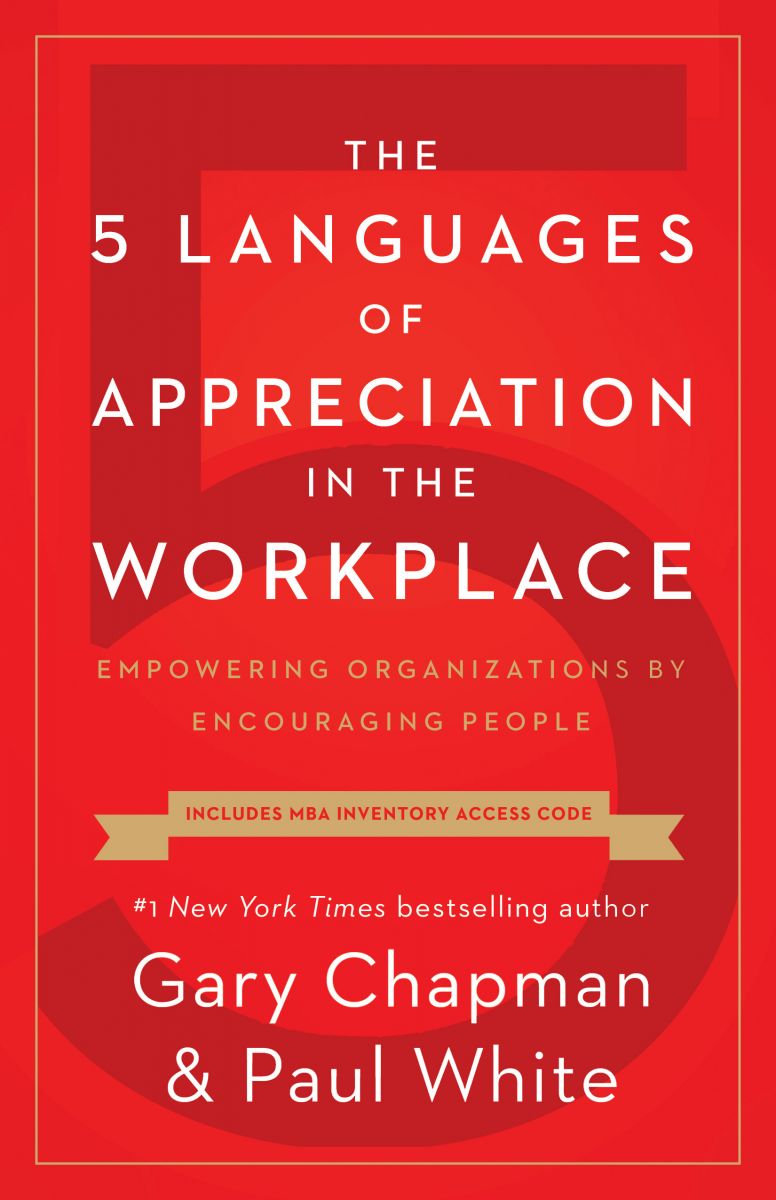 While the titans of industry grapple with the fundamental questions of how to implement stakeholder capitalism, Dr. Paul White, who holds a doctorate in counseling psychology, has a simple place to start to improve the workplace experience: Appreciation. Dr. White's
Appreciation at Work
process applies a systematic, research-based approach developed based on the concepts of
The 5 Love Languages
by Dr. Gary Chapman that focuses on marriage, family, and friends that has sold more than 12 million copies worldwide "and helped millons of people," according to its website. The process and toolkit outlined in Dr. White's book, The Five Languages of Appreciation in the Workplace, co-authored with Chapman, aims to help organizations improve both workplace performance and experiences by implementing a strategic and systematic approach to appreciation that can start in a department and be rolled out from there. Any type of organization can benefit, says Dr. White, "not just businesses of any size, but government, medical facilities, not-for profits, schools."
Dr. White says the Appreciate at Work methodology is among the relatively few culture tools based on research and empirical data that enables certified facilitators to bring easily actionable processes to any organization to create and sustain a high level of engagement with clear and demonstrated benefits. "The return on investment," he says, "is huge. Gallup found in the research with over 1 million employees worldwide that appreciation is a major factor in employee engagement. A culture of appreciation reduces absenteeism, reduces conflict over stupid little things, increases productivity and profitability, improves customer service, safety, and even reduces employee theft," all substantiated, he says, with extensive research cited in his book. He reports that it has sold over 450,000 copies in 22 countries and was voted No. 1 new HR book on Amazon in 2019. "People who appreciate one another, look after one another, and together can better advance organizational goals."
No CEO Leadership Required
Ironically, the Appreciation at Work approach, Dr. White says, does not require CEO leadership. "We rarely present to the CEOs. Much more often, he says, "we are brought into a department by a manager who wishes to improve the culture of his or her group. Once one department sees the benefits, other departments get on board."
The secret to the Appreciation at Work methodology is the simplicity, low cost, and high rate of measurability in terms of improved experiences and performance, asserts Dr. White. "Appreciation is a fundamental driver of engagement. If a department or an organization can create a culture of appreciation, it can transform the workplace experience as well as enhance performance. The key is that the application of appreciation must be systematic, or it will fail. Appreciation has to be built into the culture and cannot be a 'flavor of the month'training.
He elaborates: "People can implement the Appreciation at Work methodology in their own departments or offices, because it does not involve any kind of corporate mandate or investment to appreciate people on your team. For as little as $600, an organization can obtain the tools an organization needs to train a facilitator who can train multiple groups across an organization. The training involves everyone, not just managers. The service comes with an online tool employees use to identify the specific type of appreciation they prefer to receive." The more an organization can align the appreciation culture to the brand and values of the organization and the actions that help deliver promises, the more impact a culture of appreciation will have on organizational results.
A Methodology Based on Science
The goal of the Appreciation at Work process is to educate and sensitize everyone on the team on how simple, authentic acts of appreciation can not only create a more meaningful workplace but also contribute to achieving performance goals. Based on the results of over 200,000 individual surveys using the company's online appreciation assessment tool, people have five different preferences when it comes to appreciation, ranked in the following order:
1. Words of affirmation. 46% of respondents appreciate positive words of encouragement. Words are most effective, Dr. White says, when they are specific to what the person has done.

2. Quality time. 26% of the respondents appreciate spending time with people as a form of appreciation, but, over the years, that has shifted from time with the manager to time with peers and colleagues, Dr. White notes.

3. Acts of service. 22% of respondents most appreciate the small things a manager or colleagues can do to help out during a tough period, such as chipping in when they are on a deadline or facing a problem at home. This type of individual essentially feels, 'don't tell me that you care, show me that you care.'"

4. Tangible gifts. Only 6% rate gifts as a top form of appreciation, Dr. White says, a percentage that he believes would increase if people understood how to use gifts. "What really matters most when giving gifts is to show you care and that you really know your team member personally. Gifts that are individualized and that demonstrate that you understand who that person is and what matters to him or her can be tremendously effective." On the other hand, be believes the points-based redemption catalog programs favored by most recognition programs have little meaning. "It's the equivalent of letting people buy themselves a Christmas present."

5. Physical touch. A small percentage, less than 1%, choose appreciation through appropriate physical touch, which is primarily spontaneous celebration of a positive event. Dr. White notes that this can be a touchy subject. "It is the recipient who designates what is appropriate when it comes to a high-five, hand shake, or pat on the back."
Appreciation at Work provides an online platform for everyone in a team to identify their individual languages of appreciation, the symbols for which people can put on their business cards or other company communications to share with others.
Dr. White says there are four fundamental concepts that drive the impact of appreciation.
1. For people to truly feel valued, appreciation must be regularly conveyed and defined by the relationship. It cannot be once a year at the performance review.
2. Appreciation needs to be expressed in the language of the recipient, not the giver. "This is a mistake many senior executives make when expressing appreciation to people."
3. Appreciation needs to be about the individual recipient, not globally about the team. When expressing appreciation, "it's important for that appreciation to be very specific to that person, and it doesn't necessarily have to be about performance."
4. Authenticity is critical. "This is where so many recognition programs fall short. They are generic and performance-based, which is okay, but if you are trying to communicate appreciation, it's about the person, not just the performance. When you focus on performance or the bottom line, then people are reduced to production units, and you are not seeing them as people. The personal part is also important because we all have lives outside of work that affect us. A great way to show appreciation is to support people when they are having a tough time outside of work."
A Facilitator-Based Approach
The Appreciation at Work process is based on training facilitators to embed the Appreciation at Work methodology into the day-to-day life of the organization. The facilitator program comes with a book containing a code for someone to take the assessment, and people can purchase codes in groups for their team members. The exercise comes in seven different versions to address the interesting fact that the acts of appreciation differs in different industries. Modules address the following categories: education; remote workers; medicine; military; not-for-profits; government, and general work settings.
The certification preparation includes materials for a half-day training program, often conducted in groups of 30 to 50 people. The program also includes an online two-hour self-paced course. Facilitators receive a turnkey process to use, including a Facilitator's Guide, videos, and handouts.
Dr. White believes "companies are wasting millions on recognition and gifting because they are not achieving the impact they seek. If you want to motivate and keep people loyal, just having them pick something out of a catalog or giving them the same gift everyone else is getting does not authentically demonstrate appreciation. For organizations that give gifts, the worst thing is to give everyone the same gift. It's not about the monetary value of a gift but it's the thought put into choosing the right gift that gives it meaning."
Recognition and tangible gifts, he believes, can have far more value when used as part of a comprehensive appreciation strategy that addresses all the different ways people like to be appreciated. "That means recognition programs that express appreciation not only for accomplishing goals but for living the organization's values and for being who people are, and that involve peers as well as managers." Dr. White believes that rather than offering online points-based catalog programs, organizations will get far more mileage out of gifts specifically selected for people based on an authentic understanding of who they are and what is going on in their lives.
Shouldn't the Appreciation at Work methodology work for consumer loyalty programs? Dr. White says that the company's focus for now is on employees but agrees there is a potential application for consumer loyalty as well. "The key is to find a way to understand how consumers wish to be appreciated and tailoring your strategies to what they value."
So why don't all CEOs value the importance of appreciation at work? "The challenge is that MBA programs don't have a clue. We're turning out leaders through our educational system who aren't receiving the proper training on how to engage and motivate people."
For More Information
Paul White, Ph.D.
President, Appreciation at Work
316-681-4431
---
Master the Principles of Enterprise Engagement to Achieve Organizational Goals and Enhance Your Career
Profit from a new strategic and systematic approach to engagement to enhance your organization's brand equity; increase sales, productivity, quality, innovation, and safety, and reduce risks.
Get trained to become a Chief Engagement Officer for your organization.
Learn how to create Sustainability or Integrated Reports for Your Organization or Clients.
Resources: The Brand Media Coalition, the only guide to the story-telling power of brands and where to source them for business, event, promotional gifting, and rewards and recognition.
2019 Enterprise Engagement Solution Provider Directory
. The only directory of engagement solution providers covering all types of agencies and tactics as well as insights on how to select them.
Communities: The Enterprise Engagement Alliance and Advocate and the Brand Media Coalition free resource centers offering access to the latest research, news, and case studies; discounts, promotions, referrals, and commissions, when appropriate to third-party solution providers from participating coalition solution provider members.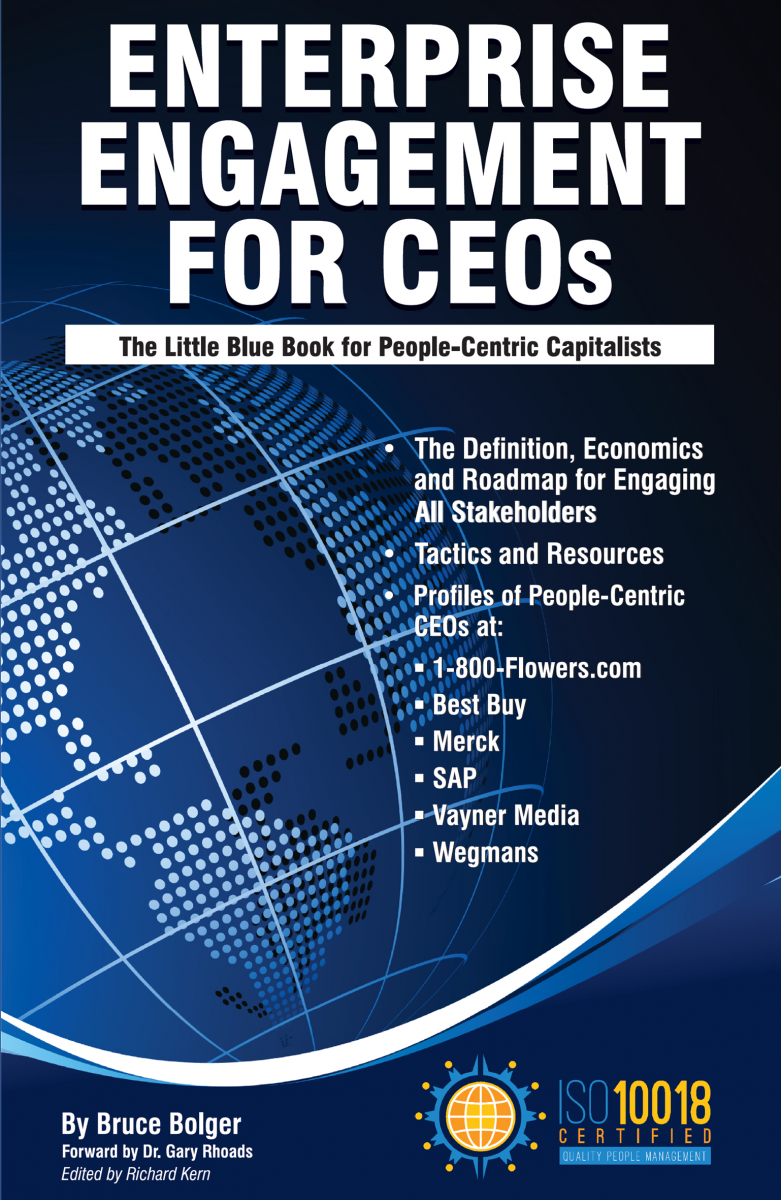 Enterprise Engagement: The Roadmap 5th Edition
The first and most comprehensive book on Enterprise Engagement and the new ISO 9001 and ISO 10018 quality people management standards. Includes 36 chapters detailing how to better integrate and align engagement efforts across the enterprise. (312 pages, $36.)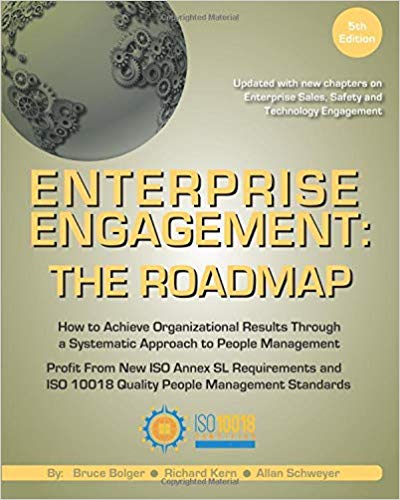 Online:
10-minute short course: click here for a 10-minute introduction to Enterprise Engagement and ISO standards from the Coggno.com learning platform.
Services:
• The International Center for Enterprise Engagement at TheICEE.org, offering: ISO 10018 certification for employers, solution providers, and Enterprise Engagement technology platforms; Human Resources and Human Capital audits for organizations seeking to benchmark their practices and related Advisory services for the hospitality field.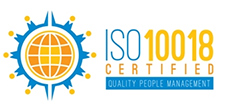 • The Engagement Agency at EngagementAgency.net, offering: complete support services for employers, solution providers, and technology firms seeking to profit from formal engagement practices for themselves or their clients, including Brand and Capability audits for solution providers to make sure their products and services are up to date.
• C-Suite Advisory Service—Education of boards, investors, and C-suite executives on the economics, framework, and implementation processes of Enterprise Engagement.
• Speakers Bureau—Select the right speaker on any aspect of engagement for your next event.
• Mergers and Acquisitions. The Engagement Agency's Mergers and Acquisition group is aware of multiple companies seeking to purchase firms in the engagement field. Contact Michael Mazer in confidence if your company is potentially for sale at 303-320-3777.
Enterprise Engagement Benchmark Tools: The Enterprise Engagement Alliance offers three tools to help organizations profit from Engagement. Click here to access the tools.
• ROI of Engagement Calculator. Use this tool to determine the potential return-on-investment of an engagement strategy.
• EE Benchmark Indicator. Confidentially benchmark your organization's Enterprise Engagement practices against organizations and best practices.
• Compare Your Company's Level of Engagement. Quickly compare your organization's level of engagement to those of others based on the same criteria as the EEA's Engaged Company Stock Index.
• Gauge Your Personal Level of Engagement. This survey, donated by Horsepower, enables individuals to gauge their own personal levels of engagement.
For more information, contact Bruce Bolger at Bolger@TheEEA.org, 914-591-7600, ext. 230.