Engagement Agency Launches New Service to Help Companies Profit From ISO 10018

The
Engagement Agency
has developed a new service to help both employers and solution providers profit from ISO 10018 Certification. According to founder Bruce Bolger, "This service is designed to help organizations rapidly determine the potential return-on-investment of implementation of ISO 10018 best practices and ISO 10018 certification and then design and implement a formal plan to profit from the certification. In most cases, we can help an organization get ready for ISO 10018 certification in 14 months or less."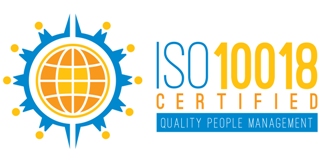 Explains Bolger, "Already over a dozen organizations have begun the process of ISO 10018 certification but it has become clear the field is so new that they can benefit from guidance and direction. This new service is designed to help organizations get started and completed faster with the process of implementing ISO 10018 into their organization."
According to Allan Schweyer, the Engagement Agency's chief consultant, "Whether your organization is an employer seeking to find more efficient ways to engage customers, channel partners, employees, vendors, volunteers or constituents, or if your company is an engagement solution provider, ISO standards provide a more systematic efficient framework for engagement system design and implementation. The ISO 10018 standards stand for an organization-wide commitment to people the way ISO 9001 standards for a commitment to quality." The new service supports the new
Healthcare Advisory Practice
at the International Center for Enterprise Engagement.
According to Schweyer, the certification has the following benefits for employers:
Increase customer and channel partner loyalty and referrals.
Maximize sales performance.
Increase talent retention and lower recruitment costs.
Improve alignment, efficiency, and the overall stake holder experience.
"ISO 9001 transformed quality management by implementing a common nomenclature, framework, and auditing process; we believe ISO 10018 can do the same for the design of traditional engagement process for customers, channel partners, employees, vendors, communities—i.e., any organizational stakeholder."
Adds Bolger, solution providers can equally benefit by:
Improving the effectiveness of current solutions.
Creating new market opportunities to help organizations profit from ISO 10018 standards and best practices.
Expanding product and service offerings.
Validating a solution provider's services, technologies, and methodologies.
The Engagement Agency's ISO 10018 services include:
An assessment to determine return on investment of an ISO certification
A gap analysis to determine what an organization will need in terms of training and resources.
A meeting with senior management to develop the formal plan utilizing whenever possible internal resources.
Development and implementation of a training plan for internal personnel.
A formal business plan with roles and responsibilities, time lines, benchmarks, return on investment, etc.
Addition of new resources if necessary to round out service offerings.
Training to support professionals seeking certification.
Assistance with marketing, sales training, lead generation and thought leadership for solution providers.
---
For More Information, Contact:
Bruce Bolger at Bolger@TheEEA.org or 914-591-7600, ext. 230.